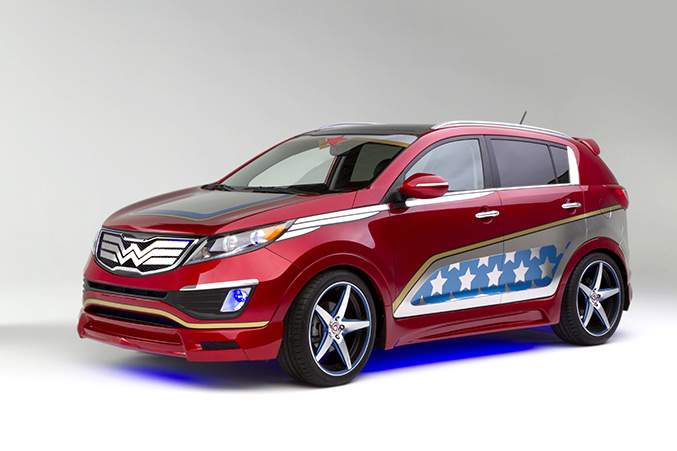 Kia Motors America (KMA) has teamed up with DC Entertainment and Super Streetmagazine to build a head-turning Kia Sportage inspired by Wonder Woman's power, inspiration and sense of equality.  Unveiled today in conjunction with the 2013 New York International Auto Show, this uniquely customized Sportage signals the continuation of a 10-month, eight vehicle partnership between Kia and DC Entertainment based on the iconic characters that make up the Justice League – Superman, Batman, Wonder Woman, Green Lantern, The Flash, Aquaman and Cyborg.An eighth and final vehicle will be an amalgamation of all seven Super Heroes in one.  Influenced by the artistry of comic book visionary, Jim Lee, the Justice League-inspired Kia vehicles serve as a force for good in the world by raising awareness for DC Entertainment's "We Can Be Heroes" giving campaign, a relief effort to bring help and hope to people affected by the hunger crisis in the Horn of Africa.
"As one of the most well-known Super Heroes in the world, Wonder Woman portrays an impressive balance of power, agility and confidence, all of which are inherent characteristics of the Kia Sportage crossover," said Michael Sprague, executive vice president, marketing & communications, KMA. 
"Like the rest of the Justice League-inspired vehicles, this customized Sportage signifies a meaningful collaboration between cars and pop-culture.  And for the first time, here in New York, all seven vehicles are standing together in one place to raise awareness for DC Entertainment's very worthy 'We Can Be Heroes' giving campaign."
The Wonder Woman-inspired Sportage features a sleek and stylish look thanks to an aero kit which grants a streamlined but powerful appearance.  The red and blue exterior color scheme, accented with stars, was derived directly from Wonder Woman's outfit, while the gold trim wrapped around the vehicle represents the heroine's weapon of choice, "The Lasso of Truth." 
Up front, Wonder Woman's eagle chest-plate emblem was creatively integrated into the production grille and is flanked by blue headlight beams, which reflect her piercing blue eyes.  The Sportage's windshield features a banner portraying Wonder Woman's tiara, and the chrome side panels on the vehicle are graphical interpretations of her invisible jet.  Beneath, the 5-spoke wheel design was chosen to match the stars on the exterior of the vehicle.
Within, red upholstery and dash pieces combined with blue LED lighting were added to continue the Sportage's exterior color scheme into the cabin.  The custom seats were inspired by Wonder Woman's signature garb and embroidered with her logo, while the cargo area of the vehicle is adorned with stars and an eagle and features a see-through panel, which displays Wonder Woman's tiara, bracelets and glowing Lasso of Truth.
"It's exciting to join Kia in revealing the final car to represent a member of the Justice League, Wonder Woman, at the New York Auto Show," stated Jim Lee, co-publisher of DC Entertainment.  "This joint effort to raise awareness for the 'We Can Be Heroes' giving campaign continues to be a huge draw for fans across the country, and I'm sure New Yorkers will agree that the new Wonder Woman-inspired Sportage is a 'must see' feature at the show."
Source: Kia