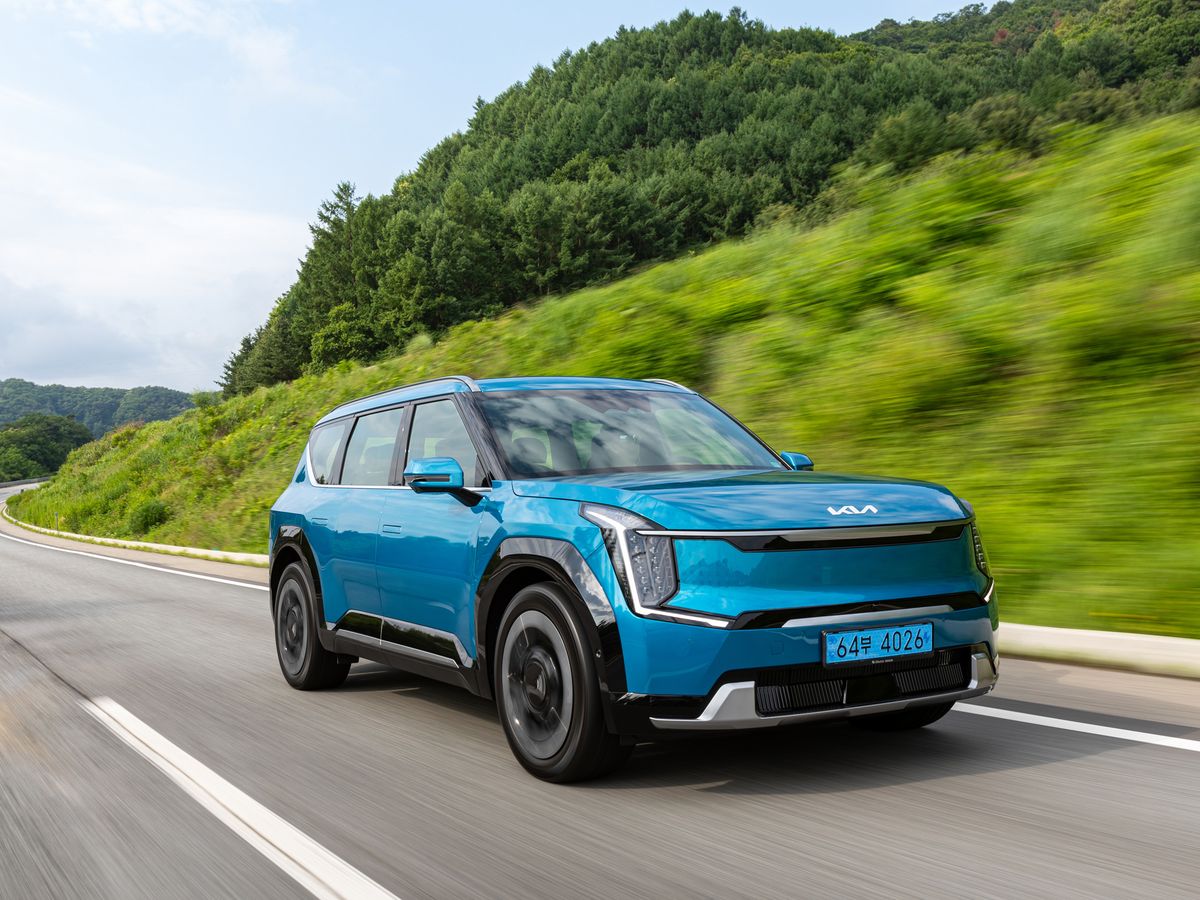 Model and car enthusiast Jodie Kidd has been electrocuted with more than a million volts as part of a death-defying stunt.
Sitting on a raised platform and protected from a 'lightning machine' only by a chainmail Faraday suit to conduct electricity around her, Jodie was able to control the electricity with her fingertips and shoot streams of lightning from her hands.
The 'lightning' photography was then combined with shots of a futuristic-looking Jodie for the launch of Kia's new six- or seven-seat EV9. A game-changing new electric family car, the EV9 features ultra-rapid charging, a range of up to more than 300 miles from a single charge, and 'vehicle-to-load' technology that allows it to power almost anything with a 3-pin plug.
It comes as new research, commissioned by Kia, reveals that more than 26 per cent of parents have been encouraged to buy an electric vehicle – by their kids. More than a third of these (36 per cent) put it down to learning about environmental issues at school, and 35 per cent said their kids want one because they are cool. A third (33 per cent) believe they have been influenced by their favourite TV shows and YouTubers.
The study of 2,000 adults found, of the parents polled, 87 per cent have gone on to explore the possibility of purchasing one because of these conversations.
And of the motorists polled, 40 per cent are considering getting a more sustainable vehicle. Environmental reasons (46 per cent) are the most common driving force behind this, and 29 per cent are contemplating because of the new law banning the sale of new petrol and diesel cars in 2030. On average, by 2026 is when most drivers think they'll buy an electric car.
Kia's new EV9 SUV boasts up to seven-seats in a three-row format with huge cabin and luggage space. Created with the environment in mind, the EV9 has a leather-free cabin with many elements created from recycled PET plastic, made from items such as fishing nets and plastic bottles. The car is also fully electric with zero tailpipe emissions.
Starting at £64,995, the 'Air' is the entry-point to the line-up. First UK deliveries of the car will start in January 2024, with pre-orders now open.
Jodie Kidd said: "Being electrocuted was one of the most petrifying things I've ever done – but also such an amazing experience. Not many people can say they have had a million volts through their body and been able to shoot lightning with their fingers!"
"As a parent, I know exactly how important the environment is to the next generation. I have had many conversations with my son Indio about what we can do to live more sustainably – including buying an electric car."
"This stunt was all about celebrating electricity and how the future of motoring is electric, for the launch of Kia's new fully electric car, the EV9. With a range of more than 300 miles, ultra-rapid charging, and the ability to power anything with a three-pin plug, its perfect for family adventures. You can even use it to boil a kettle and stop for a nice cup of tea!"
The EV9 is Kia's new flagship electric vehicle, and is one of 15 fully electric models that the brand is launching globally by 2027.