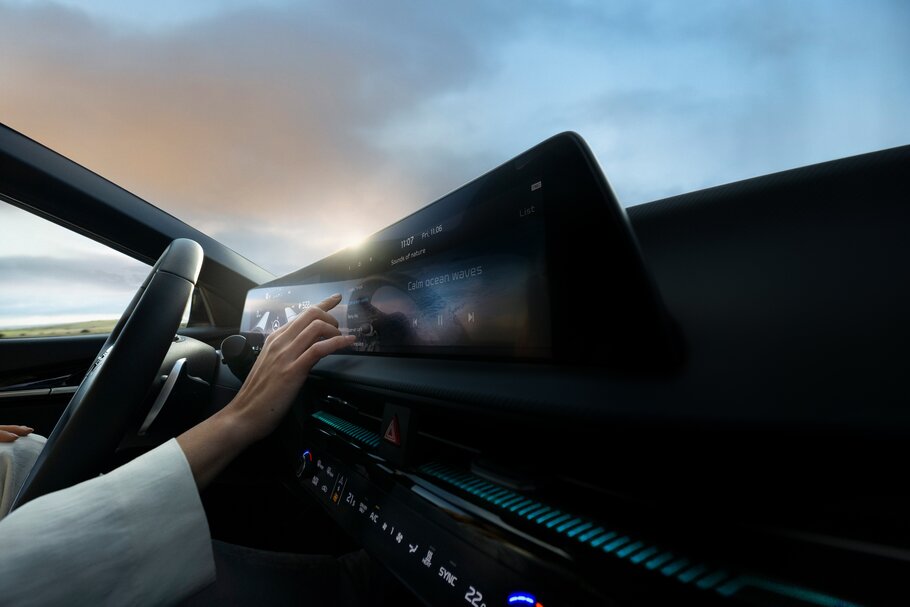 Kia has announced a series of improvements to its vehicles, available as a free software update. The most prominent upgrade is the introduction of EV route planning. The new feature is included in the latest software update that Kia has dispatched for its EV6 and all-new Niro EV fleet, making its EV driving experience even more pleasurable and comfortable.
The navigation system now detects charging stations along the route and adds them as waypoints automatically. Drivers can travel long distances without worry – even when the remaining battery charge is low. The system automatically recognises if battery levels are insufficient to reach the destination and alerts drivers along with a selection of charging stations in the vicinity. To ensure optimal charging time, the vehicle will, if needed, automatically start the battery conditioning process.
The proposed route is based on an algorithm that takes into consideration the state of charge, Live Charging POI (points of interest) information and the current energy consumption which is based on many external factors like topography, weather condition and traffic, as well as the driver style and/or mode.
The update ensures that EV planning information will be maintained even in case the server routing changes to embedded routing due to network issues. In this case, the system will perform recalculations including existing recommended EV POI's and distance information. All data will update automatically after switching to CCS mode again.
The new update also prioritises frequently used charging and filling stations in the search. They can be viewed by selecting Navigation > POI categories > EV charging/Filling stations > Near current position. The system will display a list of charging/filling stations near the vehicle's current location and will identify the ones visited several times recently. In addition, favourite charging/filling station data is now synchronised between Head Unit and phone application. Finally, the EV Route Planner functionality is available now and it will be continuously improved via software updates in the future.
Additional updates for reception, media, and connectivity
The EV route planning function is the cornerstone of Kia's latest software update, but it includes several smaller yet interesting upgrades as well. Among them is the introduction of the music discovery service Soundhound. The software identifies songs played on the radio and will download song title and artist information from the server, displaying them on the main screen.
Lastly, the latest software update features new and improved icons and symbols which bring fresh nuances to the interface, as well as adjustments to the menu structure. These adjustments include easier menu navigation and improved visibility of certain icons and sub menus.
Overall, the software update provides Kia customers with significant benefits in terms of convenience and ease of use. These improvements are available for many existing Kia models as software updates and will come standard with all new models – starting with the EV9.