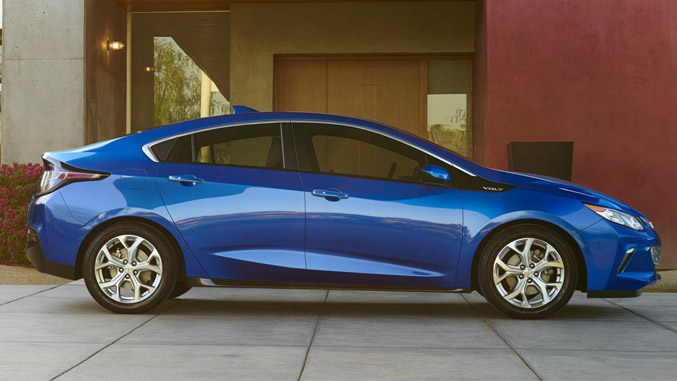 The Chevrolet Volt runs longer on its built-in batteries than any other plug-in hybrid on the market today. The Volt's gasoline engine doesn't switch on even under maximum acceleration. Why is that? Well, it's simple, it was designed that way! Furthermore, the 2016 Chevy Volt maintains that feature, and expands its electric range from 38 to 50 miles–ensuring even more all-electric distance.
So who said it was designed with the goal in mind? In an interview with Tim Grewe, chief engineer for vehicle electrification and Pete Savagian, general director of electric drive engineering at General Motors, the two engineers explained that the Volt was designed to travel on pure electricity as far as possible from the very start. In fact, the goal was to eventually reach 50 miles of range in all electric mode.
An interesting question is: with a variety of other plug-in hybrids on the market (from BMW, Ford, Honda, Porsche, Toyota, and others) why is the Volt the only vehicle to reach that sort of mileage in all-electric mode? Why haven't others followed this path? The answer is that it simply requires a larger battery pack and a more powerful electric motor than the other makers have chosen to fit. Basically, it comes down to cost. Larger batteries and more powerful motors cost more money to make and this is reflected in the cost of the vehicle.
But wait, there's more. It's not just range that larger batteries get you, its horsepower too. Grewe pointed out that the 120 kilowatts (160 horsepower) of peak power that can be delivered by the new 2016 Volt is the highest electric output in any plug-in hybrid on the market. The identical powertrains of Ford C-Max and Fusion Energi plug-in hybrids, for example, have battery packs of only 7.6 kWh and their maximum motor output is 88 kw (118 hp).
The question is: will the others join the battery size wars or rely on the resident gas engines to supply a good part of the power when needed? The answer remains to be seen.
Thanks to: Bob Pulte Pre-Owned Automobiles