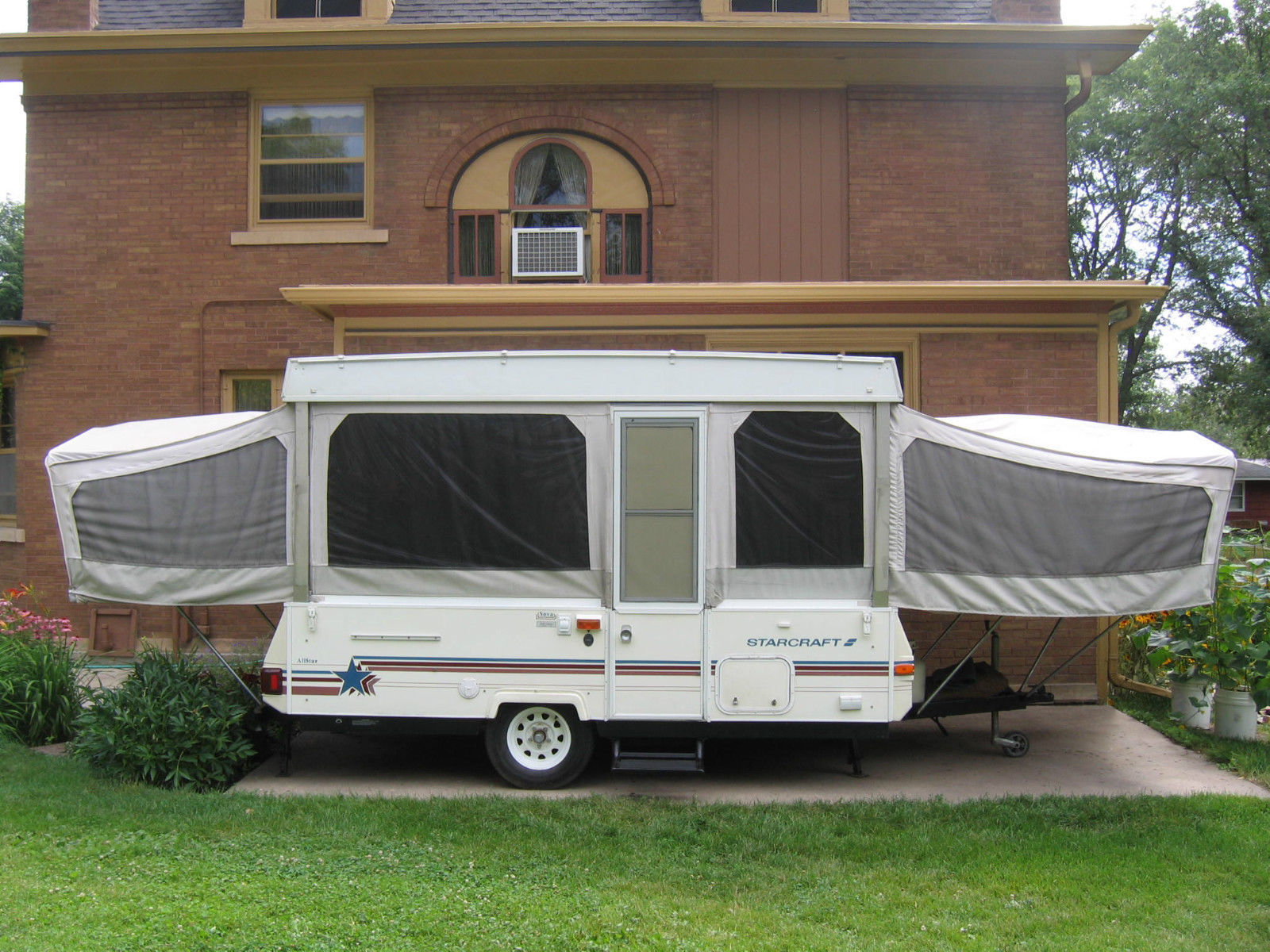 Popup trailers have been around quite a long time. As matter of fact, the covered wagons that transported untold numbers of pioneers into the American west were a type of mobile tent trailer -propulsion provided by horses, of course.  And, as soon as automobiles started to roam around the country, it didn't take long before specialty manufacturers making tent trailers to tow behind them.
It wasn't until the 1960s, however, before the modern popup trailer came into existence. The magic of a modern popup trailer is that, well, it pops up. Once you park the trailer itself, the tent and roof part of the trailer can be erected quickly – an experience that is unfamiliar to those who are setting up regular tents. (Ever set up a tent in the rain? Now there's a lot of fun.)
Since the 1960s, hundreds of thousands of popup trailers have been built. Over the years they have become more comfortable and with hundreds of models on the market, there's a tent trailer for just about everyone. Chances are that you may have considered buying one but haven't pushed the button yet. And, that's OK. Tent trailers look like a lot of fun, especially if you have kids, but they aren't for everyone – and they are expensive too. Here's a few things to consider before you take the plunge.
They aren't hotel rooms
First and foremost is the fact that although they do have a floor, walls, a roof and some other amenities, but tent trailers are not hotel rooms. They are just one step up from your standard tent and therefore may not be for the best choice for people who are older, want more security, and/or plan to travel for longer periods of time.
Do you have children?
That being said, for younger families, tent trailers can be a lot of fun. Most of the time, owners overnight them in campgrounds. This allows for sight-seeing adventures on the road during the day and a place to sleep at night; all for a lot less than a hotel costs. America's better campgrounds typically offer lots of activities and recreation facilities for families. For the cost of a tenting site, for example, you may have things like arcade galleries, swimming pools, recreation rooms, even boating and sailing if the campground is on a pond or lake.
The Pros:
They allow comfortable camping without the cost of hotels
Most campgrounds in the US offer plenty of fun attractions and activities.
They are easy to park and set up
They are easy to maintain
Their compact size makes them easy to store.
The Cons:
Premium models can be expensive
Some individuals prefer the security of a hotel room
Using a porta-potty is awkward, can smell and offers little privacy.
When rain wets the canvas walls in older units it makes the unit feel damp.
Thanks to our friends at Central Avenue Hyundai of Hartsdale, a local Hyundai dealer in Hartsdale, NY, for assistance with this article. They told us that a common question from their customers is "Can I tow a pop-up trailer?" The salesperson will then look at the towing capacity of the car and give the customer guidance. Already own a car? Your local RV dealer can also assist you with recommendations.