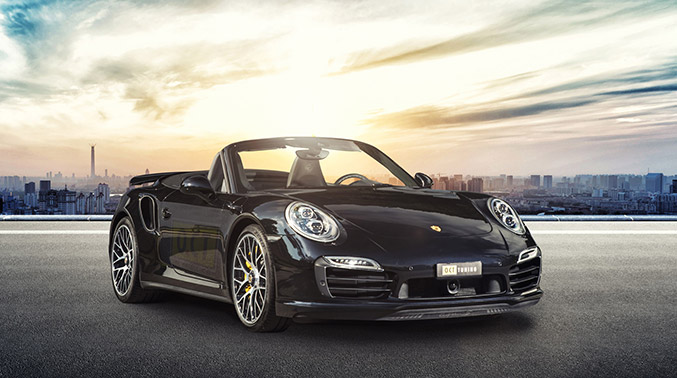 The founded in 1985 Oberscheider Company meanwhile has become an enterprise with a team of about 50 members. A company own line of business is the appeared in 1994 O.CT Tuning section with head office at Lustenau (A) and Widnau (CH). Its center of attention is the development of power optimization in fields of software. With its IPRO (Intelligent Programming System) O.CT Tuning caused a sensation within the tuning branch. IPRO made it possible, for the first time, to program control units via OBD-II diagnostic interface. By now, the IPRO System is available on the market in its 2nd generation already. As another point of efforts, O.CT Tuning has chosen compressor techniques offering now violent power uprating packets for different Audi and US cars.
The "most recent" – Porsche 991 (669 HP/880 Nm)
As the only one tuning company in the world O.CT Tuning offers "stage 2" power uprating for Porsche 911 (991) Turbo S with corresponding hardware – by the way, with very impressing performance graphs! In the result of the "stage 2" development, we have giant 669 HP and 880 Nm of torque – measured on the company own high tech test stand – vs. serial 520 (560) HP and 660 (700) Nm. The technical details besides the modified engine management are: adaptation of the gearbox control software, two exhaust gas turbo chargers with variable geometry turbo charger (VGT), two modified air suction systems, two charge air coolers, a sports filter and the necessary TÜV or DTC (Switzerland) certificate. Optionally, you can order an exhaust system with irresistible sound. Exceptional driving values, such as 2.77 seconds (0 up to 100 kmph/60 mph), 9,32 seconds (0 up to 200 kmph/120 mph) or 335 kmph/208 mph of Vmax don't need to fear any comparison.
Already the O.CT Tuning "stage 1" power uprating for the 911 (991) Turbo S brings 603 HP with 830 Nm along. And for the 911 Turbo, O.CT Tuning offers 3 stages with 570 HP / 603 HP and 669 HP – with TÜV or DTC (Switzerland) certificate and warranty, as it is the case for all other O.CT Tuning performance graphs. In all cases, the programming is made directly on the engine control unit with supplementary software programming on the gearbox control unit.
Source: O.CT Tuning