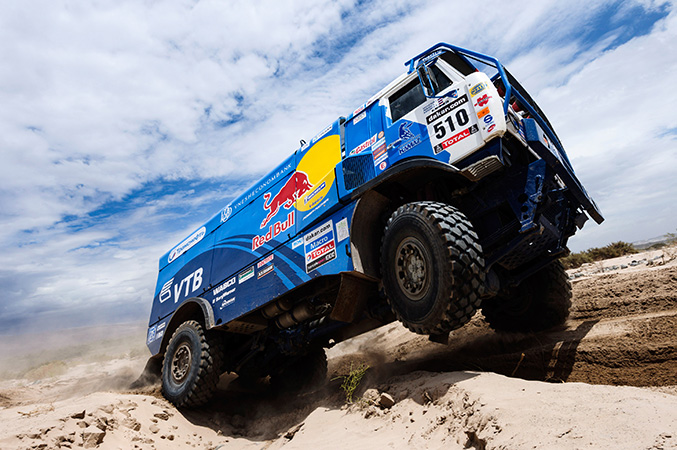 Day 13 at the 2013 Dakar was yet another fantastic win for Redbull's KTM Factory Team. Teammates Cyril Despres and Ruben Faria put on a tactical masterclass to secure great positions in the bike race.
Four-time Dakar champion Despres maintained his place at the top of the leaderboard as overall race winner, whilst also helping Faria obtain second place.
Stage 12 at Copiapo in Chile was full of dangers, giving all category leaders an increased likelihood of making mistakes. Very dense Camanchaca meant an early morning start and it was only once the stubborn fog lifted, that the first motorcyclists could set off to tackle the last dunes of the rally.
Caution was definitely in the air but the number one favourite still chose a risky strategy.
Despres caused problems over the final 70km of the stage by decreasing his speed and allowing other athletes to pass; taking over the job of navigating. This casual style of taking things 'nice and easy' meant that his teammate Faria could make up some valuable time.
The 38-year-old said: "Ruben was chasing Chaleco (Lopez) who was riding on my rear wheel so I thought I would take down my speed and let him pass. So Chaleco, Goncalves and Barreda all came past me and then it was up to them to navigate. I had a front row seat to watch them struggling to find the route in the dunes and all the while I knew Ruben must be making up time."
However, by increasing the gap between Ruben and Chaleco Lopez it also resulted in Chaleco catching four minutes on Despres.
Lopez was happy with his performance and said that he enjoyed riding with Pedrero, Despres and Barreda, adding: "At one point Pedrero was opening the tracks and then I did a bit at the end. The race positions haven't changed, but we had a good day in the desert today."
Meanwhile, the trucks also secured podium positions…
It wasn't just the bikes that did well today, as Team Kamaz also took all the podium positions in the overall timings.
Russian trucker Andrey Karginov climbed to the top of the leaderboard and took his second stage win of Dakar 2013.
Shortly behind him in second place was Ayrat Mardeev, whilst fellow teammate Eduard Nikolaev secured third position.
And the car race is burning rubber…
Stephane Peterhansel is also edging closer to victory which each passing stage. The Frenchman has nearly an hour advantage over his closest rival in the car race.
But the driver is definitely not playing it safe, saying: "For sure we can smell victory but I can remember two times when I have lost the Dakar just on the last day so we know that anything can happen. I could make a mistake, we could have some technical problems. So, there are still two days left."
The quad race is almost a done deal…
Marcos Patronelli is certainly the most relaxed competitor out of all categories at this year's Dakar. The Argentinian driver has a two-hour advantage over the second place rider in the quad race, so it really is a case of plain sailing for the rest of the stages.
After three years racing with brother Alejandro, he has gone at it alone in 2013 and is set to take another victory. The popular competitor secured a win in 2010 but came runner-up in 2009 and 2012.