The family holiday usually requires that you take many different items away with you and for every member of the family. From clothing to camping goods and from mountain bikes to muddy boots you can take a trailer on holiday with you that will allow you to carry more items, take more stuff, and keep the mud away from the rest of your holiday gear. A trailer is the perfect addition to a campaign holiday and can prove beneficial for a host of different holiday types.
Think about the type and frequency of holiday you enjoy. If you holiday infrequently or you tend to go abroad then a trailer may not be the best addition to your holiday inventory. With that said, if you drive to Europe or on road trips around the UK then the trailer is an ideal accessory and it will allow you to carry all of your other accessories even more easily.
Consider the car or other vehicle that you have and will be using to pull the trailer. If you only have a small car with limited power then you should only consider one of the smaller available trailers. Fortunately, these trailers are lightweight and it means that all but the very smallest vehicles will be able to efficiently tow them. This means that you can enjoy filling a trailer rather than the boot of the car.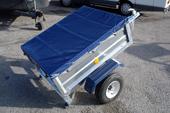 There are a number of Indespension trailers that can be used to benefit the holidaymaker. These are some of the best trailers for camping trips because of their combination of size, dimensions, weight allowance, and cost. They provide everything you need so that you can take more stuff on holiday and enjoy your time away even more.
The Daxara Buddy 1 is such a trailer and it offers convenience and flexibility. Not only can it be used as the perfect camping companion but it can also be used for moving rubbish, carrying gardening equipment, moving furniture, and more. It offers a means of transporting items without having to load and potentially overload the boot and the back seat of the car.