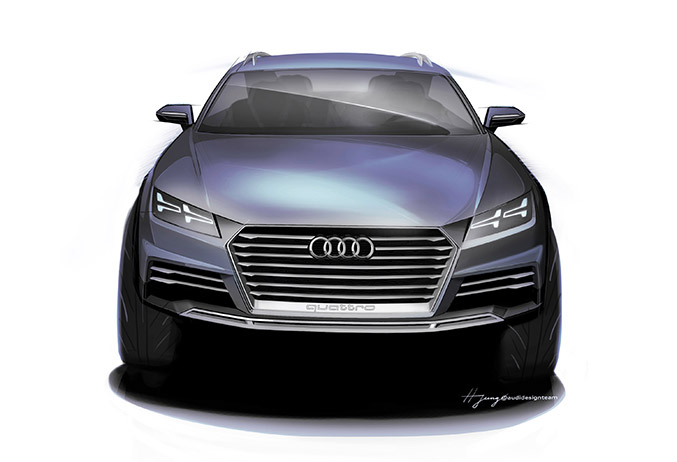 Agile, compact and versatile: The new Audi show car is making its debut in January 2014 at the North American International Auto Show (NAIAS) in Detroit. The two-door model with its high ground clearance is a crossover with a distinctly sporting slant – a car for all roads and tracks, for everyday driving and recreational use.
The show car is a systematic development of the Audi design language. It combines a host of visual elements from future models with the Audi-typical allroad concept and independent "Shooting Brake"
body style.
Measuring 4.20 metres in length, the show car has a powerful road stance. Precise and clearly drawn lines as well as geometric surfaces are combined to create a sculpted, clear design form. It is almost as if the outer skin of the two-door car has been modelled from a solid piece, from the Singleframe grille and striking side tornado line to the taut, coupé-like rear. The overhangs are short; the roof line is low and it ends in a strong C pillar. The pronounced horizontal body line and the large 19-inch wheels emphasise the impression of concentrated energy.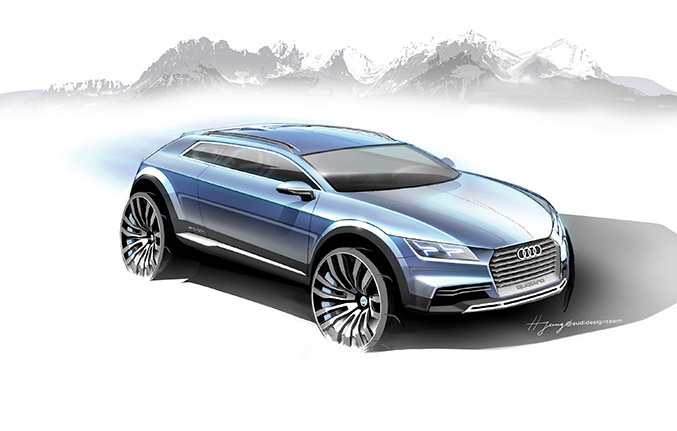 The show car is a compelling blend of form and function. The characteristic allroad design features serve to seemingly contract its dimensions visually while also underscoring its offroad character. The aluminium underbody guards at front and rear emphasize the width and protect the car off road.
Design elements that are typical of e-tron models, such as the ribs in the Singleframe grille and in the side air inlets, fit in harmoniously with the overall design concept. The dual headlights and the honeycomb-structured Singleframe grille indicate the further development of the quattro design language which Audi already presented with its Sport quattro concept show car in September of this year at the International Motor Show (IAA) in Frankfurt.
Source: Audi