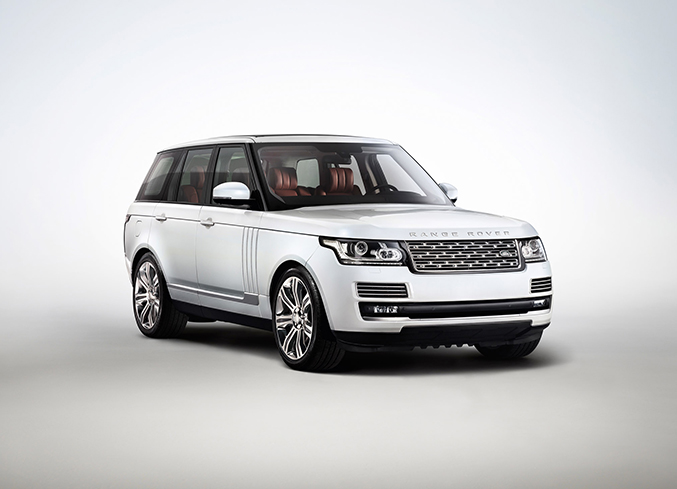 Land Rover is extending its family of peerless luxury vehicles with the introduction of long-wheelbase variants of the Range Rover vehicle and the addition of an exclusive new ultra luxury edition– the Range Rover Autobiography Black. These two new Range Rover variants meet strong global demand for enhanced luxury, rear seat ambiance and exclusivity at the pinnacle of the Range Rover line-up.
Range Rover Long-Wheelbase Debuting at the 2013 Los Angeles Auto Show, long-wheelbase Range Rover models have 5.5-inches more rear seat legroom than standard-wheelbase models and when equipped with the optional executive seating package, an increased seatback recline of 17 degrees. Customer deliveries of long-wheelbase range rover models are expected to commence in late Q1 2014. The additional 5.5-inches (140mm) of rear legroom has been achieved by lengthening the unibody in front of the rear wheels.
The signature floating roof and distinctive Range Rover silhouette are retained. Long-wheelbase variants will initially be available on Supercharged and Autobiography trim levels with either a three-across bench seat or individual rear seats with a center console.
The individual rear seats can recline to 17 degrees, a full eight degrees more than in the standard-wheelbase. All long-wheelbase vehicles will be equipped with standard powered door blinds and a panoramic sunroof, and carry a distinctive 'L' badge insignia displayed on the lower front door trims. RANGE ROVER AUTOBIOGRAPHY BLACK New levels of exclusivity with Range Rover Autobiography Black Land Rover has created a new ultra-luxury flagship, the 2014 Range Rover Autobiography Black, which will make its U.S. debut at the Los Angeles Auto Show in November.
The new Range Rover Autobiography Black interior has been carefully crafted and tailored to meet customer needs with subtle but distinctive detailing. The interior has been appointed and finished with the highest quality leathers and materials. Available in long-wheelbase only for the U.S. Market, the Range Rover Autobiography Black has been designed and engineered by Jaguar Land Rover's 'Engineered To Order' (ETO) division to build upon the already exceptional Range Rover with extended levels of luxury, comfort and design in an exclusive offering. A limited build of around 100 units is planned for the U.S. market in the 2014 model year.
The first 25 will be built in Valloire White pearlescent paint. Subtle but distinctive exterior detailing A number of exterior elements to the Autobiography Black give it a subtly distinctive character. A unique design and finish has been given to the front grille and side vents along with badging in black enamel and chrome. Signature rear lamps, a chrome accent finish to the tailgate and auxiliary vents to the front add to the unique detailing of this vehicle. A new exclusive 7-spoke 21-inch with a high gloss polished finish further differentiates the Autobiography Black.
"The Range Rover Autobiography Black is the latest step in our transformational journey that moves luxury to another level. This vehicle is an intensely design focused response to our customers' desire for more choice and exclusivity," says Gerry McGovern, Land Rover Design Director and Chief Creative Officer. "The highest standards of precision detailing, together with the use of the finest crafted materials, have been achieved inside and out. Autobiography Black represents the pinnacle of desirability in the world of luxury inhabited by our Range Rover customers." First class travel The Range Rover Autobiography Black incorporates an individualized front and rear seating package with a bespoke seat cover design. Both front and rear seats have seat memory and climate control available.
The sumptuous leather seating is complemented with a massage function and bolsters with adjustable 18-way front seat including upper seat articulation. Furthermore, this package offers the ultimate in rear seat luxury with two individual fully adjustable seats and a new center console to offer supreme comfort and functionality. Rear passengers benefit from the addition of lumbar massage and powered recline, 10.2″ Rear seat entertainment screens feature navigation journey displays and the right hand side rear passenger seat is equipped with a powered recliner calf rest for further comfort. With a new design made exclusively for the Autobiography Black, the rear center console includes electrically deployable tables covered in black leather with integrated USB charging sockets and cup holders.
A chiller compartment provides additional space for glasses and bottles and increased stowage is available towards the rear. The headphone storage trim can be removed to reveal a ski hatch while the entire rear console can be illuminated in harmony with the vehicle's mood lighting settings. Configurable LED mood lighting allows the owner to set the tone by varying the intensity of the lighting from a range of 10 colors. This feature is concentrated on the door handles and stowage compartments, as well as along the lines of the lavish, veneered surfaces on the center console.
The footwell lighting can also be adjusted to ambient light color rather than plain white. Finer details include leather-wrapped rear cargo trim, A, B and C-pillar trim and a perforated leather finish on the door insert. The seat backs, ski hatch, cargo trim and upper D-pillar, are also leather wrapped. Tread plates feature an illuminated 'Autobiography Black' script, while a brushed stainless steel tailgate trim completes the detailing. Three exclusive interior color combinations are available with the Range Rover Autobiography Black at launch; Ebony/Lunar, Espresso/Tan and Dark Cherry/Ivory, the latter including a unique dual-tone seat.
Source: Range Rover