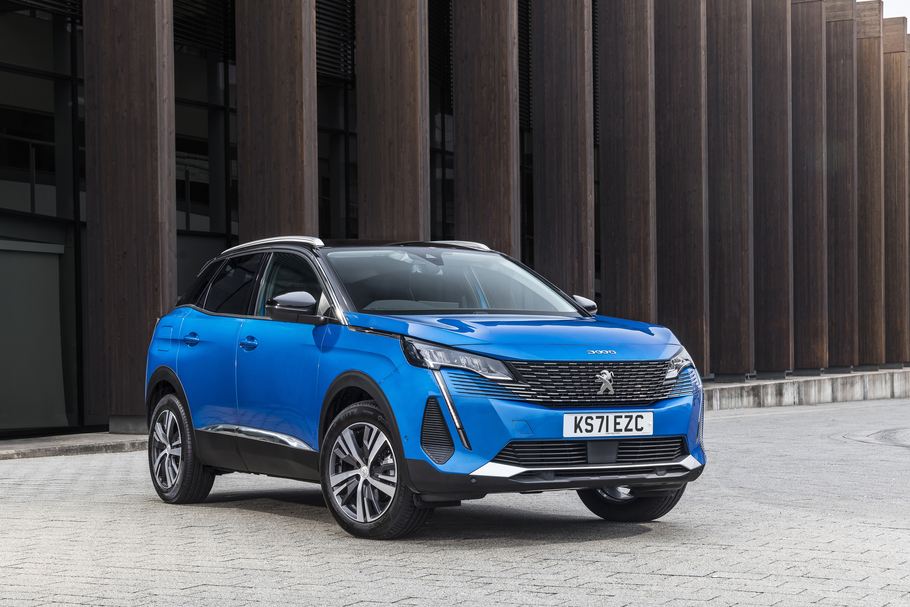 PEUGEOT has announced model year updates for the popular 3008 and 5008, as both models celebrate five years since they were launched.
Both models have proved customer favourites and have collected a host of awards since coming to market, including 'European Car of the Year' 2017 for the 3008 and What Car?'s 'Best Large SUV 2020' for the 5008, with the latter also collecting the title of 'SUV of the Year' four years in a row at the Company Car Today Awards. Over the past five years, the 3008 alone has achieved over 80,000 sales in the UK, cementing the model as a key competitor in the segment.
The changes to the new PEUGEOT 3008 and 5008 models include styling updates like the introduction of gloss black door mirrors on Active Premium, Allure and Allure Premium trim levels, complementing the frameless front grille and awarding the models a sportier look.
Inside, a new, premium 'Belomka' cloth with a half 'Mistral' leather effect trim complemented by 'Akinite' Copper stitching is now standard on GT trim.
Both models feature PEUGEOT's next generation digital i-Cockpit® technology with a 12.3-inch digital head-up instrument panel, a compact steering wheel for improved driving dynamics and, from Allure upwards, a 10-inch high definition capacitive colour touchscreen with Connected 3D Navigation, offering a three year subscription to TomTom(R) Live updates and SpeedCam / Danger Zone alerts
The new 3008 is available with two advanced plug-in hybrid options; HYBRID 225 with two wheel drive and HYBRID4 300 offering enhanced performance and four wheel drive, capable of driving up to 39 miles (WLTP) in zero emissions Electric Vehicle mode. With an 11% BIK rate, the 3008 Hybrid is also an affordable option for company car drivers. Since the plug-in HYBRID powertrain joined the 3008 range, it has accounted for over 11.7% of sales. Customers can also choose from efficient petrol and diesel engines, including the option of an 8-speed Automatic transmission.
The new 5008 features a class-leading modular interior with seven individual seats. The third row can be folded away under the floor when not required, as well as fully removed, while the second row seats are all adjustable and each benefit from ISOFIX fittings. To maximise load carrying capacity, the second and third row seats can be folded to offer a flat load area and a generous 2150 litres of space behind the front seats.
The new PEUGEOT 3008 and 5008 come with the latest driving aids and safety features to protect their occupants and other drivers. Technologies available include PEUGEOT's innovative Night Vision technology, which allows drivers to view pedestrians and animals on the 12.3-inch digital instrument panel up to 200m, beyond the scope of the headlights. Adaptive Cruise Control with Stop and Go and Lane Positioning Assist further enhance safety and driving pleasure
PEUGEOT 3008 prices
Trim

Engine

CO2 g/km

On the Road MRRP

Active Premium

1.2L PureTech 130 S&S 6-speed manual

140

£27,905.00

1.5L BlueHDi 130 S&S 6-speed manual

130

£29,855.00

Allure

1.2L PureTech 130 S&S 6-speed manual

140

£29,505.00

1.2L PureTech 130 EAT8 S&S 8-speed Efficient Automatic Transmission

145

£31,105.00

1.5L BlueHDi 130 S&S 6-speed manual

130

£31,455.00

1.5L BlueHDi 130 EAT8 S&S 8-speed Efficient Automatic Transmission

135

£33,055.00

HYBRID 225 e-EAT8

31

£37,310.00

Allure Premium

1.2L PureTech 130 S&S 6-speed manual

140

£30,205.00

1.2L PureTech 130 EAT8 S&S 8-speed Efficient Automatic Transmission

145

£31,805.00

1.5L BlueHDi 130 S&S 6-speed manual

130

£32,155.00

1.5L BlueHDi 130 EAT8 S&S 8-speed Efficient Automatic Transmission

135

£33,755.00

HYBRID 225 e-EAT8

31

£38,010.00

HYBRID4 300 e-EAT8

30

£43,010.00

GT

1.2L PureTech 130 S&S 6-speed manual

141

£32,005.00

1.2L PureTech 130 EAT8 S&S 8-speed Efficient Automatic Transmission

146

£33,605.00

1.5L BlueHDi 130 S&S 6-speed manual

131

£33,955.00

1.5L BlueHDi 130 EAT8 S&S 8-speed Efficient Automatic Transmission

136

£35,555.00

HYBRID 225 e-EAT8

32

£39,810.00

HYBRID4 300 e-EAT8

30

£44,810.00

GT Premium

1.2L PureTech 130 EAT8 S&S 8-speed Efficient Automatic Transmission

145

£35,505.00

1.5L BlueHDi 130 EAT8 S&S 8-speed Efficient Automatic Transmission

136

£37,455.00

HYBRID 225 e-EAT8

32

£41,710.00

HYBRID4 300 e-EAT8

31

£46,710.00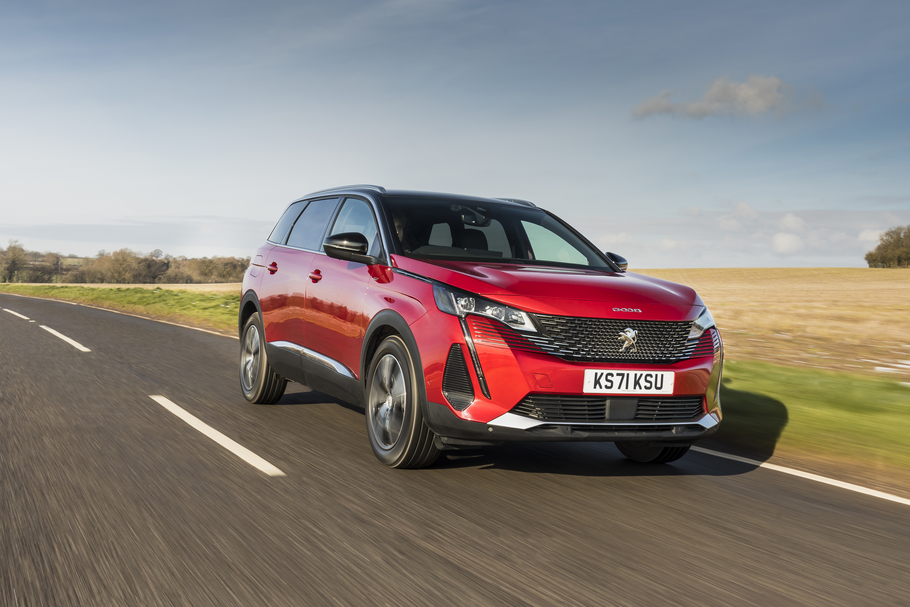 PEUGEOT 5008 prices
Trim

Engine

CO2 g/km

On the Road MRRP

Active Premium

1.2L PureTech 130 S&S 6-speed manual

143

£30,360.00

1.5L BlueHDi 130 S&S 6-speed manual

133

£32,330.00

Allure

1.2L PureTech 130 S&S 6-speed manual

145

£32,210.00

1.2L PureTech 130 EAT8 S&S 8-speed Efficient Automatic Transmission

151

£33,820.00

1.5L BlueHDi 130 S&S 6-speed manual

134

£34,180.00

1.5L BlueHDi 130 EAT8 S&S 8-speed Efficient Automatic Transmission

140

£35,780.00

Allure Premium

1.2L PureTech 130 S&S 6-speed manual

145

£32,760.00

1.2L PureTech 130 EAT8 S&S 8-speed Efficient Automatic Transmission

151

£34,370.00

1.5L BlueHDi 130 S&S 6-speed manual

134

£34,730.00

1.5L BlueHDi 130 EAT8 S&S 8-speed Efficient Automatic Transmission

140

£36,330.00

GT

1.2L PureTech 130 S&S 6-speed manual

145

£34,260.00

1.2L PureTech 130 EAT8 S&S 8-speed Efficient Automatic Transmission

151

£35,870.00

1.6L PureTech 180 EAT8 S&S 8-speed Efficient Automatic Transmission

158

£37,570.00

1.5L BlueHDi 130 S&S 6-speed manual

135

£36,230.00

1.5L BlueHDi 130 EAT8 S&S 8-speed Efficient Automatic Transmission

141

£37,830.00

2.0L BlueHDi 180 EAT8 S&S 8-speed Efficient Automatic Transmission

155

£39,290.00

GT Premium

1.2L PureTech 130 EAT8 S&S 8-speed Efficient Automatic Transmission

152

£37,770.00

1.6L PureTech 180 EAT8 S&S 8-speed Efficient Automatic Transmission

158

£39,470.00

1.5L BlueHDi 130 EAT8 S&S 8-speed Efficient Automatic Transmission

141

£39,730.00

2.0L BlueHDi 180 EAT8 S&S 8-speed Efficient Automatic Transmission

155

£41,190.00