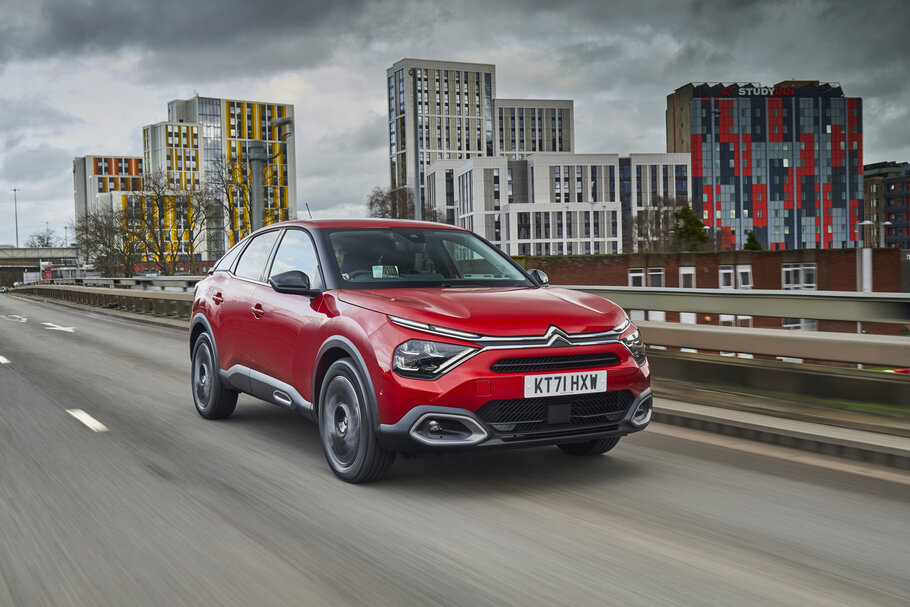 Launched at the beginning of 2021 in Europe, New C4 and ë-C4 – 100% ëlectric have already established themselves in the highly competitive C-hatchback segment. New C4 and ë-C4 are now key players in this market and have secured more than 30,000 registrations in the first six months in Europe*.
"With New C4, Citroën is making a strong comeback in the compact hatchback segment, thanks to its bold styling and well-known levels of comfort. New C4 is also the only model in its segment to offer the freedom to choose between petrol and Diesel combustion engines, and a 100% battery-electric option, which is making its mark on electric vehicle sales in Europe, climbing onto the podium on the electric compact hatchback segment."
Arnaud Ribault – Head of Citroën Brand, Europe.
As has long been the case with Citroën models in the UK, New C4 and ë-C4 – 100% ëlectric are seeing the strongest customer demand at the higher end of the range. Since launch, more than 70% of sales have been made on upper 'Shine' or range-topping 'Shine Plus' variants.
Focusing on New ë-C4 specifically – Citroën was the first brand in the UK to actively reduce its MRR pricing in response to the change in PICG eligibility in March 2021. As a direct result, the range-topping New ë-C4 'Shine Plus' trim level now accounts for over 70% of the total ë-C4 sales mix here in the UK.
New Citroën C4 and ë-C4 have quickly established themselves in the French vehicle market:
– As the top-selling model in the C-hatchback segment among private customers in the first half of 2021 – and then continuing that strong performance in July and August. New C4 is positioned ahead of the VW Golf, with a 19% share in the private customer segment.
– In the C-hatchback segment across all channels, New C4 took third place for the first six months of the year, with a segment share of 13.3%.
A FANTASTIC PERFORMANCE IN EUROPE IN THE FIRST HALF-YEAR
In Spain (the model's country of manufacture), New C4 took second place in the compact hatchback segment in the first six months of 2021 – behind the Toyota Corolla – with a segment share of 9.5%.
In Portugal, Citroën's new compact hatch came third in the first half of the year, with a segment share of almost 12%.
Elsewhere in Europe, New C4 stands out in both Italy and Belgium in particular, where it is ranked sixth in its category.
NEW Ë-C4 IS MAKING ITS MARK IN THE ELECTRIC COMPACT SEGMENT
New ë-C4 – 100% ëlectric clearly has a very promising future as it already represents 15% of total New C4 registrations in Europe. In the Netherlands, registrations of New ë-C4 account for 38% of total New C4 registrations, 27% in Germany – and 20.5% in the UK. In France, New ë-C4 registrations account for 10.2% of total New C4 registrations, a percentage that continues to grow each month.
After six months on sale, New ë-C4 ranks third in the compact electric hatchback segment in Europe, with a segment share of 8% – on the podium with the VW ID.3 and Nissan Leaf. New ë-C4 has achieved excellent results in specific countries: it is ranked second in Spain, with 28.5% of registrations in the C-segment for electric hatchbacks, third in France with a 22% segment share and third in Italy with a 14.6% segment share.
NEW C4 – A NEW TYPE OF COMPACT HATCHBACK
With their bold styling, New C4 and New ë-C4 – 100% ëlectric offer a new concept at the heart of the compact hatchback segment. With an elevated and assertive stance, the body shape combines the elegance and dynamism of a hatchback, while adopting certain SUV design cues for added strength and character, whilst the warm and high-tech interior instantly expresses well-being, comfort and modernity.
New C4 and ë-C4 also have the advantage of being able to offer the choice of three types of powertrain: electric with a 100kW motor and a driving range of up to 217 miles (WLTP) to ensure significant freedom of movement, or the latest generation Euro 6d petrol engines from 100hp to 155hp, and Diesel power from 110hp to 130hp.
As part of the brand's ongoing electrification strategy, Citroën has announced that each and every model in its range will be available with an electrified powertrain by 2025.
With New C4 and ë-C4 – 100% ëlectric, Citroën is keeping its promise of on-board well-being and comfort for all. Driving comfort is at the heart of the product offering with Citroën Advanced Comfort Suspension and Advanced Comfort Seats, whilst on-board comfort is reflected in the availability of generous amounts of space, clever storage solutions and a wide range of useful technologies.