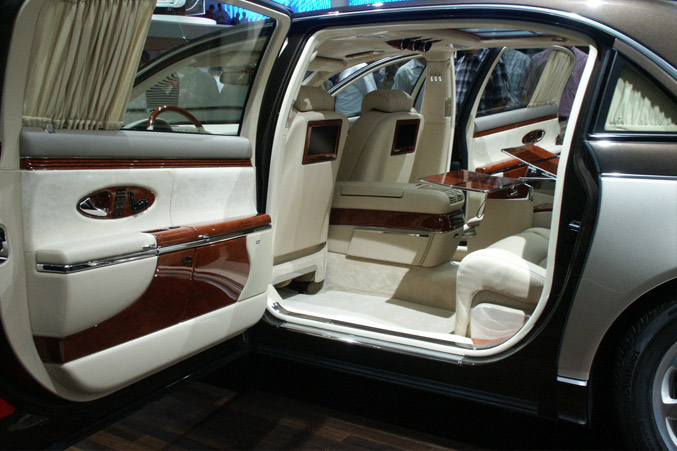 At $189,350, the new Mercedes-Maybach S600 will remain a dream for most people, but for car fans dreaming is half the fun – there's always the lottery! The high end luxury model, developed from the S-Class Mercedes, is set to be released in April this year, close to the start of the Formula 1 season in which Mercedes are expected to do well; perhaps not a coincidence. Fans of Mercedes drivers Lewis Hamilton and Nico Rosberg can follow their exploits and keep up with the latest odds online by choosing a bookmaker wisely; Yeboyescasino is one option for those looking for a recommendation. In the meantime, let's take a look at this ultimate luxury machine.
Interior Space
The S600 is really a hand-crafted work of art. There's a huge amount of room for rear seat passengers, and that's important because many of the people who buy one won't actually be driving it themselves. It's the kind of car you buy if you employ a full-time chauffeur (or two). If you've ever sat in the back of a standard S-Class, you'll know it's not exactly cramped, but the S600 is a full eight inches longer in the back. The Nappa leather used in the upholstery is hand stitched and incredibly comfortable. If that's not enough, consider that it also comes with electronic calf support, as well as solid silver champagne glasses as standard…
Ride
To enhance the comfort of the global oligarchs who will inevitably be the people that actually buy an S600, there's an extremely sensitive suspension system which manages to soak up any imperfections in the road surface, without making the car wallow or bounce like some huge limos of years gone by. It's also extremely quiet; in the back, you could quite easily recline the seats, airline-style (First Class of course), and take that all-important power nap.
Driving The S600
At some point, however, you may feel the urge to give your driver the day off and actually try it out yourself. It may look like it weighs the same as the QE2, but over 600 lb-ft of torque will propel it forwards (in near-silence) at a quite astonishing rate. The V12 engine is more than up to the task of delivering thrills, if that's what you want. Unsurprisingly, the electronic gizmos that come with the S600 are also state of the art; the audio system is incredible and more than a match for the home set-ups of most serious audiophiles.
A Bargain?
In fact, you might come to the conclusion that $189,350 is something of a bargain. If you sell your house and decide to live in an S600, it's entirely possible that you'll end up being more comfortable, having more room – and definitely turning more heads.
(Image: Wikipedia)