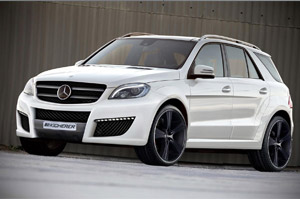 Mercedes-Benz ML "IMPACT"
BRAWNY AND ATHLETICALLY ELEGANT!
The KICHERER "IMPACT" that is modeled on the basis of the new Mercedes Benz ML series is a real high-performance luxury SUV! For this remarkable wide body design, the technicians and designers of KICHERER Fahrzeugtechnik from Stockach paid strict attention to fluent alignment: no unnecessary edges or the playfully aptly suggested air boxes while the ML characteristics remain clearly discernible. The result of this clear objective is an impressive Concept Car penned by the traditional Mercedes Benz Refinement Smithery "KICHERER Fahrzeugtechnik!
The assembly set of the bodywork that was developed in a very complex manner lies over the bodywork design of the ML like a second skin and transforms this celebrated model of Mercedes Benz into a powerful and elegant Sports SUV. Fitting accuracy and quality "Made in Germany" are well known to be an obligation in the KICHERER establishment.
Together with the LED daytime running lights, wheel arch enlargements for the front and rear axles, side skirts, attachments to the doors and trunk lids as well as a rear fender skirt with integrated rear diffuser and trapezoidal pipe-end covers in sportive four-pipe looks, a complete front fender skirt also belongs to the IMPACT's aerodynamic assembly set. The assembly set is complemented by numerous perfectly positioned applications made of visible carbon fiber.
Massive KICHERER RS2 Aluminum wheels in 22-inch format roll in the clearly enlarged wheel arch, adapted using an electronic chassis adjustment system by about 25 millimeters.
Even the refined interior of the KICHERER ML "IMPACT" is characterized by luxury and extreme love for details: choice Nappa leather, Alcantara and Carbon in the entire interior for an exclusive interior experience.
The KICHERER ML "IMPACT" aerodynamic kit will be available for all ML types 166 of the youngest generation. Initial market appearance is planned for the summer of 2012.