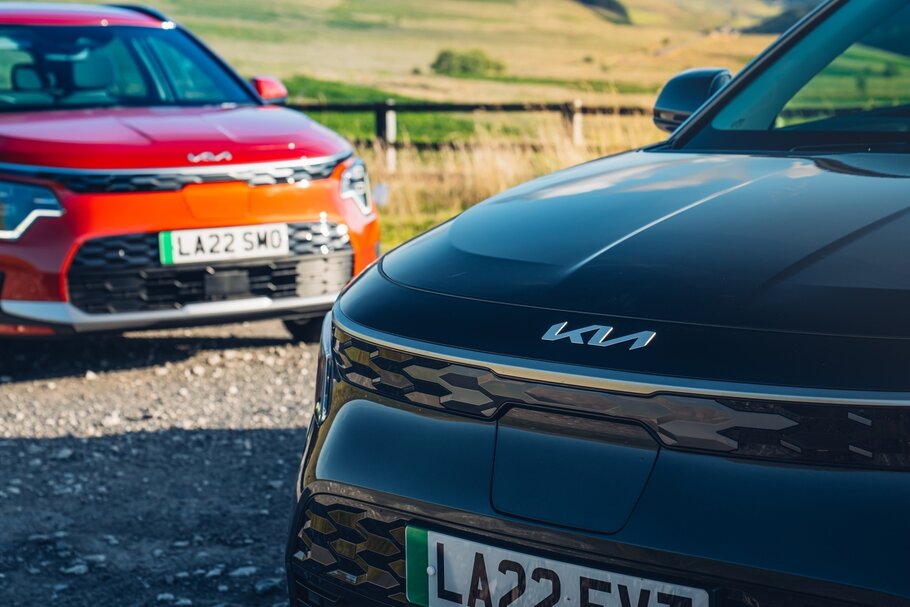 Kia UK Limited has achieved more than 100,000 sales in one year for the first time in its 32-year UK history. Delivering 3,450 new vehicles in December saw Kia's full year sales result hit an all-time high of 100,191 for 2022.
The Korean car maker finished sixth overall in 2022, its highest position to date, posting an all-time best market share of 6.2 per cent. With over 100,000 sales for the year and a record market share, Kia's success bucks the 2022 market trend that saw significant challenges across the UK market.
Since Kia's arrival in the UK in July 1991, the brand has sold almost 1.4 million cars in Britain.
2022 Overview
Following unprecedented challenges in the previous two years, sales in 2022 got off to a quick start for Kia, ending Q1 with 32,119 sales and achieving the position as the number one car brand in the UK. This success was thanks to the launch of the fifth-generation Sportage, which went on sale in mid-December 2021, and the Picanto that topped the A segment for several months. March saw the introduction of the Sportage PHEV, particularly attractive to company car drivers, with a low eight per cent Benefit-in-Kind taxation figure.
In the following quarters, Kia continued its sustained sales momentum, frequently ranking in the top five manufacturers. July saw the all-new Niro appear in Kia showrooms across the country, heralding a new beginning for the segment-defining car, with hybrid, plug-in hybrid and fully-electric models immediately available to order.
By September Kia was the fourth best-selling brand year to date, having grown its market share to 6.8 per cent, bolstered by sales of the Sportage and all-new Niro that together dominated the Compact SUV segment, with combined sales of over 44,000. By the end of September Kia had sold 83,105 vehicles ensuring it was well on track to achieve its target of 100,000 by the end of the year.
In the final quarter of the year, sales continued to grow and reached 100,191 by the end of December with a 6.2 per cent market share, with Kia finishing in sixth position. This was thanks to continued sales of its most popular models, as well as the introduction of the new XCeed – offered as both a petrol or plug-in hybrid model – that arrived in showrooms just before the start of the quarter.
Confirming its position as a leader in electrification, Kia's total hybrid, plug-in hybrid and full EV sales topped 42,988 in 2022, 43 per cent of its overall sales.
Paul Philpott, President and CEO of Kia UK Limited, commented: "Reaching 100,000 new car sales in 2022 is a significant milestone and testament to the hard work, determination and belief that each of our dealer partners have placed in Kia. It is also a time to say thank you to our dealers and our customers for their trust and loyalty.
"Since Kia first entered the UK car market 32 years ago, the brand has gone from strength-to-strength. Kia has continually thrived in a challenging market, our brand and products have evolved and perceptions have changed. Each of these have played an important role in Kia's sustainable and organic growth.
"Now Kia is the 6th biggest car brand in the UK and a leader in electrification, with 43 per cent of our vehicles sold in 2022 being electrified. And ambitious plans lie ahead as we continue to invest in electrified mobility and deliver customer-centric products and services."
Kia's past
Putting 2022's sales success into perspective, from 1991 to 2001, during its first decade in the UK, Kia sold a total of 61,784 new cars. However, over the next three years, Kia sales more than doubled to a total of 128,731 by the end of 2004 – the first year that the Picanto city car went on sale.
With the introduction of 7-year warranty and various economic factors influencing sales, including the 2009 scrappage scheme, Kia was well placed to take full advantage and during that year grew new car registrations by almost 60 per cent to 50,637 units – the first time that the company had sold more than 50,000 units in the space of a year.
This second decade was significantly different to the first, thanks to increasingly competitive, well-designed cars, and presence in a greater number of vehicle segments. As a result, Kia's 10-year sales between 2001 and 2011 had increased fivefold to 375,755 vehicles.
Kia achieved a significant sales milestone in June 2013, selling its 500,000th new car since the brand's arrival in the UK in 1991. This was followed by the 750,000th car sold in April 2016 and then the momentous 1 millionth new car sale was achieved in January 2019.
2019 also marked Kia UK's best-ever annual sales result for the eighth consecutive year, with 97,323 units sold across Britain, just shy of the 100,000 long term target.
Kia's future
Globally, Kia will introduce 14 EV models by 2027 as part of its 'Plan S' strategy. Nine of these models will make their way to the UK market.
Several models will be built on the Electric-Global Modular Platform (E-GMP) architecture. Paving the way for the future, the first E-GMP-based electric Kia was the multi award-winning EV6, while the all-new Niro EV is an electric derivative within the Niro model line-up.
Kia's next E-GMP-based electric car will be the EV9, based on the Concept EV9 revealed at the end of 2021, which perfectly demonstrates the flexible capabilities of a dedicated electric architecture with a large SUV design. This further reflects Kia's plan to offer electric vehicles across a range of segments.