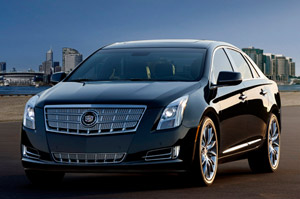 The 2013 Cadillac XTS luxury sedan, Cadillac's most technologically advanced car yet, will be available at U.S. dealerships later this spring with a starting price of $44,995 including destination.
The all-new XTS is the only car in its class with standard Magnetic Ride Control, the world's-fastest reacting suspension technology. Also standard and making its debut in the XTS, is CUE, Cadillac's breakthrough in-vehicle user experience for control and connectivity.
Three option collections will be offered on the XTS: Luxury, Premium and Platinum. The XTS Platinum model represents the highest level of technology and luxury, including a unique front appearance, wheels and interior colors, materials and trim. An advanced all-wheel-drive system, using Haldex technology to transfer power front-to-back, and side-to-side along the rear axle, will be offered on all three trim levels above the standard model.
"The all-new XTS redefines our approach to the luxury sedan by combining advanced technology, stunning design and confident performance," said Don Butler, vice president Cadillac marketing. "XTS brings new and exclusive technology, while still delivering the space and elegance that is Cadillac's DNA."
Cadillac is preparing for the debut of CUE first automotive use of capacitive touch, the technology used by many of today's best tablets and smartphones.
A new CUE iPad Application, which replicates the center screen that is the hub of the system, is being used to familiarize dealers with the experience as well as provide videos and information. The App will be opened to the public via the App Store in May as the XTS launches.
"We're taking advantage of the fact that CUE is parallel technology to tablets," Butler said. "CUE is intuitive, in part because its control and command structure aims to be consistent with popular devices millions of people already use. The App adds to this by literally putting CUE into your hands, even before you can get into the car."
Cadillac also will use OnStar to provide live assistance to XTS owners for CUE questions. And Cadillac dealerships will contain certified technology experts to familiarize shoppers and drivers with the system.