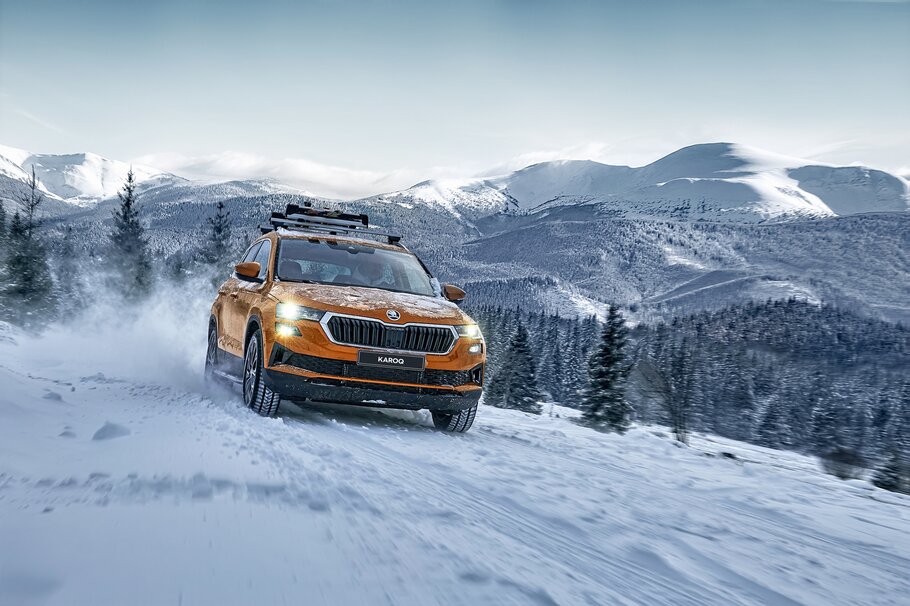 As Brits begin to plan for their festive break, ŠKODA UK has found that more than one-fifth of UK drivers are less likely to hit the road this year, as people feel the pinch due to the ongoing cost of living crisis. However, whether staying at home or hitting the road, ŠKODA can still reveal the definitive Christmas car playlist, with motorists voting for their favourite festive in-car tracks.
Research by ŠKODA UK found that 23% of drivers in the UK are planning on reducing their mileage this Christmas, as a result of the ongoing cost of living crisis continuing to pinch. Residents in London and the South East are those who will be most likely to be travelling less frequently, while respondents in Northern Ireland, Wales and the North East of England won't be letting their plans fall by the wayside.
On average, drivers in the UK are set to cover 95.1 miles over the Christmas period (23rd December to 2nd January) with Scottish drivers travelling the furthest on average at 115 miles. Those in the East of England expect to travel the least distance in that time, expecting to cover only 81 miles over Christmas and the New Year.
Regardless of where Christmas is spent, and no matter the amount of time spent in the car this festive period, ŠKODA research has also revealed what's on the top of the Christmas driving song playlist for journeys to visit family and friends.
The results speak for themselves, with a clear winner, the Fairytale of New York with 26% of the vote. In second place was Driving Home for Christmas by Chris Rea with 23% and third place went to Last Christmas by Wham! with 20%.
The ŠKODA UK Christmas driving playlist, ranked according to popularity, is as follows:
Fairytale of New York (The Pogues ft. Kirsty MacColl)
Driving Home for Christmas (Chris Rea)
Last Christmas (Wham!)
I Wish It Could Be Christmas Everyday (Wizzard)
All I Want For Christmas Is You (Mariah Carey)
Merry Christmas Everybody (Slade)
Do They Know It's Christmas? (Band Aid)
Merry Christmas Everyone (Shakin' Stevens)
It's Beginning To Look A Lot Like Christmas (Michael Bublé)
Step Into Christmas (Elton John)
What certainly doesn't sound like a Fairytale in New York is the response of the UK's drivers when asked if driving is more stressful over the holiday period, with a quarter (24%) of them saying they do feel more stressed compared with other times of the year.
A ŠKODA UK spokesperson commented: "Christmas is an important time of year for many of us, and it wouldn't be quite the same without a great playlist of festive hits, whether you're staying at home or Driving Home for Christmas. Driving the length and breadth of the UK to visit family and friends to Step into Christmas needn't be stressful if you've got this playlist to listen to."
When it comes to making the most of those seasonal stunners, the better the source, the better the listening experience. A flash drive (USB) with songs stored in what is known as 'lossless format' or 'compression-free' files are the best in-car options, with the very best audio quality. Beyond that you have a file type called 'lossy codec', an example of which is the very well-known MP3 file.
There's also cable connection via Apple CarPlay or Android Auto, a 3.5mm headphone-type cable connection and Bluetooth. ŠKODA owners have the added bonus of being able to enjoy Apple CarPlay or Android Auto without a cable connection with Wireless Smartlink.
In the ŠKODA ENYAQ iV, OCTAVIA, SUPERB or KODIAQ, the optional CANTON sound systems, individually developed for each model, offer a dynamic noise cancellation, impressive virtual surround sound and balanced acoustics for all styles of music, Christmas songs included.
If you're planning on Rockin' Around the Christmas Tree this Christmas time, or just Wish It Could Be Christmas Everyday, make sure you've got the ŠKODA playlist ready to go.