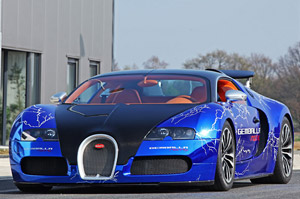 Usually the Bugatti Sang Noir has an all-black exterior color palette, which openly shows painted surfaces as well as carbon fiber parts. Compared to the "standard" Bugatti Veyron counterpart, at this special version the radiator grill and the aluminium rims were designed slightly different. In addition the headlamps are tinted and the interieur is shining with its orange colored leather. In total only 15 cars were produced.
What would be the fast and furious Bugatti Veyron Sang Noir without an eye-catching body skin? Regarding this issue the Cam Shaft car wrapping team, from Lower Rhine in Germany, paid attention. And they did a good job! Not only that the car is completely wrapped in chrome blue, additionally they attached astonishing flash wires using reflective foils. All carbon parts and the front of the car, including the headlamps were wrapped with a paint protection film to keep the likelihood of damages due to everyday road impacts at speeds over 400 kmph as small as possible.
Any anyone who uses in relevant search engines keywords such as car wrapping, premium wrapping, vinyl works, optionally in conjunction with one of the most exclusive car manufacturers, inevitably will find the name Cam Shaft. We can only hope that the family-related business Cam Shaft, which was founded in 2005, will present even more eye-catchers to the amazed public, beside the here presented Bugatti Veyron Sang Noir.
A standard premium car wrap from Cam Shaft can be had from around €2000, however, if you opt for the chrome blue wrap including the special paint protection film, the price is more than €10 000.