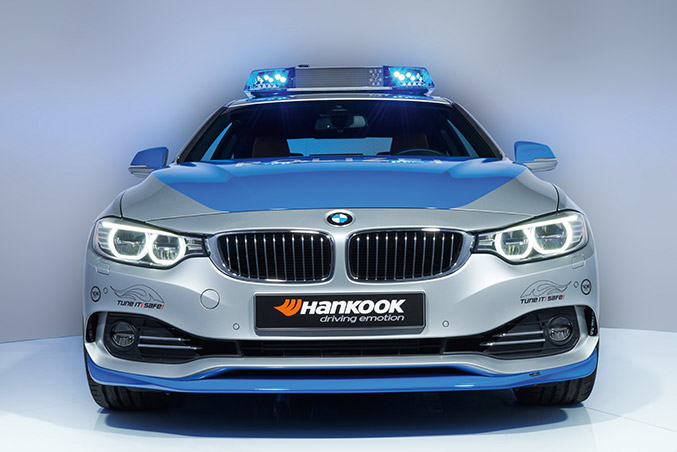 "Only serious and safe tuning will bring the driving fun you want!" Under this motto, the Association of German Vehicle Tuners (VDAT) launches a special concept car every year. In 2013, BMW AG is a partner in the Association's "TUNE IT! SAFE!" initiative, which is supported by the Police and the Federal Ministry for Transport, Construction and Road Development. The Aachen-based BMW tuning specialist AC Schnitzer was responsible for most areas of tuning in the BMW 428i Coupé.
As in the previous four years, a police vehicle was professionally modified for the campaign.
The AC Schnitzer "ACS4 2.8i Coupé" based on the BMW 428i Coupé shows that safe tuning is far from boring. VDAT-member AC Schnitzer has upgraded the 2.8i engine to 216 kW/294 HP and 420 Nm. The police vehicle now accelerates from 0 to 100 km/h in 5.7 seconds, capable of even the fastest pursuit.
An acoustic and visual highlight is the AC Schnitzer twin sports rear silencer of stainless steel with the new chromed "Evo Racing" tailpipe trims.
The latest AC Schnitzer Type VIII Lightweight Forged Wheels in 9.0J x 21″ are fitted with "Ventus S1evo" tyres in 245/30 ZR 21 91Y from TUNE IT! SAFE! chief sponsor Hankook. The low, safe road position is ensured by the AC Schnitzer racing suspension, adjustable in compression and rebound stages, from the Aachen company. Front spoiler, rear diffuser, rear spoiler and rear roof spoiler complete the aerodynamic conversion.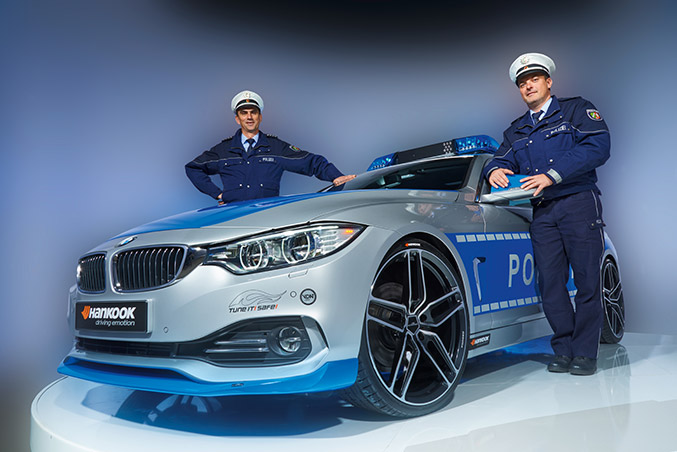 In the interior, the guardians of law and order can enjoy aluminium pedals, foot rest and "Black Line" handbrake handle, and the new key holder. Velours floor mats complete the interior styling. The concept car impressively demonstrates large parts of the AC Schnitzer tuning range, all of which are available commercially and of course TÜV-approved.
To make the BMW visually into a "true" police car, TUNE IT! SAFE! partner FOLIATEC provided the official film decor, and Hella the special signalling system RTK 7.
The TUNE IT! SAFE! campaign vehicle makes an essential contribution to the fight against illegal and unsafe tuning and counterfeiting. It will be presented for the first time at the Essen Motor Show on the VDAT stand No. F 104 in Hall 10 from 29th November to 8th December 2013. After that, it can be seen at many other shows, exhibitions and events throughout Germany.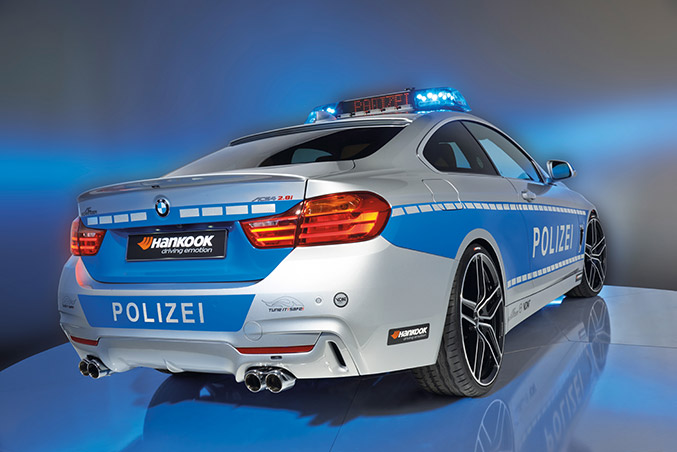 The TUNE IT! SAFE! 428i Coupé by AC Schnitzer is no pure show car however: it is fully usable, and has been optimised in many areas. For example, the performance upgrade has improved the  CO2 value per HP, and the efficiency of the engine has been optimised. The forged alloys Type VIII reduce the rotary forces by a perceptible 100 kg, which in conjunction with the height-adjustable racing suspension, ensures significantly improved driving qualities. We call this Efficient Performance by AC Schnitzer.
Source: AC Schnitzer