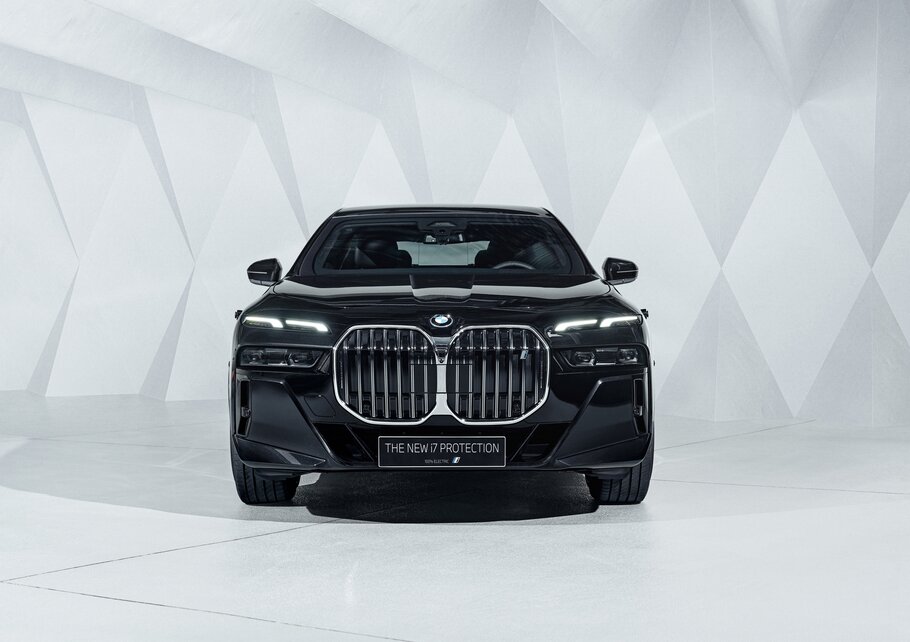 BMW unveils a new generation of protection vehicles in the luxury saloon segment.
Utilising the design of the award-winning BMW 7 Series, the two new models blend an unrivalled protection concept with outstanding levels of ride comfort and spaciousness, advanced equipment features and the class-beating dynamic prowess for which the brand is renowned. As the world's first ever protection saloon with an all-electric drive system, the BMW i7 Protection (electric power consumption combined in WLTP cycle: 30.0 kWh/100 km, provisional figure for the German market) is a genuine trailblazer. This model variant meets all the requirements of class VR9 protection without any limitations, as does the new combustion-engined BMW 7 Series Protection (fuel consumption combined in WLTP cycle: 18.1 mpg; CO2 emissions: 355 g/km, provisional figures for the German market).
The new protection models offer at-risk individuals customised protection from attacks with firearms and explosives. They have been classified as offering class VR9 protection based on the internationally recognised official test criteria of Germany's Vereinigung der Prüfstellen für Angriffshemmende Materialien und Konstruktionen (Association of Test Laboratories for Attack-Resistant Materials and Constructions – VPAM, for short). The certification is based, among other things, on the third edition of the guidelines for Bullet Resistant Vehicles (BRV 2009) with regard to ballistic resistance and the guidelines for Explosive Resistant Vehicles (ERV 2010) and PAS 300 with regard to blast resistance. The glass for the two models even meets the criteria for VPAM 10 classification, representing the highest level of protection for civilian protection vehicles. The armoured body of the new BMW 7 Series Protection can also be upgraded to offer VPAM 10 protection as an option.
The new BMW i7 Protection and new BMW 7 Series Protection will be built at BMW Group Plant Dingolfing in an elaborate "craft manufacturing" process. They are set to make their public debut at the IAA Mobility 2023 international motor show in Munich, with deliveries commencing in December 2023.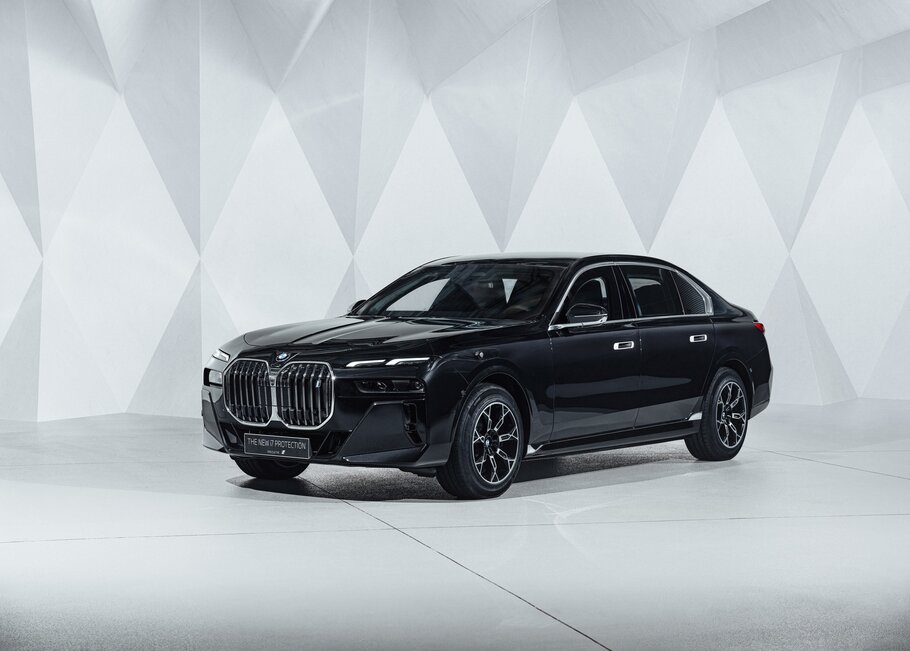 Innovative protection concept featuring unique BMW Protection Core.
The standout integrated protection concept of the new BMW i7 Protection and BMW 7 Series Protection was factored into the development of the new 7 Series range. With the new BMW Protection Core, the entire supporting structure for the protection saloon's body is constructed from armour steel for the first time. The BMW Protection Core forms a self-supporting protective cell, which is then combined with protection-spec doors, armouring for the underbody and roof, and safety glass.
The special armouring for the roof and underbody has been designed to offer maximum protection against explosives in particular. The occupants are also protected from drone attacks with explosive charges and from fragments dispersed by hand grenades on detonation. The new BMW 7 Series Protection also features a self-sealing fuel tank as a standard. The tank's casing automatically closes breaches made by the impact of a bullet and thus prevents loss of fuel.
Greater spaciousness, lower weight and sharper agility combined with uncompromising occupant protection.
The structural protection concept with BMW Protection Core gives the new BMW i7 Protection and new BMW 7 Series Protection major advantages in other respects as opposed to armouring a finished vehicle at a later date. When seen from the outside, they have a similar look and feel to a regular BMW 7 Series Saloon M Sport, and their discreet appearance represents an additional safety factor for people requiring protection. Thanks to the fully integrated protection concept with BMW Protection Core, the levels of room and seating comfort on board hardly differ from those found inside a conventional BMW 7 Series Saloon.
The optimised weight combines with the increase in body rigidity (another benefit of the BMW Protection Core) to deliver well-resolved handling and the dynamic responses expected of a BMW in dangerous situations. The unrivalled levels of agility shown by the two protection saloons translates into high steering precision, excellent cornering dynamics and outstanding figures for acceleration and top speed.
BMW i7 Protection: outstanding security, zero tailpipe emissions and no compromises.
The BMW i7 Protection brings the all-electric mobility experience to the protection vehicle segment for the first time. Its two electric motors – one at the front axle and one at the rear – together create an electric all-wheel-drive set-up and produce system output of up to 400 kW/544 hp and maximum system torque of 745 Nm (549 lb-ft).
The instantaneous power delivery, distribution of power to all four wheels and intelligent networking of all the powertrain and chassis systems guarantees exceptional traction, directional stability and dynamic prowess. The new BMW i7 Protection sprints to 62 mph from rest in 9.0 seconds, while top speed is electronically limited to 99 mph.
BMW 7 Series Protection: unwavering protection, superior dynamics.
In the petrol-engined version of the new protection saloon, a latest-generation 4.4-litre V8 unit generates maximum output of 390 kW/530 hp and peak torque of 750 Nm (553 lb-ft). Its BMW TwinPower Turbo technology includes an upgraded turbocharging system with electrically operated blow-off valve and indirect charge air cooling, along with a cross-bank exhaust manifold. In addition, the presence of 48V mild hybrid technology helps to optimise power delivery and efficiency.
The BMW xDrive intelligent all-wheel-drive system directs drive power to all four wheels as required. The new BMW 7 Series Protection accelerates from 0 to 62 mph in 6.6 seconds and goes on to reach a top speed of 130 mph.
Model-specific chassis technology for assured performance.
The new protection saloons come with chassis technology that has been modified and tuned specifically for these models and makes allowance for the additional weight resulting from their special protection features. This produces superbly assured performance in any situation. Thanks to a robust basic construction and the presence of sophisticated chassis systems, passengers in the rear compartment are also able to enjoy exceptional levels of ride comfort. The protection saloons also convince with precisely controllable handling, even when they are being driven hard, such as when escaping from an attack.
Unique in the segment: Integral Active Steering and 20-inch light-alloy wheels with exclusive PAX tyres.
The new BMW i7 Protection and new BMW 7 Series Protection are the first and only protection vehicles in their segments to be fitted with Integral Active Steering. This rear-wheel steering functionality not only reduces the cars' turning circle when manoeuvring, it also increases precision and dynamic response through corners taken at speed. Another key attribute of Integral Active Steering – specified as standard here – is how it enhances driving comfort for rear-seat passengers.
Another standout offering in this segment are the 20-inch light-alloy wheels fitted as standard. As well as enhancing ride comfort, traction and directional stability, these also enable the use of a particularly powerful braking system. The specially developed PAX tyres supplied by Michelin in the dimensions 255-740 R510 are equipped with a runflat ring, which allows the car to continue its journey at up to 50 mph even in the event of a total loss of pressure.
Driver assistance systems with information and warning function.
The new BMW i7 Protection and new BMW 7 Series Protection are equipped with an extensive selection of driver assistance systems. The functionality of this tech is focused on supporting professional chauffeurs with information and warnings, but without actively intervening to control the vehicle. The highly advanced sensors developed for the new BMW 7 Series range and all of the cameras available for the luxury saloon are also fitted on the protection vehicles. These provide precise and detailed information on the area around the vehicle in all situations.
Extensive comfort-enhancing features with exclusive details.
In order to optimise visibility in low ambient temperatures, an electric heating function for both the windscreen and the front sections of the side windows comes as standard. Model-specific pre-heating is available as an option. An exclusive convenience feature also included as standard is motorised assistance for opening and closing the doors.
Another item available on the options list is a cool box integrated between the rear seats to ensure drinks are kept cold. The standard-fitted Bowers & Wilkins Diamond Surround Sound System, meanwhile, lays on a high-end audio experience.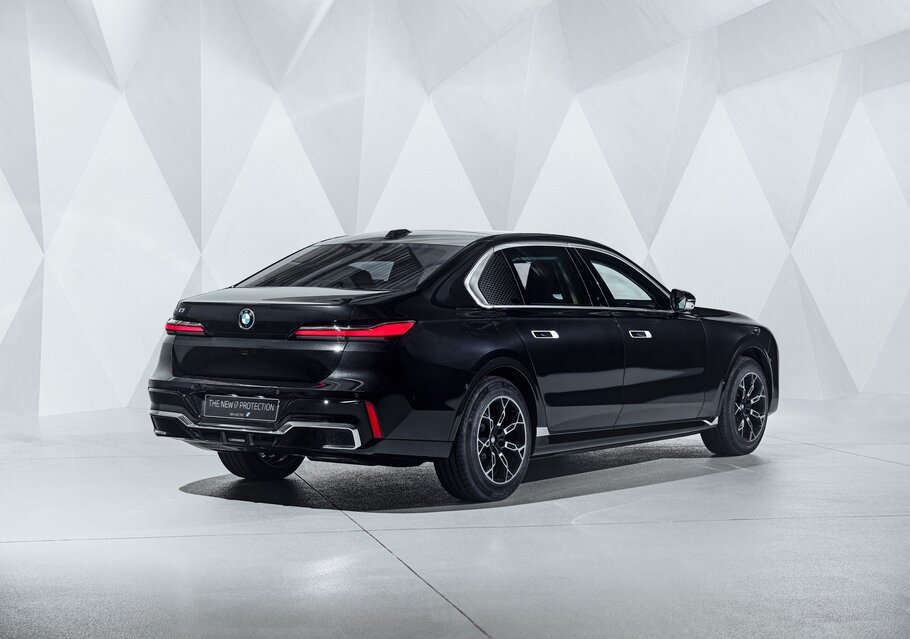 Varied range of options for individualising the exterior and interior.
The integrated protection concept of the protection saloons and production at BMW Group Plant Dingolfing maximise the scope for customers to put their personal touch on the exterior and interior. The BMW crystal headlights Iconic Glow are offered as an option alongside the standard illuminated BMW kidney Iconic Glow and almost all of the body colours offered for the new BMW 7 Series range are available. Inside, customers will find multifunction seats, BMW Individual Merino leather upholstery, with seat heating and ventilation as standard. A massage function can be specified for all seats as an option. The range of optional seat and interior surfaces is also carried over from the richly varied options list for the new BMW 7 Series.
BMW iDrive with BMW Curved Display and integrated operation of model-specific security functions.
The new BMW i7 Protection and new BMW 7 Series Protection are equipped with the latest generation of BMW iDrive based on BMW Operating System 8.5 complete with the BMW Curved Display. The system is intuitive to use and operates in a way that will be familiar to BMW drivers. The special functions relevant to occupant protection are also operated via BMW iDrive. They can be activated and controlled in full using the touchscreen capability of the control display.
A camera-based additional interior mirror can be specified as an option. At the touch of a button, this shows the image feed from the Reversing Assist Camera in the control display. A standard-fitted intercom system allows the car's occupants to communicate effectively with people on the outside without having to open doors or windows.
Effective protection measures for a variety of attack scenarios.
A wide range of standard and optional equipment available for the new BMW protection saloons provides occupants with custom-spec protection in various attack scenarios. The new BMW i7 Protection and new BMW 7 Series Protection can be tailored precisely, with custom options including a fresh-air supply system, a fire extinguishing system, flashing lights, radio transceivers and flag poles for use when the car is on official duty, plus other special customer-specific options.