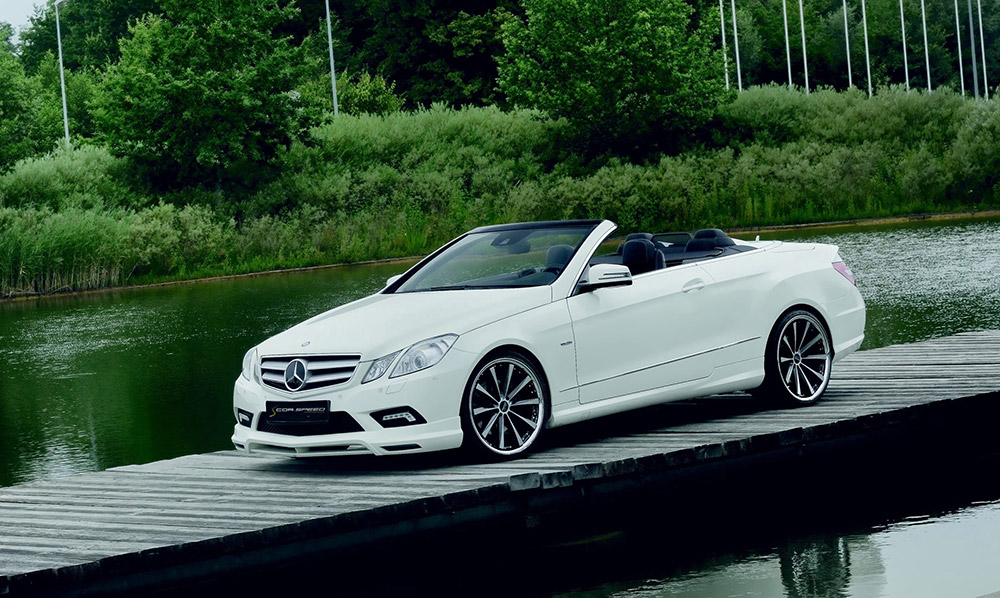 Mercedes W207 Cabriolet with ARROWS wheels, coilovers & Piecha aero styling
Cor.Speed Performance Wheels have always been distinguished by unique designs that distance them from run-of-the-mill aftermarket alloy wheels.
A fine example of how these wheels transform the looks of a car is shown by this Mercedes-Benz E-Class Cabriolet (W207) fitted with the distinctive 8.5 and 10.0×20-inch, 10-spoke Cor.Speed ARROWS design in Higloss Black Polished Finish with Inox Lips. These elegant wheels are priced from 474 euro and 503 euro, front and rear respectively.
The staggered wheel sizes with appropriate offsets give these attractive wheels concave profiles, which add to the perception of depth, with the cars wider, more purposeful stance further bolstered by 10 mm spacers at the rear. Low profile 245/30R20 and 275/25R20 tyres help to fill out the wheel arches, whose lips are radiused for perfect clearance.
To maximise the extra rubber contact patches Cor.Speed installed an H&R coilover suspension system. Fully adjustable for ride height as well as damper bounce and rebound values, this 2,271 euro suspension kit has been set up to lower the car 45 mm at the front and 40 mm at the rear.
This appearance package is completed by a discreet Piecha Design front spoiler lip (655 euro), designed for direct fitting to the front valence of the factory AMG body styling kit.