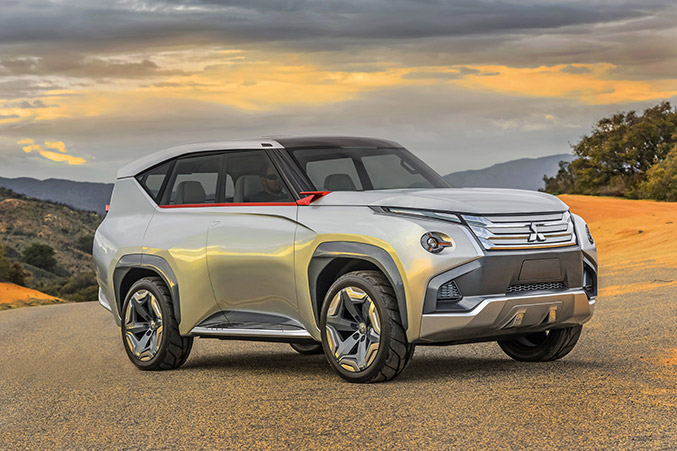 The Mitsubishi Concept GC-PHEV ("Grand Cruiser") is a futuristic next-generation full-size crossover that combines the capability and energy efficiency of a dynamic plug-in hybrid electric vehicle (PHEV) powertrain in a muscular-looking yet highly refined vehicle.
Every bit as capable off-road as its brawny sheetmetal suggests, it features a supercharged V-6 engine paired with a high-output electric motor/high-capacity lithium-ion battery, a sophisticated 8-speed automatic transmission and Mitsubishi Motors' advanced full-time Super All-Wheel Control (S-AWC) all-wheel drive for outstanding performance and tractability in even the most daunting terrain and road conditions. This eco-friendly PHEV drivetrain offers high performance (335 bhp/250 kW) with exceptional fuel economy because of its Mitsubishi innovative Electric Vehicle (MiEV) technology.
Inside you'll find a sophisticated and modern cabin that has been designed to offer an exceptional degree of comfort for all its occupants. It also has an array of innovative next-generation safety and convenience technologies including Mitsubishi's signature augmented reality technology AR Windshield and touchscreen-based Tactical Table connected car information system.
Exterior Design
The exterior design of the Concept GC-PHEV is marked by the carefully placed angular creases in the sheetmetal that when combined with the overall imposing dimensions and muscular silhouette of this vehicle, express a sense of performance, capability and safety.
The powerful exterior composition makes it look as though a master craftsman chiseled it by hand out of a single block of granite. Paradoxically, the Concept GC-PHEV's form was carefully designed to include aerodynamic enhancing features throughout its exterior to minimize energy wasting parasitic drag.
Up front, the sleek, narrow headlights perched atop the daytime running lamps have been positioned as high as possible for maximum effectiveness and visibility. The front grille cascades from the hood down to the lower section of the front fascia. Active variable louvers have been placed within the grill to enhance engine cooling when the engine management system deems it necessary.
At the rear of the vehicle, the large tailgate marries aesthetically appealing crisp and contemporary lines with outstanding functionality, providing exceptional rearward visibility to the driver. The exterior aesthetic of the Concept GC-PHEV embodies a spirit of adventure and rugged capability and hints at the exciting design language for future Mitsubishi production vehicles.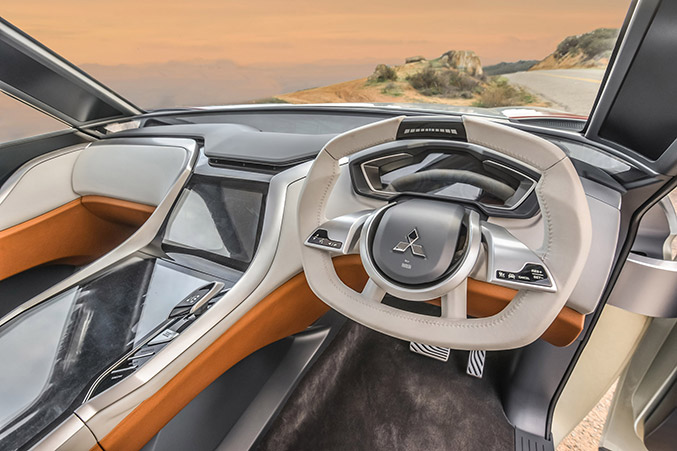 Interior Design
Mitsubishi Motors focused on a new direction for the interior of the Concept GC-PHEV that places equal importance on comfort, functionality and technology for all of the vehicle's occupants.
All four of the Concept GC-PHEV's occupants get their own ergonomically-designed bucket seat and everyone in the vehicle has access to an exciting new Mitsubishi technology – the Tactical Table.
A technologically advanced new feature for the driver is Mitsubishi's new AR Windshield (see "Safety" on page 12 for more info) that utilizes augmented reality to relay critical information in the driver's line of sight across the windshield.
Access to the spacious interior is made even easier for all four occupants thanks to the Concept GC-PHEV's reinforced body construction that allows for the traditional B-pillar to be removed altogether.
Source: Mitsubishi