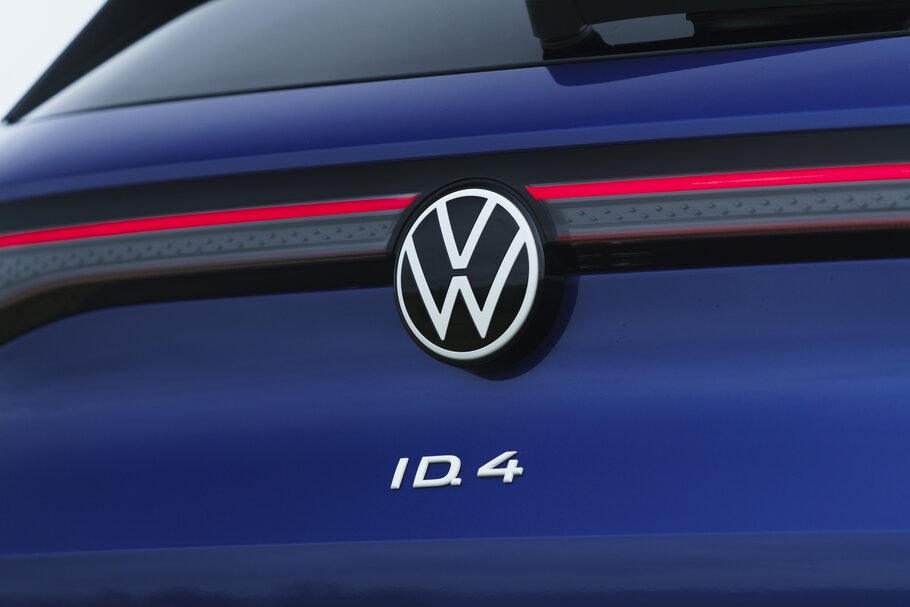 Volkswagen is delivering on its promise to bring a stream of capable, net carbon-neutral electric family cars to market, with series versions of the ID.4 opening for order tomorrow (Thursday 8 April). Following on from the ID.4 1ST Edition, the 204 PS ID.4 Pro Performance will be available in Life, Family and Max specifications, starting at £41,570 RRP OTR and offering up to 323 miles range (WLTP combined).
These well-equipped series versions of the ID.4 follow on from the limited-production ID.4 1ST Edition, and open for order tomorrow. The three models are fitted with the Pro Performance powertrain featuring a 77 kWh battery (net capacity) and 204 PS / 310 Nm electric motor. This powertrain underpins the ID.4 line-up, with the ID.4 Life Pro Performance predicted to be the top-selling version of the zero-emission SUV. The Pure models with a 52 kWh net battery capacity will go on sale in the coming months.
All three specifications can regain up to 199 miles of range from a 125 kW rapid charger in 30 minutes, while a 7.2 kW home charger takes around 11 hours to take the ID.4 Pro Performance from 0 – 100%. Charging to 80% from a DC, CCS charge point takes 38 minutes.
As the introduction to the ID.4 range, the entry-level Life model offers a high level of equipment as standard. It is the first of the three pre-configured models with features sorted into fixed equipment packs to simplify the ordering process for customers, just as the ID.3 does currently.
Highlights among these packs for the ID.4 Life include 30-colour ambient lighting; split-folding rear seats with a load-through hatch and centre armrest; and play and pause pedals; all as part of the Interior Style Package. The Infotainment Package brings a 10-inch Discover Pro touch-screen system with navigation, and inductive smartphone charging. Luxury and convenience are covered by the Comfort Package which comprises a heated, infrared-reflecting, sound-insulated windscreen; two front and two rear USB ports; 2-zone climate control; and heating for the front seats and steering wheel.
Next up in the range is the ID.4 Family which builds on the generous Life specification by adding attractive 19-inch 'Hamar' alloy wheels and upgraded equipment packs. The Design Package Plus brings IQ.Light LED matrix headlamps which feature the signature LED strip extending from each headlamp and meeting at the Volkswagen roundel. LED lighting also features in the door handle recesses and in the rear lights, the latter having a unique 3D structure. Privacy glass for the rear windows and a large panoramic sunroof complete the pack. Meanwhile, the Comfort Package Plus upgrades the climate control to a 3-zone system, and provides convenience-boosting features for the car's luggage area including a net partition and luggage net, while the Assistance Package adds a rear-view camera, and Keyless Access locking and starting system.
As the flagship of the current ID.4 range the Max is the most comprehensively-equipped variant, and adds technology and convenience features in abundance. Starting with the Infotainment Package Plus, the ID.4 benefits from a larger 12-inch Discover Max infotainment system as well as Volkswagen's acclaimed augmented reality head-up display, which safely and seamlessly overlays instructions and information over the road in front of the driver so they can keep their eyes on the road at all times. The Interior Style Plus pack is bolstered by the addition of sport seats with integrated headrests. These seats also provide 12-way electric seat adjustment, memory and massage function, in addition to heating for both front seats.
Driver assistance is enhanced by the Assistance Package Plus which provides Travel Assist, Lane Assist, Emergency Assist and Side Assist systems, while parking is made simple and convenient with the addition of the Area View cameras. The Easy Open & Close system allows remote unlocking of the tailgate, as well as electric operation with sensor control – wave a foot under the rear bumper to operate the tailgate. In addition to all this the ID.4 Max gets adaptive dampers (DCC) for customisable suspension characteristics, as well as progressive steering for an even more responsive, engaging drive. Finally, a heat pump is also included as standard, to allow optimal efficiency from the electric powertrain.
These generous equipment lines leave little room for options however should an ID.4 customer wish to personalise their car further for their needs or preferences, they can opt for a contrasting black roof as a no cost option, or an eye-catching silver style pack, which adds silver to the roof trim, roof rails and rear pillars (£620). It is also possible to select white interior styling elements and a white steering wheel (no cost option). The ID.4's already impressive practicality can be boosted with a folding tow bar. The ID.4 Pro Performance has a towing capacity of up to 1,000 kg – while the heat pump is available optionally (£1,250) on the Life and Family specifications, and is standard equipment on the ID.4 Max. Four alloy wheel options are available in sizes ranging from 18 inches to 21 inches, depending on specification.
The ID.4 is also customisable with attractive colours including premium Mangan Grey Metallic, vibrant Honey Yellow Metallic, sleek Moonstone Grey, Scale Silver Metallic and Blue Dusk metallic, as well as Glacier White.
Deliveries of the ID.4 Pro Performance are expected to commence during the first week of May. Like the ID.3, they will be delivered to customers as a 'net climate-neutral product' according to independent auditing body TÜV Nord. The factory for UK market cars in Zwickau, Germany is powered entirely by renewable energy. Suppliers, in particular the battery-cell manufacturers, are also making use of renewable energy. Unavoidable emissions are compensated for through internationally recognised climate protection projects. The ID.4 is sold around the globe and also produced in two Chinese factories, while an American and second German plant will commence production next year.
Joe Laurence, ID. family product manager at Volkswagen UK, said: "The ID.4 has officially arrived in series form with a punchy powertrain, big battery and equipment package that leaves little to be desired. The fact that we're launching this just a few months after we shook up the affordable electric vehicle market with the ID.3 is testament to rapid growth in the BEV market. There's more to come, too – entry-level powertrains, batteries and specifications will arrive in the coming weeks, which will see the ID.4 entry price fall to less than £32,000 with the new government grant.
"The ID.4 represents what the buying public want from a car: zero tailpipe emissions motoring, sustainable production, SUV body style, practicality in abundance, technology to add both convenience and joy to the driving experience, while providing the quality, familiarity and comfort customers expect from a Volkswagen."