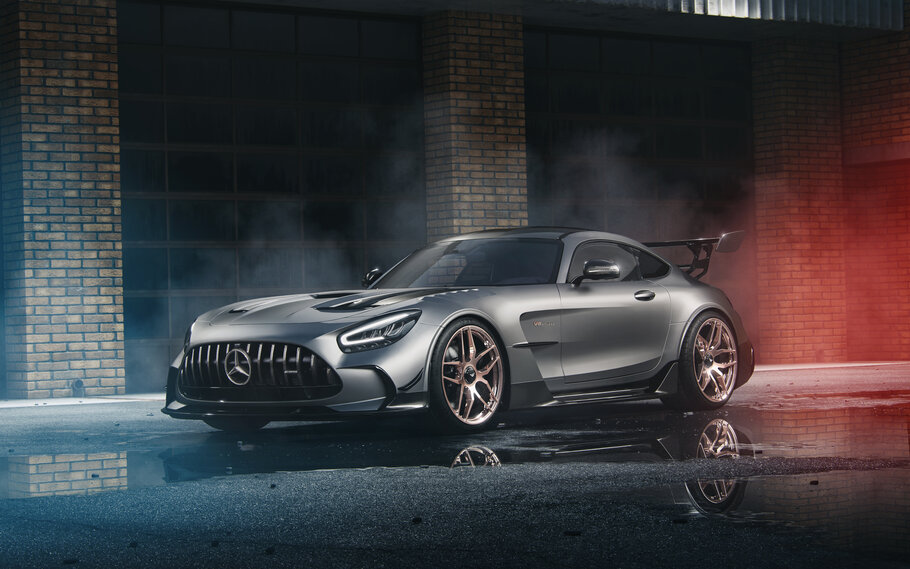 It took a little while – after many years Mercedes-AMG is bringing back the Black Series label – now there's a roar in the air and a slight tremor in the ground. Booming with spoilers:
The Black Series…the most powerful AMG V8 production engine ever with 537 kW / 730 hp. Despite so much power, it's street legal. Even at first glance, it's obvious that AMG is talking serious business with regards to the Black Series.
Pit stops are not just perfect teamwork. Changing wheels in a few seconds – that requires high-tech equipment. Sebastian Dohmen, managing director of wheelsandmore… "we came up with an idea"…: his hard work now pays off. wheelsandmore has reinvented the wheel after years of development. The patent registration (EP 3643513) for the central locking adapter system incl. rim is in prospect!
For even more driving fun and goosebump moments: now available at wheelsandmore in Baesweiler near Aachen a dream came true for individualists who love the extraordinary: the UNDERDOCK central locking adapter system, available in many bolt circles and offsets.
Embellished by a magnetic cover with wheelsandmore logo anodized and lasered in all colors.
Now experience premium alloy wheels and a unique driving experience. Every gram saved moves the sports car a little closer to the winner's podium.
Let yourself be carried away by the striking design and noble materials of wheelsandmore forged rims. Lightweight rims are the ultimate with regard to performance. This will significantly improve braking performance, handling and comfort. And also the consumption decreases. As a general rule, the lower the mass of unsprung components, the better the handling characteristics of a vehicle. This is particularly noticeable among drivers who prefer a dynamic, sporty driving style.
The right gear train for the Mercedes GT Black Series: wheelsandmore rims called UD-1 in the size 9×20 inches on the front axle and huge 12×20 inches on the rear axle. Additional high-performance tires from Michelin with the designation S-Cup2 in size 285 / 30-20 and 335 / 30-20 complete the whole thing.
It's magic. The UD-1 alloy wheel: one-piece center lock forged rim, available in 20 inches to begin with. Other sizes are in preparation.
And it's still getting better: weight per rim 20 inch (9.0 / 10.0 and 12.0×20) 9-12 Kg.
UNDERDOCK center lock adapter system:
– High strength forged aluminum
– Contour milled
– Extremely light weighted
– Available in different colors
– Central locking nut made of aluminum-magnesium alloy
– Locking counter screw
– Bolt circle adapter made of aluminum-magnesium alloy
– Drive pin pressed in
– Hub cap with magnetic lock
– With TÜV approval
If that's not enough: The additional strength of exclusive forged rims can therefore significantly reduce wheel deflection in curves. This is especially important for cars with powerful engines, where large loads occur at the limit.
The high quality coating of the rims ensures high resistance in bad conditions.wheelsandmore alloy wheels are appreciated by drivers who prefer a dynamic, sporty driving style.