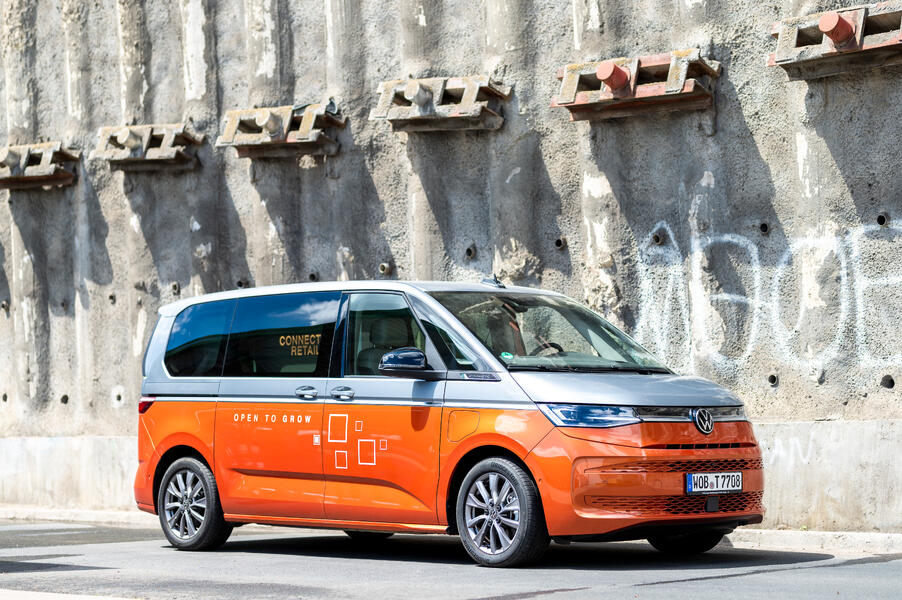 Volkswagen Commercial Vehicles is launching a strategic "Business to Business" cooperation with Connected Retail by Zalando. Connected Retail is Zalando's solution to connect online retail with brick-and-mortar retail, and Volkswagen Commercial Vehicles is presenting this by mobile showrooms in the new Multivan. The cooperation starts with a road trip in Switzerland and Italy. The converted Multivans will make stops in ten countries and more than fifteen fashion capitals, bringing Zalando's digital solution for stationary retail to life on site.
"We are delighted to be able to take another step into the digital future of our industries together with Connected Retail by Zalando. As ambassadors for the mobility future, this cooperation enables us to expand our commitment in the B2B sector", says Dr. Stefan Pfeiffer, Head of Marketing Volkswagen Commercial Vehicles.
With this cooperation, Volkswagen Commercial Vehicles has the opportunity to reach the large target group of stationary trade. The vehicles will be used during the four-month "Open to Grow" tour and will be part of events and fashion fairs. Thereby the high flexibility of the New Multivan will be presented and sustainable mobility demonstrated.
"With Connected Retail, we offer stores the possibility to sell to millions of Zalando customers. We are really excited to now take Connected Retail to the heart of our partners' businesses – thanks to our partnership with Volkswagen Commercial Vehicles", says Dr. Carsten Keller, VP Direct to Consumer & Managing Director Connected Retail. "The partnership allows us to further localise our efforts and meet our partners where they are: in and around their store".
Connected Retail is Zalando's digital solution for local stores. These stores can offer their assortment through a secure and user-friendly interface, to millions of customers and thus increase their online sales. This is how the joint vision from VWCV and Zalando of "making retail digitization into life experience" will be pursued. The authentic integration of the New Multivan will happen as part of a roadshow through Europe's fashion capitals, where they will be staged as presentation vehicles with media impact.
Zalando SE:
Zalando is one of the leading online platforms for fashion and lifestyle in Europe. Founded in Berlin in 2008, Zalando today offers almost 49 million active customers in 25 countries products from the areas of clothing, shoes, accessories and cosmetics. The range includes world-famous international brands as well as local labels. The Zalando platform offers customers a destination for inspiration, innovation and interaction. As Europe's most fashionable tech company, Zalando is constantly looking for new digital solutions for every part of the shopping experience – for customers, partners and all other stakeholders. The vision is to be the Starting Point for Fashion and a sustainable platform with a net positive impact on people and the planet.