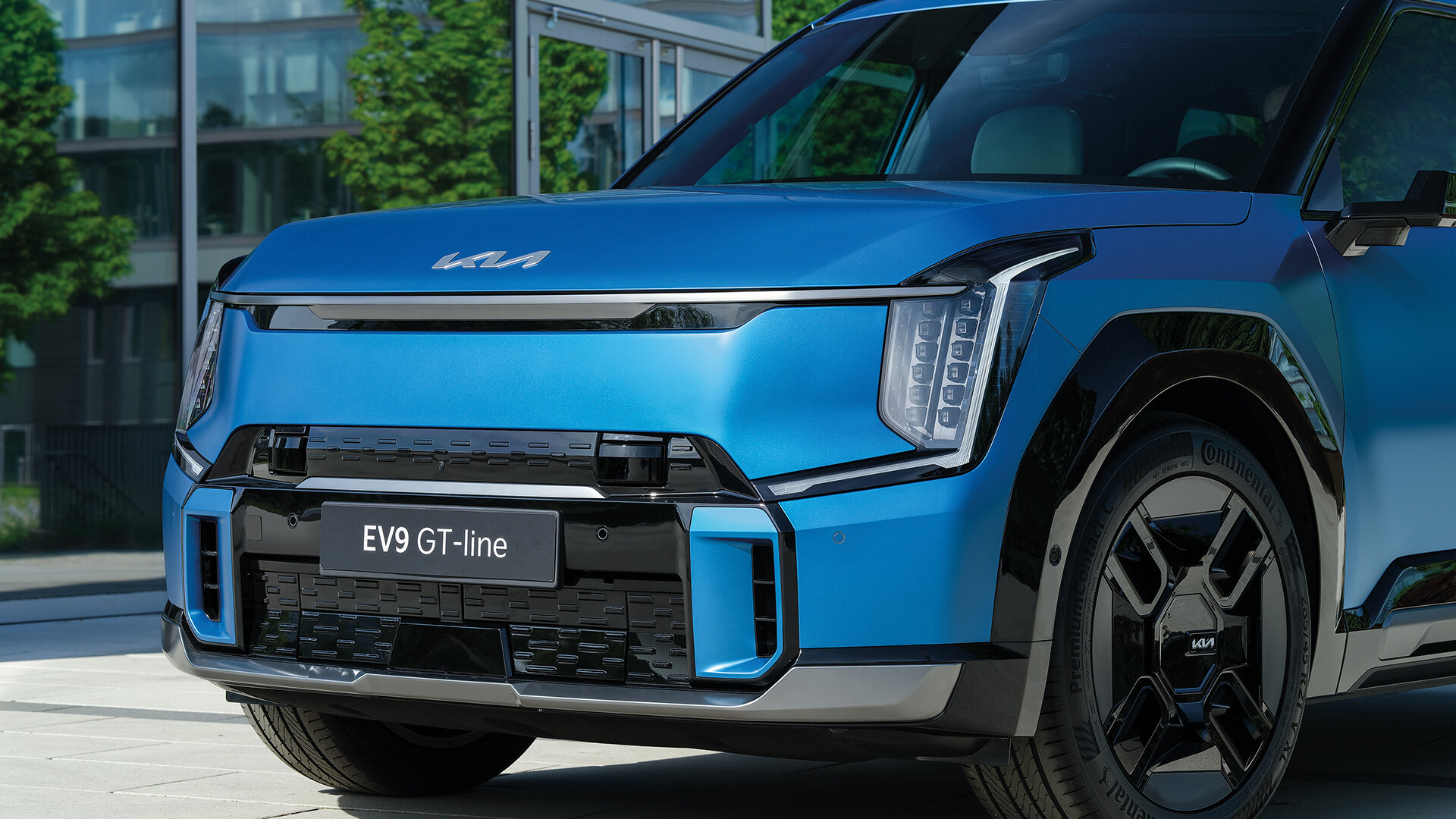 Kia's all-new EV9 is an all-electric SUV designed and built for modern lifestyles in the electrified era. As the company's first three-row electric flagship SUV, the spacious, and striking EV9 is a rugged, sophisticated, and technologically advanced electric vehicle. Available as a six or seven-seater, it combines bold styling, premium versatility, multifaceted connectivity, and Kia's signature 'Opposites United' design to deliver a vehicle that's ready for anything, with a driving range of up to 541 kilometres, according to WLTP (Worldwide Harmonized Light Vehicles Test Procedure).
The vehicle's striking visual presence is inspired by Kia's 'Opposites United' design philosophy that finds harmony in the contrasting qualities of nature, modernity, and technology. A powerful yet serene stance and a range of smart innovations make the EV9 equally at home off-road and in urban areas, while intelligent use of the interior space enables everyone on board to be comfortable, relaxed, and connected.
"The EV9 sets new standards for the segment while completely redefining it," said Jason Jeong, President of Kia Europe. "It brings the vehicle of tomorrow to the world of today, encouraging people to embrace the change to electric vehicles and inviting them to be part of the transformation of mobility. The EV9 will play an integral role in transforming the Kia brand and reshaping the way people move."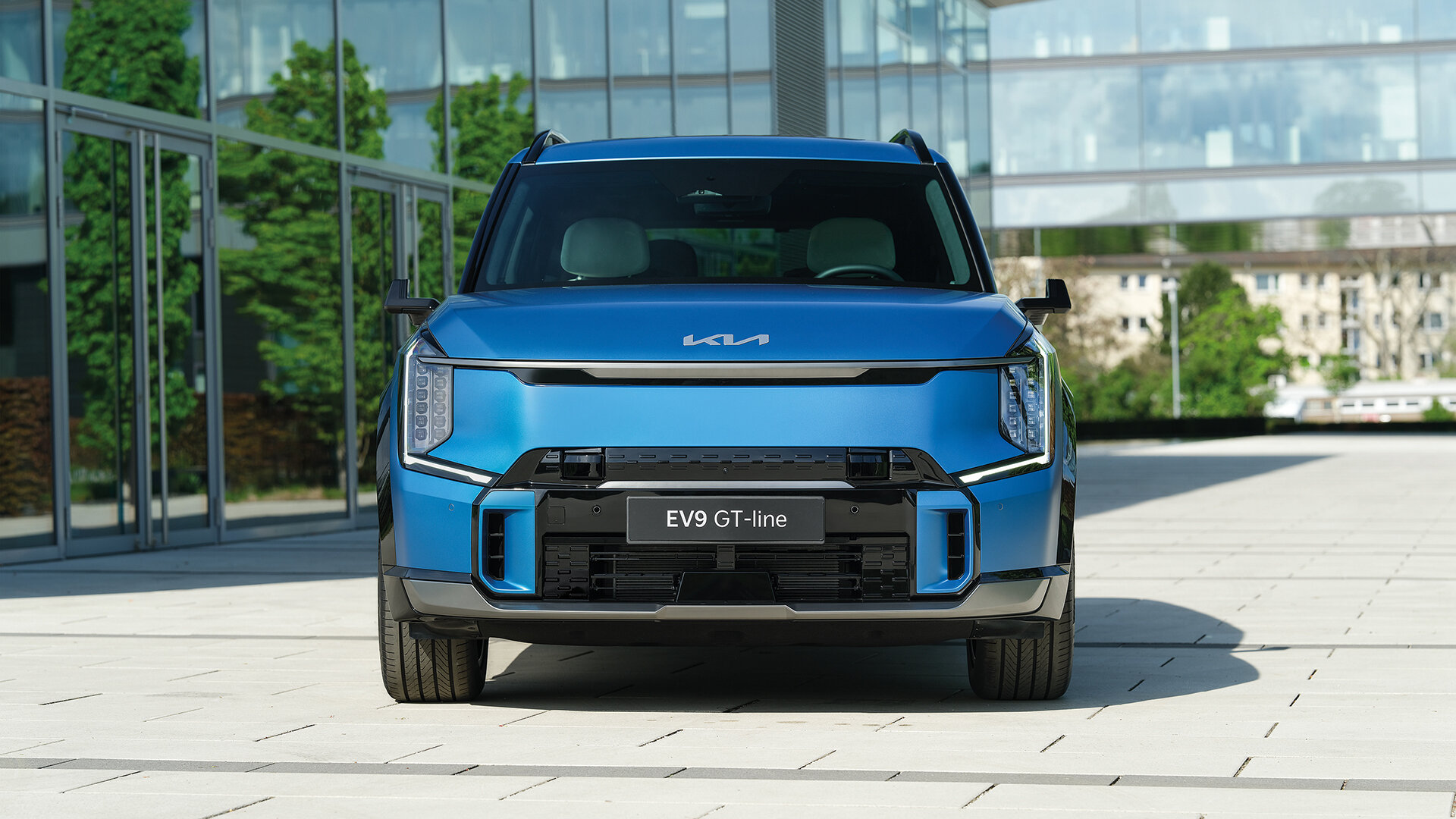 A new EV and SUV benchmark
Built on Kia's Electric Global Modular Platform (E-GMP), the EV9 is ahead of the pack in the E-SUV segment. The vehicle's long wheelbase and completely flat electric vehicle architecture provide generous space for all occupants, with lounge-style comfort in all three rows of seats. When the vehicle is stationary, the customer can choose between relaxation or swivel function for the second-row seats. The relaxation seats offer superior comfort while the swiveled seats can be turned around to face the third row. In addition, the EV9 features numerous innovations that make journeys more comfortable and convenient, including digital side mirrors, pop-up type auto flush door handles, first- and second-row relaxation seats, and a Panoramic Display.
"The Kia EV9 is unique in that it isn't simply designed for drivers – it's the SUV for everyone, providing an unprecedented level of comfort, space, access and technology," said Sjoerd Knipping, Vice President of Marketing and Product at Kia Europe. "It also takes a holistic approach to electrification that enables the vehicle to do so much more than go from A to B. The EV9 can already power electric devices and appliances, and in the future, it will be able to charge other electric vehicles and even power your home. We want to provide customers the practicality of a three-row -SUV with the driving experience of an EV."
The driving range of up to 541 kilometres is complemented by ultra-fast charging that can add up to 239km of driving range in as little as 15 minutes. The EV9 is also equipped with bi-directional charging, meaning not only can customers charge their EV using a wall box or public charging point, but they can also use the power stored in the EV battery to power electronic appliances – or even, in the future, their home.
The EV9 is also the first Kia vehicle that comes with additional software upgrades via the Kia Connect store, enabling customers to update and personalize their vehicle with the features they want. Leather alternatives and materials made from recycled plastics mark an important and significant shift towards more sustainable interiors.
The Kia EV9 represents a pivotal step forward in the company's journey towards becoming a sustainable mobility solutions provider. As one of the first vehicles in Europe to achieve level 3 autonomous driving, the EV9 carries the DNA of the future and is helping to pave the way to emission-free, fully connected, and autonomous mobility.
A bold design inspired by nature
Like the award-winning Kia EV6, the Kia EV9 embraces the company's "Opposites United" design philosophy. The exterior is characterised by rock solid geometry, clean lines, and an unapologetically bold SUV profile.
At the front, the EV9 features the latest generation of the company's Digital Tiger Face. The distinctive vertical headlamps are powered by LEDs and characterised by a thin lens projection, or for the GT-line, small cube projection.
To the rear, a unique star map lamp graphic within the signature LED taillights gives the Kia EV9 an instantly recognisable look. Automatic flush door handles contribute to a modern, high-tech look, while active air flaps with Air Curtain improve aerodynamic efficiency. Nineteen, 20, or 21-inch noise-absorbing tires mounted on low-drag alloy wheels with a unique rectangular or triangular design element complete the exterior.
"We want to share our vision in which nature and the man-made can co-exist in harmony," said Karim Habib, Executive Vice President and Head of Kia Global Design Center. "The exterior, inspired by the 'Bold for nature' design pillar of Opposites United, pays homage to nature's perfection, while the intuitive interior offers some of our most advanced technology yet."
The EV9 will be available in fiveglossy colours in Europe, including Snow White Pearl, Aurora Black Pearl, Flare Red, Pebble Gray, Iceberg Green. In addition, Ivory Silver glossy or matte are exclusively available for the EV9 Baseline. Finally, carried over from the Concept EV9, Ocean Blue can be applied to the GT-line in a matte or glossy finish.
Minimalistic interior for an intuitive experience
The Kia EV9 is characterised by a spacious interior with a minimalist and easy-to-use layout. The unique EV architecture, with the long wheelbase and flat floor of the E-GMP, allows for more cabin space than ever before. The EV9 comes with three rows of seats and is available in both a six-seat and a standard seven-seat layout. It is currently one of the only seven-seat EVs available.
Upon entering the Kia EV9, customers will be welcomed by the Kia emblem on the steering wheel, which illuminates while driving. The model also comes with the option of Digital Side Mirrors (DSM) – digital screens connected to cameras instead of analogue mirrors. These expand the driver's field of vision, increasing both safety and convenience. The digital rear view mirror, meanwhile, can be used as a normal electric chromatic mirror or as a display for camera picture which enables the driver to get a safe rear view in situations when the view is obscured.
The centre console is equipped with a fast wireless phone charger. The lower part of the crash pad contains a USB port and charger. The second and third rows also feature USB chargers. Various ambient mood lights are applied inside the front rear armrests and on top of the map pocket, providing different lightning functions such as speed linkage and car camping mode. The hidden illuminated buttons ensure intuitive handling. Interior colour schemes include Dark Gray & Black, Brown & Black, Dark Gray & Light Gray and Navy Blue & Dark Gray
Unique second-row options
The first row offers relaxation seats which can be reclined with the footrest extended while parking or charging. The electronically adjustable seats are equipped with an integrated memory system, automatically adjusting the position of the seat as well as the steering wheel to the driver's pre-set preference. Additionally, the third row is equipped with armrests including bottle and cup holders. Each relaxation set is equipped with an additional leg rest, and with full ventilation both on the front and the rear, to maximise the driving and travelling experience.
On top of the first-row relaxation seats, the six-seat layout (only available for GT-Line) comes with one of two extra options for second row passengers which can be activated when the vehicle is stationary: the first one, which turns the vehicle interior into a lounge using second row swivelling seats and the second one, with second-row relaxation seats with wing-out headrests.
The six-seat version with swivelling seats has second-row seats equipped with a 180-degree swivel function. When the car is stopped, the second-row passengers can turn their seats and face the third row and directly interact with each other. In this layout, the long sliding tray, extending from the centre console, acts as a table in between the seats.
The third mode, meanwhile, allows second-row passengers to recline when the first-row passengers are relaxing, as well, ensuring maximum comfort for all passengers on the journey.
These two alternative seat layouts redefine possibilities for in-car activities, whether parked, charging, or camping. In addition to the separate settings for the driver and the front passenger, the completely independent climate system in the back of the vehicle offers improved rear passenger comfort. This saves energy by only heating or cooling passengers when they want it, where they want it. In addition, the EV9 is the first Kia model in Europe with the new Kia climate control panel. This makes it easier to see and control all climate settings without needing to access the infotainment sub-menus.
Trailblazing space innovation for a unique vehicle architecture
With a length of 5,010mm, the Kia EV9 is Kia's most spacious passenger vehicle yet and it is the second Kia model to be built on the HMG's dedicated BEV platform: Electric Global Modular Platform, or E-GMP. The base line model is 1,980mm wide and 1,750mm tall (not including the roof rack), with a 3,100mm wheelbase. Besides being spacious and roomy for passengers, the Kia EV9 also comes with additional storage space in the form of a frunk, or front trunk. The rear-wheel drive variation has a maximum frunk volume of 90 litres, while the all-wheel drive version offers 52 litres of storage space. The rear trunk offers 828 litres of storage space when 4/5 seats are upright and up to 333 litres when 6/7 seats are facing upright.
Sustainable movement with an eco-friendly interior
In line with its transformation to become a sustainable mobility solutions provider, Kia has defined a Design Sustainability Strategy to integrate more eco-friendly materials into its cars. Specifically, the plan encompasses phasing out the use of animal-based leather, applying ten 'must-have' sustainable items in its vehicle interiors, and continuously innovating new, bio-based materials.
The Kia EV9 represents the first stage in this journey, with eco-friendly interior materials such as a leather alternative made of Bio-Polyurethane, which is partially derived from corn. In addition, recycled PET (polyethene terephthalate) and TPO (thermoplastic olefin) are integrated into the dashboard and the door and pillar trim. For the interior garnishes, the EV9 is designed with recycled plastics from post-consumer waste. The fabric and carpets are made from recycled PET as well as recycled fishing nets and create a cozy, premium feeling. The switch and trim features bio paint, while the interior trims use BTX-free paint. The yarn and felt throughout the vehicle are made from 100% recycled PET.
Two drivetrain options deliver excellent range and acceleration
The Kia EV9 is available with either rear-wheel drive or all-wheel drive. Both versions come with a 99.8kWh battery featuring Kia's fourth-generation battery technology.
The rear-wheel drive version has a 150kW motor which is capable of a maximum torque output of 350Nm. With a top speed of 185kmh, this drivetrain variation can accelerate from 0-100kmh in 9.4 seconds. It has an all-electric driving range of up to 541km, according to WLTP.
The all-wheel drive variation is powered by twin 141kW electric motors with maximum torque of 250Nm & 350Nm for the Baseline and 350Nm & 350Nm for the GT-line, front and rear. It has a top speed of 200kmh, can accelerate the Baseline from 0-100kmh in 6.0 seconds respectively the GT-line in 5.3 seconds, and boasts an estimated WLTP all-electric driving range of up to 497km.
The Kia EV9 is capable of 800-volt ultra-fast charging, meaning customers can spend more time driving and less time charging. 15 minutes of charging results in an up to 239 km of all-electric driving range for the RWD version and up to 219 km for the AWD version.
Innovative bi-directional charging: the energy solution of the future
The Kia EV9 is capable of bi-directional charging, enabling advanced future technologies as Vehicle-to-Load (V2L), Vehicle-to-Building/Vehicle-to-Home (V2B/V2H) and Vehicle-to-Grid (V2G). V2L, first introduced with the Kia EV6 and available standard with the EV9, allows customers to power appliances using their EV9 battery by plugging the cable into the EV charging port. V2B and V2H refer to the vehicle's ability to power a building or the customer's home. V2G means the vehicle can transfer energy directly back to the grid, by storing cheap electricity at off-peak hours and transferring it back during periods of peak demand. V2B, V2H and V2G will be gradually rolled out throughout Europe.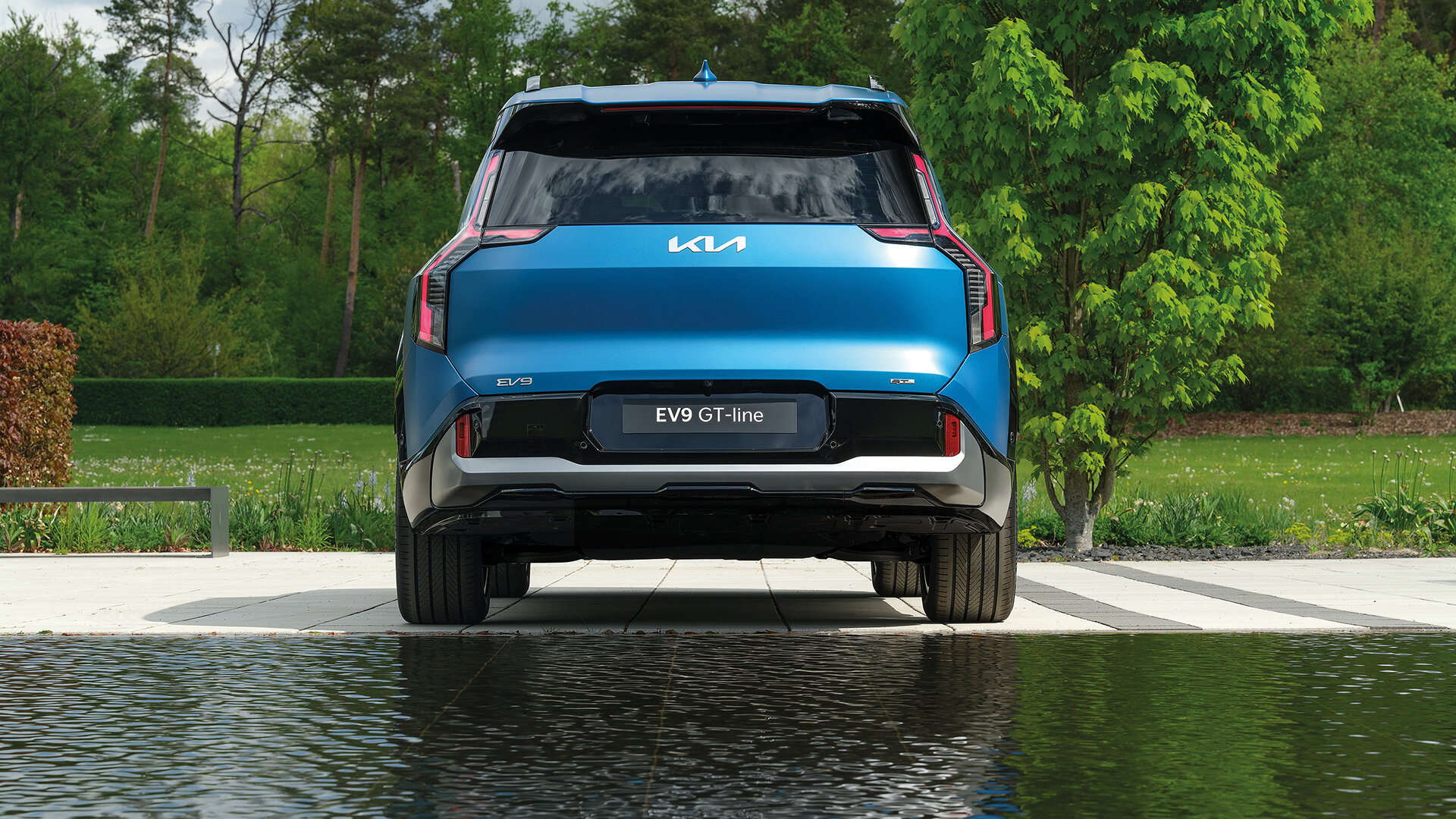 Kia EV Route Planner for added security and peace of mind
Thanks to innovative Kia EV Route Planner, customers can spend less time planning their journey around charging point availability. When the navigation system detects the battery charge isn't sufficient to get to a set destination, it automatically recommends a charging point for the planned route. This reduces range and charging anxiety for customers by automatically showing them when, where, and for how long to charge.
"For the customer, the Kia EV Route Planner provides a smart and easy journey, without needing to spend a lot of time searching for charging stations in advance," said Gunther Frank, General Manager Development Project Operations at Hyundai Motor Europe Technical Center. "We want them to be able to drive longer distances in the shortest possible time and in the most relaxed way. With features such as this, we aim to further connect and improve our systems to achieve and exceed customer's expectations and to make the step from ICE to EV cars as easy and smooth as possible."
When driving in cold temperatures, this feature also works together with battery conditioning to pre-heat the battery to the optimal charging temperature before it reaches the station. This allows customers to take advantage of time-saving ultra-fast charging, no matter the weather.
The Kia EV9 has been designed to maximise passenger comfort and efficiency, without compromising on being fun to drive. A true SUV, dedicated features such as all-wheel drive and Terrain Mode mean it's ready to take on any driving challenge.
Infotainment: Technology with purpose
The interior of the Kia EV9 is equipped with simple, refined technology for an intuitive user experience.The Panoramic Wide Display consists of a 12.3-inch cluster in front of the driver, a 12.3-inch AVNT screen and a 5.3-inch applied climate system for seat and heating information. The EV9 is also equipped with a Head-Up Display (HUD) for added convenience.
As well as physical buttons on the steering wheel, additional hidden buttons only light up when the car is switched on.
The Kia EV9's touchscreen navigation system offers a wide range of features such as Bluetooth multi-connection as standard, enabling occupants to connect two mobile devices at once, while Android Auto and Apple CarPlay functionality are also standard. It comes with improved usability of voice recognition based on natural language enabling using services such as navigating, turning on the media and controlling the temperature. Music Streaming will be also available as an upgrade. A Quick Control Screen, meanwhile, which can be accessed by swiping down from the top of the screen, enables customers to access frequently used features without having to navigate through menus and sub-menus. Google Fast Pair Service makes it even easier for Android users to connect their phone to the vehicle's infotainment system.
One new feature, Car Wash Mode, makes it even more convenient to use an automatic car wash. With the press of one button, the AVNT activates all settings necessary to enter an automatic car wash, including making sure all doors and windows are closed, pulling in the side mirrors, and making sure the auto flush door handles stay in.
As with other Kia models, EV9 customers can benefit from Kia Connect Live Services, which include online navigation as well as real-time information on traffic information, parking availability and parking costs, locations and pricing for fuel stations and EV charging points, weather forecasts, online POI search, and, in markets where available, speed camera information.
"We believe technology and innovation promote positive interactions between humans and machines," said Jochen Paesen, Head of Kia Next Design Interior Group. "Our objective with the interior of the Kia EV9 was to combine high-tech features for a high level of intuitiveness. That's why we came up with a simple, refined interior with the best layout and graphics to enhance usability for our customers."
Meridian Premium Sound System for an unrivalled audio experience
For music lovers, the Kia EV9 offers a Meridian Premium Sound System with 14 speakers throughout the vehicle and an external amplifier. The Intelli Q feature automatically adjusts the volume and sound quality based on vehicle speed change, and Horizon allows for simultaneous control over music playback and image/surround.
More personalization via the Kia Connect store
The EV9 will be the first Kia vehicle offering software upgrades for an even higher level of flexibility and choice. These can be purchased conveniently via the Kia Connect store and then installed remotely using Over The Air (OTA) updates. This makes it easier than ever for customers to upgrade their Kia experience and stay up to date with the latest technology.
These upgrades will encompass a variety of technology and services across the vehicle's lifetime including safety and convenience features, driving performance, external appearance, and infotainment. Specifically, they will include:
Remote Smart Parking Assist 2 (RSPA 2), where the vehicle can automatically park itself with or without the driver inside, with improved object detection compared to the previous generation.
Boost, which increases the maximum torque of the front motor from 250 to 350Nm and results in a 0.7s faster acceleration from 0-100kmh (5.3 seconds instead of 6 seconds). This feature will be rolled out to Europe based on each country's regulations.
Music Streaming, which allows users to stream content from multiple content providers via the vehicle's display.
Expanded bi-directional charging capabilities including Vehicle-to-Home (V2H), Vehicle-to-Building (V2B) and Vehicle-to-Grid (V2G) will be introduced as optional upgrades in the future, starting with the Netherlands in March 2024, with plans to expand to other markets.
Safety and peace of mind as standard
The Kia EV9 is equipped with a variety of active driver-assist and safety features for maximum convenience and safety on the road. It is the first Kia model to be equipped with Level 3 autonomous driving capabilities with Highway Driving Pilot (HDP). Highway Driving Pilot maintains a safe following distance from the vehicle ahead of it and keeps the vehicle centred in its lane, even if the driver lets go of the steering wheel. If the system detects an imminent risk, it can perform an emergency manoeuvre to prevent a collision. In the case of function failure or limit situation, the driver is asked to take over. And if the driver fails to take over, the vehicle recognizes this as an emergency and stops the vehicle. Besides that, the EV9 will come with the outstanding feature of hands-off driving, which will be available in Germany first.
The Kia EV9 also comes standard with the latest generation of Highway Driving Assist 2. HDA 2 combines Lane Following Assist 2 (LFA 2) with Hands On Detection (HoD). This system prevents a collision if another vehicle cuts in front of it at low speed. Lane Change Assist, which was also included in the previous generation of HDA, helps the vehicle change lanes when the driver turns on the turn signal. The vehicle will automatically switch lanes in the direction indicated when it is safe to do so.
Lane Following Assist 2.0 (LFA 2.0), meanwhile, ensures a safe side passing distance by adjusting the vehicle's position in its lane. Similarly, Lane Keeping Assist (LKA) issues a warning and, if needed, assistance steering if the vehicle starts to drift from its lane without the turn signal being activated.
Blind View Monitor (BVM) and Blind-spot Collision-avoidance Assist (BCA) both provide added safety to prevent rear collisions. Blind View Monitor displays the rear side view when the turn signal is activated for additional visibility during lane changes, and Blind-spot Collision-avoidance Assist provides a warning or assistance braking if another vehicle is detected when exiting a parallel parking spot or changing lanes.
Forward Collision-avoidance Assist 2 (FCA 2) with Junction Turning/Crossing helps avoid collisions with a variety of other road users, including pedestrians, cyclists, and other vehicles – including in challenging situations such as navigating an intersection, dealing with oncoming traffic, and during lane changes. Depending on the situation, the system may provide a warning or apply evasive steering or emergency braking to prevent a collision.
The Intelligent Front-lighting System (IFS) automatically turns on high beams at night to improve both night visibility and safety. High Beam Assist (HBA), meanwhile, can recognize the ambient light of an oncoming vehicle and turn the high beams off or on again accordingly.
Driver Attention Warning (DAW) monitors the driver's behavior and issues a warning if their attention level is determined to be too low. Similarly, when stopped at a traffic light, it can also warn the driver if the vehicle ahead of them has already departed and the driver did not react quickly enough.
Intelligent Speed Limit Assist (ISLA), meanwhile, recognizes the speed limit of the road and warns the driver if they start to exceed it. When combined with Smart Cruise Control, the vehicle speed will adjust automatically when the speed limit changes.
The Kia EV9 provides class-leading levels of protection and safeguarding for both occupants and batteries, including nine airbags that even cover the third row.
Improved safety while stopped and parking
The Kia EV9 also comes with several intelligent features to make driving and parking more convenient. For example, Surround View Monitor (SVM) displays a changeable 360-degree view when parking or driving which can even be transmitted to a smartphone. Rear View Monitor (RVM), meanwhile, displays a rear view when parking and driving.
Rear Cross-traffic Collision-avoidance Assist (RCCA) prevents collisions by issuing a warning or braking when the vehicle is in reverse and an oncoming vehicle is detected coming from the side – for example, when backing out of a parking space. Parking Distance Warning (PDW), Parking Collision-avoidance Assist – Front and Side (PCA-F/S) and Parking Collision-avoidance Assist – Reverse (PCA-R) help prevent collisions with pedestrians and objects during parking, and Remote Smart Parking Assist 2 (RSPA 2), which is available as an optional upgrade, allows the vehicle to park itself in perpendicular, diagonal, and even parallel parking spots – whether the driver is in the vehicle or not.
The Kia EV9 also comes standard with two safety features specifically designed to protect rear passengers: Safe Exit Warning (SEW) and Safe Exit Assist (SEA). When the vehicle is stopped and another vehicle is approaching from behind, the system either sounds a warning or activates the child locks to prevent a rear passenger from exiting the vehicle in an unsafe situation.
Save a digital key on your phone for added convenience
In addition to the Kia EV9's Smart Key, customers will also be able to use a smartphone to lock or unlock the doors, start, or turn off the car, control the emergency alarm, and open or close the trunk. This is thanks to the new Digital Key 2 with Ultra-Wide Band (UWB) technology. And for added convenience, you don't even have to take the phone out of your pocket to unlock the door. This digital key can be shared with up to three other people at a time, and the owner can control which features to share and for how long.
The next step in sustainable mobility
The Kia EV9 made its European debut at the Kia Brand Summit earlier this month. Under the motto "Moving responsibly together," the event illustrated how the model drives Kia's transformation into a sustainable mobility solutions provider by enabling movement the European way: responsible, collaborative, progressive, and inspired.