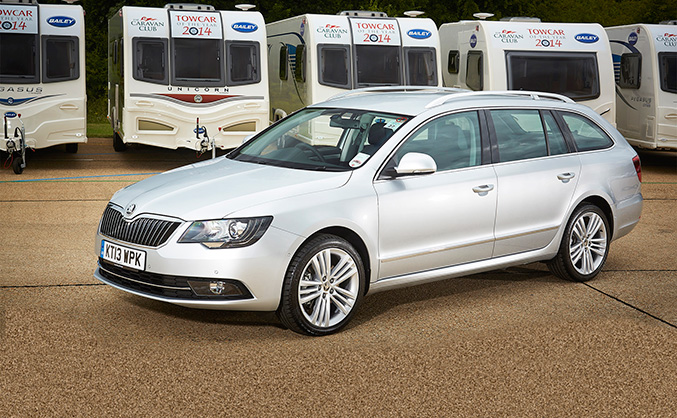 The ŠKODA Superb Estate has driven off with the prestigious 2014 Caravan Club Towcar of the Year title – along with three individual category victories.
The new Octavia repeated the multiple successes of its predecessor, with the 1.2 TSI SE 105PS hatch model named best towcar in the £16,000 – £20,000 category. The judging panel singled out the Octavia's pulling power for special praise, commenting: "For such a little engine, the Octavia breezed around the hill route."
The recently refreshed Superb Estate Elegance 2.0 TDI CR 170PS 4×4 DSG not only triumphed in the £25,000 – £31,000 category, it was also named the winner in the All-Terrain Under 1,800kg category and awarded overall Towcar of the Year.
The judges were impressed by the Superb Estate's all-round ability, saying: "With a loading limit of 100kg on the roof, 80kg on the towball and a boot that scored maximum marks, it's a very tough act to follow. You wouldn't know you were towing a caravan!"
Announcing the award winners, Grenville Chamberlain, Caravan Club Chairman, added, "The Club extends its congratulations to all the winners in this competition. Special acclaim goes to the terrific ŠKODA Superb, which demonstrated that it was just about as good as it gets."
Commenting on the latest awards, Alasdair Stewart, Brand Director for ŠKODA UK said: "We're delighted to receive these important awards from the Caravan Club. At ŠKODA, we're always working hard to meet the needs of caravan owners and understand the unique requirements that go into making a great towcar."
ŠKODA has enjoyed considerable success in previous Caravan Club Towcar of the Year awards, having won the overall title in 2010 for the Superb, and scored category victories for the Fabia, Yeti and Octavia.
Source: Skoda