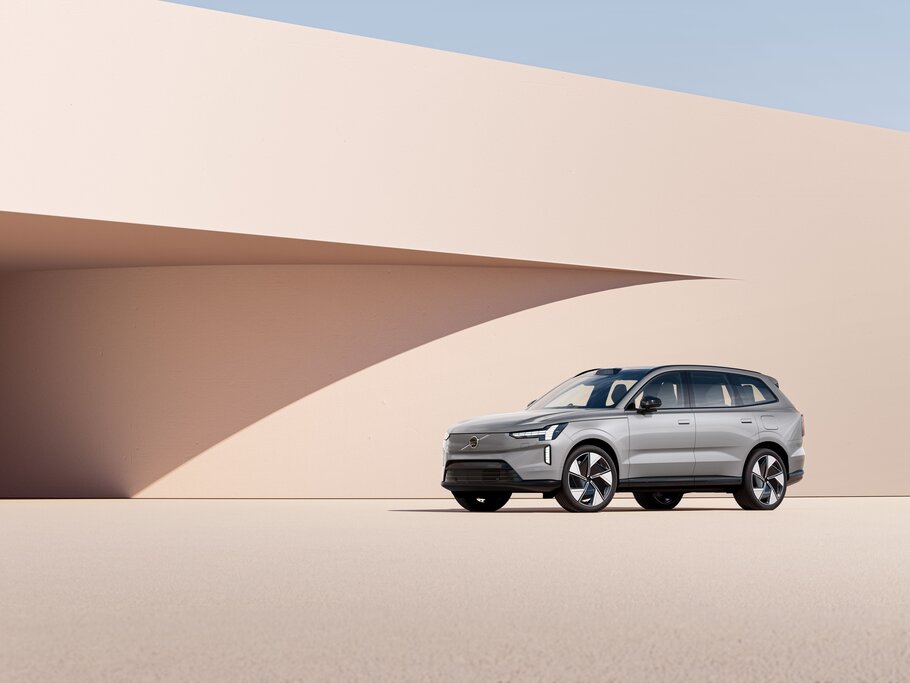 Bowers & Wilkins continues to partner with Volvo Cars with the announcement of a new top-
tier audio system, named High Fidelity Sound by Bowers & Wilkins, in the new all-electric Volvo EX90 SUV. The system features iconic and proven loudspeaker technologies, perfectly integrated within Volvo Cars' newest all electric car to give a brand-new audio experience underpinned by more than 50 years of home, studio and automotive audio expertise.
Equipped with High Fidelity Sound by Bowers & Wilkins as an optional extra* for discerning drivers, the Volvo EX90 will feature 25 high-performance speakers, including the latest iteration of the iconic Tweeter- on-Top technology, proprietary ContinuumTM cones and 1610 watts of power. The speaker system is complemented by state-of-the-art Dolby Atmos decoding capability, offering even greater levels of immersion from your music.
Bowers & Wilkins has worked alongside Volvo Cars' designers and audio engineers from the very start of the Volvo EX90 development to deliver class-leading sound reproduction by optimising speaker positioning around the car and providing vehicle-specific audio tuning – ensuring your music is delivered precisely as the artist intended, a philosophy which Bowers & Wilkins calls 'True Sound'.
Dan Shepherd, Sr Director – Automotive Partnerships, from Bowers & Wilkins said: "We're delighted to be continuing our long-running partnership with Volvo Cars as suppliers of High Fidelity audio in the new Volvo EX90. It means that Bowers & Wilkins is the audio brand of choice for customers across every one of the Volvo 60 and 90 series vehicles, allowing us to deliver our famous True Sound experience to more listeners than ever before."
"By working with Volvo Cars from the very start of the Volvo EX90 project, we have delivered an authentic and accurate audio experience that we're sure every listener will love."
The Bowers & Wilkins system follows Volvo Cars' design language seamlessly, with uniquely designed double-etched brushed stainless steel speaker grilles and debossed brand logo, each housed in backlit wood panelling. This double-etching technique achieves the highest levels of acoustic transparency for the best possible sound quality, plus the premium design detailing commensurate with the Bowers & Wilkins brand.
Javier Valera, Chief Operating Officer and Deputy Chief Executive Officer of Volvo Cars said: "For eight
years Bowers & Wilkins have been the premium audio system provider of choice for Volvo Cars producing a series of highly acclaimed and highly successful solutions. For the new Volvo EX90, Bowers & Wilkins was a natural and obvious choice as provider of our premium audio system."
Key features of the Volvo EX90's premium audio system include Bowers & Wilkins proprietary Tweeter- on-Top technology. By positioning the tweeter in its own separate housing on the top of the dashboard, Bowers & Wilkins engineers are able to reduce coloration and acoustic reflection from the windscreen. This improves overall clarity for the listener, providing a finely detailed and true to life sound. The Double Dome aluminium tweeter features an extremely thin aluminium dome supported by a thicker ring to add rigidity and reduce distortion at the highest frequencies and volumes.
Additionally, midrange ContinuumTM cones ensure authenticity and precision in the audio midrange for realistic reproduction of sound throughout the vehicle. Speakers featuring ContinuumTM technology are used in recording studios the world over, including Abbey Road Studios in London, and are found in Bowers & Wilkins flagship 800 Series Diamond loudspeakers.
To aid safety and immersion the Volvo EX90 has two headrest speakers in each of the front seats and four speakers in the ceiling, which act as height channels in the Dolby Atmos experience.
The fully immersive Dolby Atmos enabled audio system is enhanced further by intelligent technology which allows listeners to tailor the sound to suit personal tastes. Studio mode replicates the neutrality of a recording studio and can be optimised for passengers through its All Seat, Driver or Rear modes. Individual Stage delivers the sensation of an artist performing just for you, while Concert Hall reproduces the acoustics of the Gothenburg Concert Hall. These are in addition to the more commonly found equaliser and fader options.
Bowers & Wilkins speakers are used in recording studios around the world, including at the iconic Abbey Road studios in London. Drawing on more than 50 years of audio experience and craftsmanship, Premium Sound by Bowers & Wilkins breaks new ground when it comes to superlative sound in the new Volvo EX90 SUV.
For additional information on Bowers & Wilkins, please visit www.bowerswilkins.com. * packaging dependent on market and trim level.
Volvo Cars in 2021
Volvo Car Group recorded an operating profit of 20.3 BSEK. Revenue in 2021 amounted to 282.0 BSEK, while global sales reached 698,700 cars.
About Volvo Car Group
Volvo Cars was founded in 1927. Today, it is one of the most well-known and respected car brands in the world with sales to customers in more than 100 countries. Volvo Cars is listed on the Nasdaq Stockholm exchange, where it is traded under the ticker "VOLCAR B".
Volvo Cars aims to provide customers with the Freedom to Move in a personal, sustainable and safe way. This is reflected in its ambition to become a fully electric car maker by 2030 and in its commitment to an ongoing reduction of its carbon footprint, with the ambition to be a climate-neutral company by 2040.
As of December 2021, Volvo Cars employed approximately 41,000 full-time employees. Volvo Cars' head office, product development, marketing and administration functions are mainly located in Gothenburg, Sweden. Volvo Cars' production plants are located in Gothenburg, Ghent (Belgium), South Carolina (US), Chengdu, Daqing and Taizhou (China). The company also has R&D and design centres in Gothenburg, Camarillo (US) and Shanghai (China).