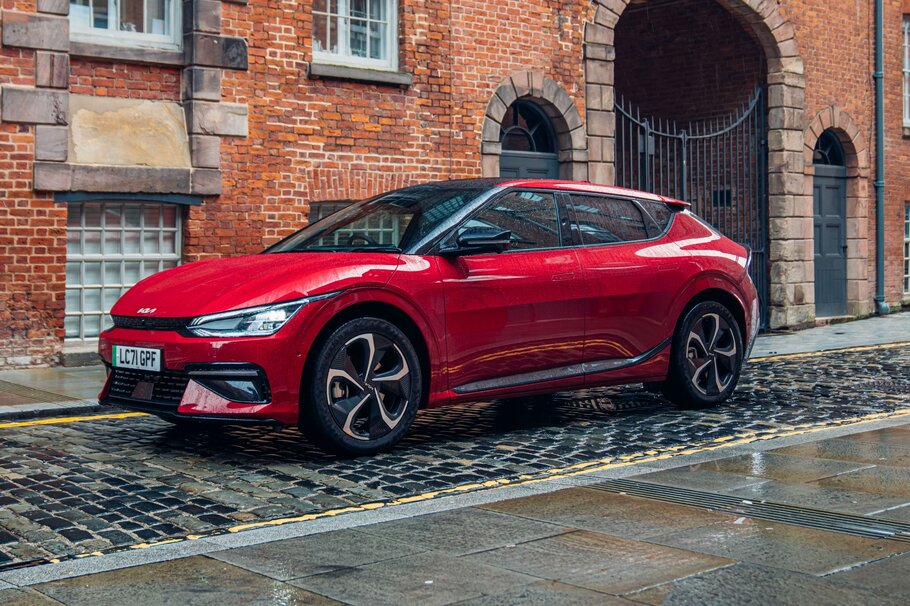 2022 has started with a bang for the manufacturers and PR teams whose outstanding work, commitment and rising to new challenges have been recognised by the Southern Group of Motoring Writers.
The SGMW New Year Honours, now in their fifth year, reward the star cars and individuals who have more than gone the extra mile to make our motoring year particularly memorable – not an easy task with Covid still having a huge impact on PR teams' plans and events.
With everyone putting so much into making our motoring world as normal as possible it was a keenly-fought contest with a record number of votes from SGMW members.
SGMW chairman Ian Robertson said: "As we accelerate towards the 2030 deadline for the switchover from petrol and diesel cars, the significance of electrification is huge, and that's reflected in our choice of winning cars this year."
The SGMW Car of the Year crown went to the Kia EV6 which was a clear winner and also featured highly in other award categories
"The EV6 builds on the brilliant work that Kia has done in making the e-Niro the people's electric car, with a new flagship that is breathtakingly stunning.
Meanwhile, the Fiat 500 Electric was a popular winner of 'Dark Horse' of the Year.
"While it looks very similar to its predecessor, the Fiat 500 Electric is a totally different proposition and its brilliance shone through to Southern Group members."
The EV dominance continued with Volkswagen's ID. Buzz electric camper van taking the One to Watch 2022 honour.
"Our members are looking forward to getting their hands on the Volkswagen ID. Buzz when it arrives in showrooms later this year."
The Suzuki team continued its run of success and this year was recognised for Best in PR Innovation with Suzuki's 100th anniversary all-products launch in Cardiff.
"It wasn't surprising that Suzuki wins the prize for PR innovation as we already know that Alun Parry and Jess Grimditch are some of the smartest PR operators in the business," said Ian.
Meanwhile the hard-working team at Toyota, which was quick to adapt to the new Covid-hit world, celebrated with the Best PR Office award.
"The Toyota team, led by Scott Brownlee, is a slick operation, innovating and finding new ways of communicating with PR colleagues during the 2020 and 2021 lockdowns."
Simon Branney again showed how much SGMW members appreciate his outstanding achievements and efforts, making the unexpected a reality and setting the highest standards, by awarding him our OBE – that's Operating Beyond Expectation.
"The Southern Group OBE is awarded to something or someone consistently outshining the rest of the industry. Eye-catching PR moves have really put Genesis on the map. There quite simply is no one better placed to launch a new luxury brand on to the UK market – and what a splash Simon Branney has already made."
And it is good to recognise new talent too so this year's Best PR Newcomer award goes to Milissa Ordona.
"As part of a PR team that already consistently punches above its weight, Milissa Ordona has taken to public relations like a duck to water."
The final SGMW award, the Southern Star, is an in-house accolade for a member who has made a big difference.
Ian explained: "Andy Russell has been proactive in arranging online meets, bringing a cheery atmosphere to proceedings. As well as members voting him the Southern Star, I'd personally like to thank him, too, for the online breakfast meets, quizzes and wine and cheese get-togethers."
The full results for the SGMW New Year Honours 2022, with opinions from voting members, are:
Best PR Newcomer – awarded to someone who made a special impact in liaising with the media during the past year and is either new to the industry PR scene or has taken on a new role/position.
Winner – Milissa Ordona (Senior events co-ordinator, Kia UK)
"Couldn't be more accommodating on recent EV6 launch. You would think she had been in PR for years. Shames a lot of people in other press offices that have been doing the job for years."
Runner-up – Milissa was a runaway winner, all other nominees received the same number of votes so tied.
The SGMW OBE (Operating Beyond Expectation) – for acting above and beyond the call of PR duty during the past year. It can be for consistent high performance, a memorable one-off effort, or a thoughtful gesture towards one of our members caught in a bind.
Winner – Simon Branney (Head of PR and communications, Genesis Motor UK)
"Important new role, same approachable, amenable and unassuming Simon. We love his style and he loves to be needed. We need more like him."
Runner-up – Jess Grimditch (Press officer, Suzuki GB)
Best PR Office – awarded to the operation consistently delivering the best all-round or forward-thinking service to SGMW throughout the year.
Winner – Toyota
"Unflappable in a crisis and a leader in the return to normality with Covid-friendly launches, and lots of them. Ably led by Scott Brownlee and a top team formerly tutored by Erica!"
Runner-up – Kia UK
Best in PR Innovation – awarded for an unusual or particularly excellent launch, driving route, or any imaginative addition to an event of the PR year in general.
Winner – Suzuki's 100th anniversary all-products launch in Cardiff
"What better way to celebrate a centenary than combine many elements of your business and have a lot of fun in the process."
Runner-up – Kia EV6 launch
'Dark Horse' of the Year – a car that surprised SGMW members, either by its arrival or just how good it was.
Winner – Fiat 500 Electric
"Full of brio and fun. A thoroughly good execution of the kind of car that is right for the moment. Small, electric and well-priced. A winning combination."
Runner-up – Kia EV6
One to Watch 2022 – the car that SGMW members most look forward to driving in the coming year.
Winner – Volkswagen ID. Buzz
"The iconic Volkswagen camper reinvented with an electric powertrain. The concept of 2017 promised retro-tinged but updated looks, which, if mated to Volkswagen's new electric car technology should prove an irresistible combination."
Runner-up – Tesla Model Y
SGMW Car of the Year
Winner – Kia EV6
"Hugely-impressive new EV with great looks, driving dynamics, roominess and decent EV range plus fast charging. A ground-breaker for Kia, also the first EV I've seriously thought of buying."
Runner-up – Skoda Enyaq
SGMW Southern Star – for the group member who has done most for the organisation or its profile or done something praiseworthy or beyond the call of duty.
Winner – Andy Russell
"He was the glue that kept the group together throughout Covid, migrating the group on to Skype calls for breakfast meets and wine and cheese evenings. An absolutely invaluable part of the SGMW committee and team."