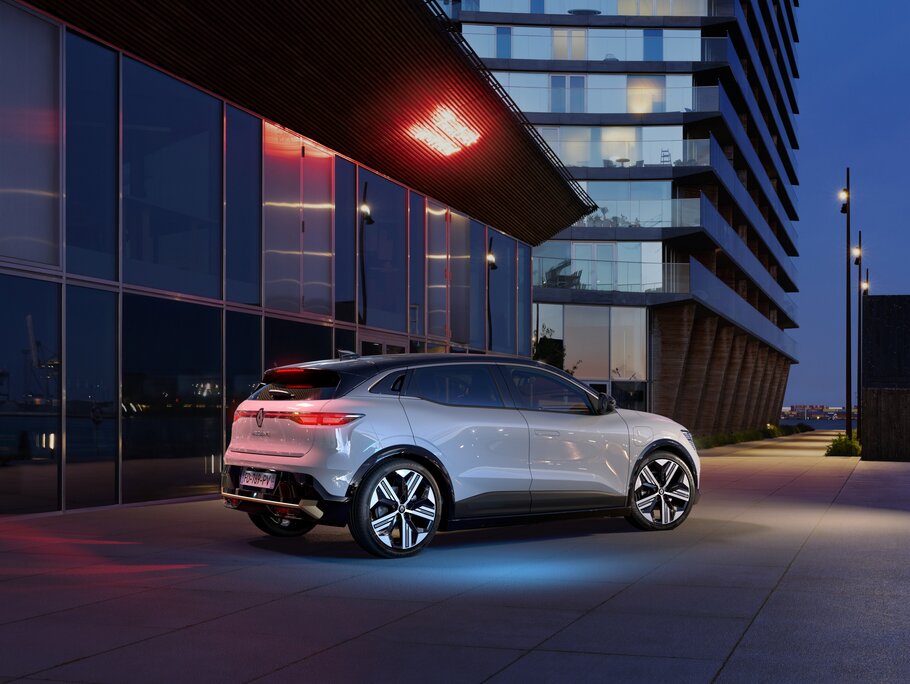 Renault has confirmed full pricing and specification of the All-New Mégane E-Tech 100% Electric, which is available to pre-order now priced from £35,995 OTR with first deliveries expected later in the year.
The All-New Renault Mégane E-Tech is the first of a new generation of electric vehicles built on the advanced CMF-EV platform, styled within the brand's 'sensual tech' design language and the first model to wear the new 'Nouvel'R' logo. With an electric driving range of up to 280 miles (WLTP), the All-New Mégane E-Tech also features a class-leading digital experience with a 12.3-inch dashboard display, 9-inch multimedia display, and Android Automotive OS with integrated Google services.
To make it even simpler for customers to make the transition from a conventional petrol or diesel vehicle to the All-New Renault Mégane E-Tech, available PCP finance packages encompass both the new crossover and the supply and installation of a Mobilize home charging solution. This 'turn-key' package costs £1,170 allowing customers to enjoy their new electric vehicle ownership experience with the minimum of fuss and maximum convenience.
EXTERIOR DESIGN
The All-New Mégane E-Tech is a car of purposeful proportions. An extended wheelbase with reduced overhangs, a thinner-than-ever battery, and alloy wheels up to 20 inches in size combine with the high waistline and coupe-like styling to deliver a powerful stance that marries beautifully with its generous cabin space.
From the full LED lighting with exquisite laser-cut detailing and eye-catching new light signature, to the flush electric door handles that glide out automatically as the driver approaches, the All-New Mégane E-Tech draws heavily on the world of high-tech and hi-fi design as a representation of a more technological age.
Six inviting colours are available – Ceramic Grey, Shadow Grey, Glacier White, Diamond Black, Ceramic Grey, Flame Red, and Midnight Blue – with the choice of a contrasting roof design in either Diamond Black, Shadow Grey, depending on model.
INTERIOR DESIGN
Electric by nature, the All-New Mégane E-Tech offers driver and passengers alike an obstacle-free environment with exceptional comfort and state-of-the-art technology.
Inspired by the world of fine home furniture, the All-New Mégane E-Tech uses unusual or recycled materials to create a welcoming and homely feel. The dashboard is topped with a textile finish, while the seat upholstery on mid-range Techno models and above is 100% recycled.
Powered by the latest-generation Qualcomm Snapdragon processor, the high-resolution 12.3-inch digital instrument cluster combines with the 9-inch OpenR infotainment display to deliver an unprecedented connected experience.
Google's Android Automotive OS, based on the operating system used by more than 75% of the world's smartphones, provides access to Google Maps and Google Assistant as well as a host of applications offered through the Google Play store.
Standard on mid-range Techno models and above, the fully-connected system also offers the ability to update the software over-the-air, delivering upgrades and improvements over time without the need to visit a dealership.
An innovative Google Electric Route Planner takes the worry out of long journeys by planning an optimal route, suggesting compatible charging points along the way and constantly updating the route according to the vehicle's actual energy use. The system will even warn the driver should a proposed charging station be out of order prior to arrival and its compatibility to the car.
Through the My Renault app, customers can maintain a permanent connection with their Mégane E-Tech with a wide variety of functions, such as remote activation of air conditioning or cabin heating with no impact on vehicle range while still plugged-in, schedule charging times, pay automatically when using compatible charging stations, and more.
POWERTRAIN
Powered by a new 160 kW electric motor with 300 Nm of torque and four levels of regenerative braking, the All-New Mégane E-Tech takes the joy of driving an electric vehicle to new heights.
The new motor is particularly compact and weighs only 145 kg – 10% less than the previous generation motor currently used by Zoe – and doesn't require the use of rare earth metals. In the Mégane E-Tech, the new traction motor is capable of accelerating from 0-62 mph in just 7.5 seconds, but is also capable of remarkable efficiency, consuming just 16.1 Wh per 62 miles.
The 60 kWh battery is just as innovative. At only 110 mm – 40% smaller than the Zoe battery – it is the thinnest on the market, meaning the centre of gravity is lower (-90mm compared to Mégane ICE) and the car is more agile. Weight is evenly distributed thanks to the battery being housed under the whole floor plate.
The All-New Mégane E-Tech is capable of up to 280 miles (WLTP) on a single charge, while recharging can be achieved in a variety of ways to suit the available infrastructure, from a simple domestic socket, a 7.4 kW Wallbox, public charging stations up to 22 kW, and even DC fast-chargers up to 130 kW. The latter permits up to 186 miles of driving range (WLTP) to be recovered in just 30 minutes.
SAFETY AND DRIVER ASSISTANCE
The All-New Renault Mégane E-Tech is fitted with a host of Advanced Driver Assistance Systems (ADAS) as standard, from automatic emergency braking with junction assist that can detect pedestrians and cyclists, to emergency lane keeping assist with oncoming traffic and road-edge detection.
Traffic sign recognition, hill start assist, driver drowsiness alert, distance warning alert and cruise control with speed limiter all help to make driving easier and safer in the conditions we find ourselves every day.
Techno and above models also feature a new adaptive cruise control function that works in conjunction with traffic sign recognition to ensure the New Mégane E-Tech can automatically adjust its speed to match the prevailing speed limit.
The range-topping Launch Edition is equipped with a smart rear-view mirror that uses a camera located at the top of the rear window to display a real-time view of the road behind, giving an entirely unobstructed view regardless of passengers or cargo.
UK SPECIFICATIONS AND PRICING
Customers can choose from three generously-equipped models – Equilibre, Techno, and a range-topping Launch Edition – with each benefitting from Renault's 60 kWh battery for a WLTP-certified range of up to 280 miles on a single charge.
MODEL

POWER
(hp)

TORQUE
(Nm)

WLTP RANGE
(miles)

CONSUMPTION
(Wh/62 miles)

CO2 EMISSIONS
(g/km)

0-62mph
(secs)

TOP SPEED
(mph)

EV60 220hp optimum
charge

217

300

280

16.1

0

7.5

99.4
The Equilibre starts the range with its 18-inch Oston alloy wheels, full LED headlights, black fabric upholstery including a fabric-covered upper dashboard, interior ambient lighting, air conditioning, one-touch electric windows, heated steering wheel, heated front seats, rear park assist, rear view camera, 12.3-inch instrument cluster, 9-inch OpenR infotainment display with navigation, with both Android Auto and Apple CarPlay, connected services including over-the-air software updates, 4-speaker Arkamys audio system and two front USB-C ports.
All models come with a five-metre Mode 3 charging cable, as standard and a hands-free key-card with keyless entry, together with a comprehensive array of safety and driver assistance systems including distance warning alert, traffic sign recognition, automatic emergency braking with junction assist including pedestrian and cyclist alerts, cruise control with speed limiter, driver drowsiness alert, emergency lane keeping assist with oncoming traffic and road-edge detection, hill start assist, and emergency e-call.
The Techno model goes further with the addition of adaptive cruise control with speed limiter and lane centring, traffic sign recognition with overspeed prevention, blind spot recognition and intervention, rear cross traffic alert with rear automatic braking, and both front and rear park assist.
The Techno's exterior is marked out by stylish 20-inch Soren alloy wheels, full adaptive LED headlights with automatic high/low beam, front and rear signature lighting with dynamic turn signals, contrasting door mirrors, and a shark fin antenna. The interior, meanwhile, gains grey and black upholstery made from synthetic leather and recycled materials, tinted rear windows, a frameless auto-dimming rear-view mirror, and multi-sense customised driving modes and 48-colour interior ambient lighting. Also added are automatic dual-zone climate control, automatic windscreen wipers, height and electric lumbar adjustment for both driver and front passenger seats, the full range of Google services including Google Assistant, Maps, and Play store, wireless smartphone charging, upgraded Arkamys audio system with six speakers, and two rear-mounted USB-C ports.
At the top of the range, a special Launch Edition exclusive to the UK stands out with 20-inch Enos alloy wheels and a gold F1 blade, while the interior gains a 9-speaker Harman Kardon audio system, smart rear-view mirror, and around view 3D camera system.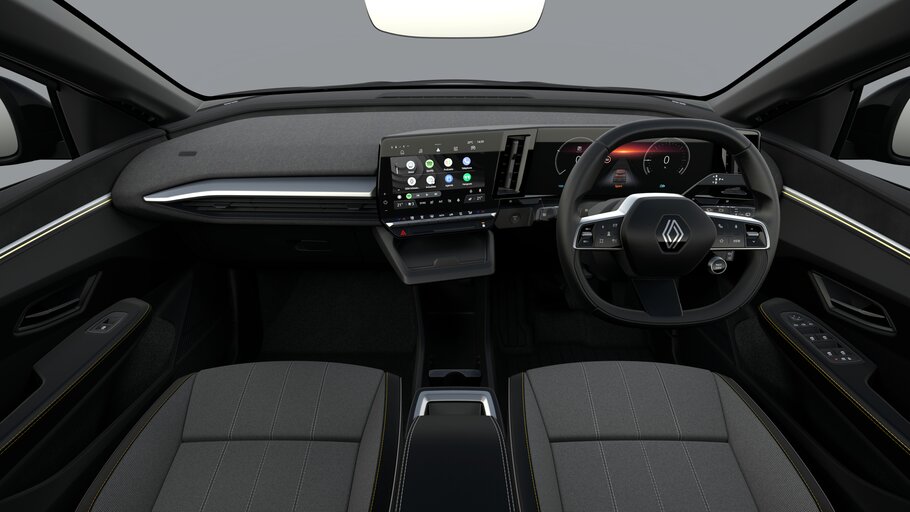 INTEGRATED CHARGING WITH MOBILIZE POWER SOLUTIONS
Customers who do not already have a home charger installed can take advantage of a number of offers from Mobilize Power Solutions, Renault's own charging solution provider. The Mobilize Home Charger integrates a smart app, allowing customers to start, stop and schedule charging remotely. The app is even capable of taking advantage of the cheapest and most efficient energy tariffs enabling customers to reduce the cost of charging, while still ensuring the car is ready to go when the customer needs it.
Mobilize Power Solutions offers a fully managed installation service, from an initial physical home survey and liaising with power grid providers, through to installation, commissioning, and ensuring class-leading back-up with a 5-year warranty. What's more, the £1,170 inc. VAT installation cost can be combined with the purchase of a new Renault Mégane E-Tech, giving finance customers a single, easy-to-manage PCP monthly payment.
Customers of the All-New Megane E-Tech Electric, can also take advantage of Mobilize Charge Pass will allows access to over 7,000 charge points in the UK. The locations of these charging points can be access via the OpenR Link or the My Renault app, which shows additional real-time availability, charging capabilities and pricing.
ALL-NEW RENAULT MÉGANE E-TECH PRICING
MODEL

BIK
(2021/2022)

BASIC PRICE

VAT
20%

TOTAL
RETAIL PRICE

VED
EAR 1

DELIVERY
CHARGE

REG. FEE

OTR PRICE

Equilibre EV60 220hp optimum charge

2%

£29,367

£5,873

£35,240

£0

£700

£55

£35,995

Techno EV60 220hp optimum charge

2%

£31,450

£6,290

£37,740

£0

£700

£55

£38,495

Launch Edition EV60 220hp
optimum charge

2%

£32,700

£6,540

£39,240

£0

£700

£55

£39,995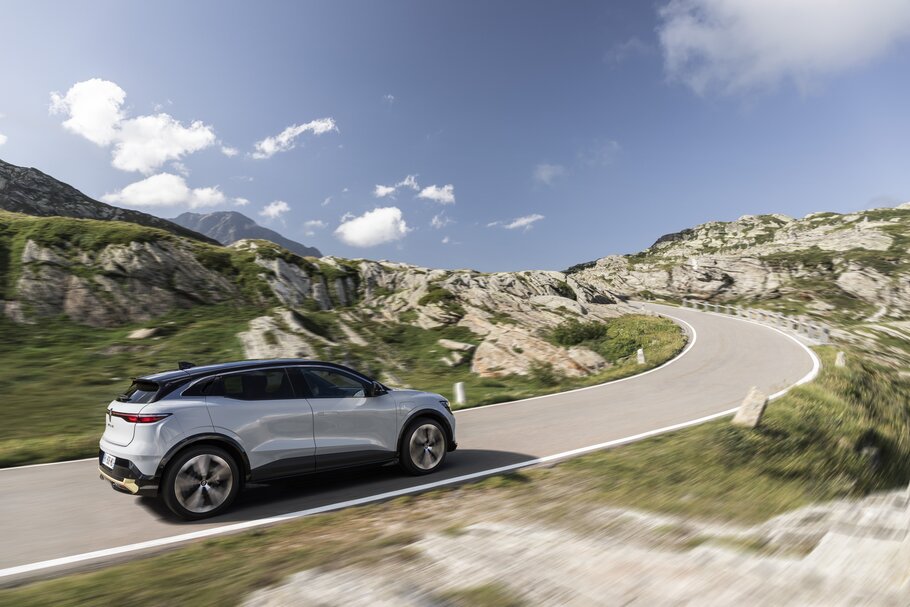 GRADE WALK
Equilibre EV60 220hp optimum charge
18-inch Oston alloy wheels
full LED headlights
black fabric upholstery including a fabric-covered upper dashboard
interior ambient lighting
manual air conditioning
front and rear one-touch electric windows
heated steering wheel
heated front seats
rear park assist
rear view camera
12.3-inch driver information display
9-inch OpenR infotainment display with navigation
wireless smartphone connectivity with both Android Auto and Apple CarPlay
connected services including over-the-air software updates
4-speaker Arkamys audio system with two USB-C ports
hands-free key-card with keyless entry
distance warning alert
traffic sign recognition
automatic emergency braking with junction assist including pedestrian and cyclist alerts
cruise control with speed limiter
driver drowsiness alert
emergency lane keeping assist with oncoming traffic and road-edge detection
hill start assist
emergency e-call
five-metre Mode 3 charging cable
Techno EV60 220hp optimum charge (in addition to Equilibre)
20-inch Soren alloy wheels
full adaptive LED headlights with automatic high/low beam
front and rear signature lighting with dynamic turn signals
contrasting door mirrors
shark fin antenna
grey/black upholstery made from synthetic leather and recycled materials
tinted rear windows
frameless auto-dimming rear-view mirror
multisense customised driving modes and 48-colour interior ambient lighting
dual-zone climate control
automatic windscreen wipers
height and electric lumbar adjustment for both driver and front passenger seats
Google services including Google Assistant, Google Maps, and Google Play store
wireless smartphone charging
upgraded audio system with six speakers and two rear-mounted USB-C ports
adaptive cruise control with speed limiter and lane centring
traffic sign recognition with overspeed prevention
blind spot recognition and intervention
rear cross traffic alert with rear automatic braking
front and rear park assist
Launch Edition EV60 220hp optimum charge
20-inch alloy wheels
gold F1 blade
9-speaker Harman Kardon audio system
smart rear-view mirror
around view 3D camera system
TECHNICAL SPECIFICATIONS
EV60 220hp optimum charge

Battery type (kwh)

60

Number of seats

5

Range & consumption

WLTP driving range (miles)

280

Consumption homologated in combined cycle (Wh/62 miles)

16.1

CO2 emissions (g / km)

0

Motor

Electric motor technology

synchronous motor with coiled rotor

Approval protocol

WLTP

Motor / tcs code

6AM

Engine type

electric

Maximum power (kw)

160

Maximum power (hp)

217

Maximum power (rpm)

5473 – 11688

Maximum torque (Nm)

300

Maximum torque (rpm)

100 – 4714

Battery

Usable capacity (kwh)

60

Battery type

lithium-ion

Total voltage (v)

400

Battery weight (kg)

394 (+/- 5)

Number of battery modules / cells

12 / 24

Gearbox

Gearbox

reduction gear

Type of gearbox

automatic

Number of forward gears

1

Performance

Maximum speed mph (kph)

99.4 (160)

0-62 mph in seconds

7.5

Standing 400m (s)

15.5

Standing 1000m (s)

28.7

Steering & axles

Power assisted

yes (electric)

Front-end type

Pseudo McPherson

Rear-end type

multi-link rear train (cradle & connecting rods)

Turning circle kerb to kerb (m)

10.4

Number of steering turns required at full travel

2.3

Wheels & tyres

Equilibre wheel dimensions (18″)

195/60 r18 96 h

Techno wheel dimensions (20″)

215/45 r20 95t

Limited edition wheel dimensions (20″)

215/45 r20 95t

Braking system

Anti-locking braking systems (ABS)

yes

Brake assist (BA)

yes

Electronic stability control (ESC)

yes

Front: ventilated discs (mm) / width (mm)

320 / 28

Rear: disks (dp) Ø (mm) / width (mm)

292 / 16

Parking brake

automatic

Weight

Minimum empty weight (kg)

1636

Maximum empty weight (kg)

1708

Front empty weight (kg)

928

Rear empty weight (kg)

708

Payload minimum / maximum (kg)

450 / 522

Maximum gross vehicle weight (kg)

2158

Maximum gross train weight

3058

Maximum towing weight braked / unbraked (kg)

900 / 750

Maximum roof load (kg)

80

Suspension

Front

Pseudo McPherson

Rear

Train rear multilink (cradle & connecting rods)

Charging

Charging capability (adaptable for single or three phase power)

3kW – 22kW ac; up to dc 130kW

2.3kW domestic socket (10A single phase) 0-100%

30 hours 30 minutes

Plug green-up socket 3.7kW (16A single phase) 0-100%

18 hours

7.4kW wallbox (32A single phase) 0-100%

9 hours 15 minutes

11kW charging point (16A three phase) 0-100%

6 hours 15 minutes

22kW charging point (32A three phase) 0-100%

3 hours 15 minutes

DC rapid charger 0-80%

1 hour 15 minutes (dc 130)

30 minutes rapid charging (electric range in miles)

186
DIMENSIONS
| | |
| --- | --- |
| Dimensions | mm |
| Wheelbase | 2,685 |
| Overall length | 4,200 |
| Interior length | 1,750 |
| Front overhang | 800 |
| Rear overhang | 715 |
| Front track | 1,548 |
| Rear track | 1,530 |
| Overall width with door mirrors | 2,055 |
| Overall width without door mirrors | 1,860 |
| Unladen height | 1,505 |
| Unladen height with tailgate open | 2,017 |
| Lift in height unladen | 784 |
| Ground clearance unladen | 135 |
| Ground clearance with maximum load | 120 |
| Front elbow width | 1,404 |
| Rear elbow width | 1,378 |
| Front shoulder width | 1,396 |
| Rear shoulder width | 1,312 |
| Rear row knee room | 209 |
| Headroom 1st row (front seats) standard roof | 887 |
| Headroom 2nd row (rear seats) standard roof | 835 |
| Volumes | litres |
| Minimum boot volume (l) | 440 |
| Maximum boot volume (l) | 1332 |
| Boot storage space under floor (l) | 32 |
| Maximum boot volume including storage under floor (l) | 1364 |
| Rear opening height | 784 |
| Rear opening width upper, maximum, lower | 982 / 957 / 982 |
| Interior width between wheel arches | 963 |
| Boot height under liner | 801 / 805 |