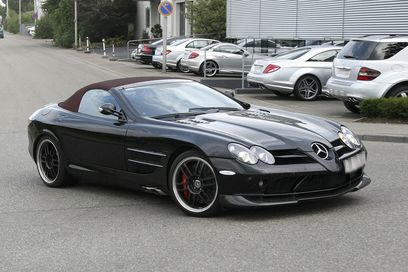 Our spies have lifted the lid on Mercedes-McLaren's most sensational cabrio to date. The SLR is fast approaching the end of its seven-year lifespan and the Anglo-German partnership has no intention of letting the controversial supercar drive off quietly into the sunset.
The SLR 722 cabrio is the special edition version of the standard model and will most likely boast the same 5.4-litre, V8 AMG, supercharged engine that drives its hard-top sibling. This will mean about 650bhp, a 0-60mph time of around 3.0 seconds and an enormous 800Nm+ of torque!
Our exclusive pictures show the 722 roadster completly undisgusied. And it looks like it will be almost identical to the hard-top, except for its canvas roof, which takes a mere 10 seconds to fold away. It will also use the familiar mid engine – rear wheel drive setup.
The special edition roadster gets its name from the famous Stirling Moss victory in a Mercedes-Benz 300 SLR which displayed on it, the number 722.
Details on the 722 roadster's release date are not yet known but it is expected to be early 2009 and it is expected it will carry a price tag of around £400,000.