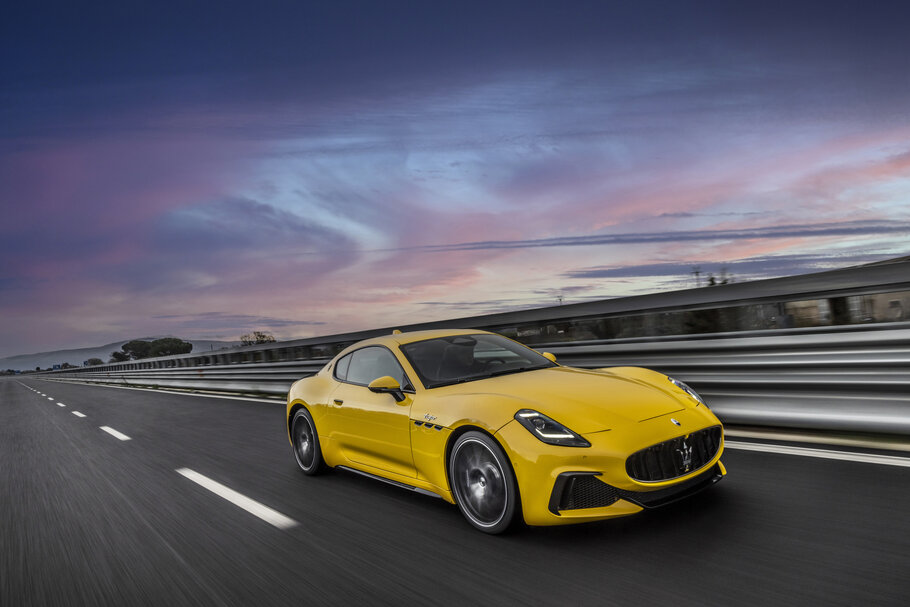 Maserati and McLaren are the latest high-performance brands to be confirmed for Salon Privé London, which opens this Thursday (20 April) at Royal Hospital Chelsea. The two elite car companies will both bring a range of headline-worthy new supercars to the pristine lawns of London's season-opening event, adding to the roster of radical automotive icons in attendance.
The new Maserati GranTurismo is making its UK public debut at Salon Privé London. The headline-grabbing new coupé is being launched initially in two versions, both using a sonorous three-litre V6 Nettuno twin-turbo engine. The Modena offers 490hp, while the flagship Trofeo produces a thrilling 550hp. Excitingly, the iconic GranTurismo will also shortly be offered in pure electric Folgore guise too – the first from the Trident stable – offering impressive performance and zero tailpipe emissions in use, with a range of over 265 miles.
Classically elegant, with an ideal balance between beauty and functionality, the new Maserati GranTurismo has pure and refined design cues, with the classic proportions of a long bonnet and central body intersected by four curvaceous corners. It is also available from launch in a collectable PrimaSerie Launch Edition, to mark 75 years since the emergence of 'gran turismo'.
The new McLaren Artura hybrid supercar will be a star attraction at Salon Privé London. Two custom configurations of car will be on display, to show Royal Hospital Chelsea guests the range of new options available on the new 671bhp twin-turbo 3.0-litre V6 high-performance hybrid. The first car to use the new McLaren Carbon Lightweight Architecture, the stunning new two-seat supercar has the latest iteration of McLaren's 'shrink-wrapped' look and 'form follows function' design philosophy.
McLaren's bold new Artura also combines electrifying performance – 0-62mph takes just 3.0 seconds – with eye-opening efficiency. Not only does the 7.4kWh battery deliver a 19-mile pure electric range, but it also aids exceptional official fuel economy of 61.5mpg, with ultra-low CO2 emissions of just 104g/km. This makes it by far the most fuel-efficient McLaren ever produced; the new 205mph McLaren Artura is therefore tailor-made for the expanded London ULEZ, as well as the fast roads and racetracks of the world.
The McLaren Senna hypercar takes things to an even higher level. Described as McLaren's fastest track-focused road-going hypercar, the 789bhp 4.0-litre twin-turbo V8 car delivers the fastest McLaren lap times outside F1. Named after Ayrton Senna with the blessing of the Brazilian legend's family, the radical and ultra-rare hypercar will be another must-see at Salon Privé London. McLaren will be represented by specialist premium retailer Jardine Sports Cars.
Other models joining McLaren and Maserati at Salon Privé London include Ferrari, Lamborghini, Wiesmann, Abarth, Polestar, Genesis, Theon Design and more. There will be a 'holy trinity' of 1,000bhp-plus hypercars from Delage, Hennessey and Rimac on show, and a rich line-up of other not-to-be-missed cars from Alpine, Aston martin, Bentley, Clive Sutton, Electrogenic, Everrati, Porsche and Rolls-Royce.
A central attraction is the famous Salon Privé London Concours de Vente. Here, 75 of the world's most collectable cars line up for a jaw-dropping display – and unlike regular concours events, every car on display is available to purchase. A crowd-pulling attraction will be a Chapron-bodied Delahaye restored to its original colours by The Grand Tour presenter Richard Hammond's The Smallest Cog restoration firm. Richard Hammond himself will star at Salon Privé London and greet guests.
Salon Privé London has a tantalising showcase of luxury brands, with several more UK debuts for new luxury products. Montblanc has confirmed it will debut its new 8000 Capsule timepiece collection in the UK for the first time, while famous family-run jewellery house Boodles is to demonstrate 'best of British' products including its iconic Raindance ring.
Salon Privé London is one of the world's most prestigious automotive events and the sister event to the globally renowned Salon Privé at Blenheim Palace which is now in its 18th year.
Set to be the capital's most exclusive automotive party, Salon Privé London offers plenty to see and do in addition to the motoring attractions. There will be a luxury shopping village featuring brands such as high-end British Jewellery designer Boodles, and watches from famed luxury brand, Montblanc.
Food and hospitality will also be first class, in the famed Salon Privé tradition, with a three-course luncheon, delicious Pommery Champagne, cocktails from the London Essence Co and fine wines from Chateau La Gordonne.
Further highlights include Friday's Boodles Ladies' Day, fun for all the family during Saturday at Salon Privé, plus exclusive VIP hospitality at The Sloane and DJs keeping the party going well into the evening on Thursday and Friday.