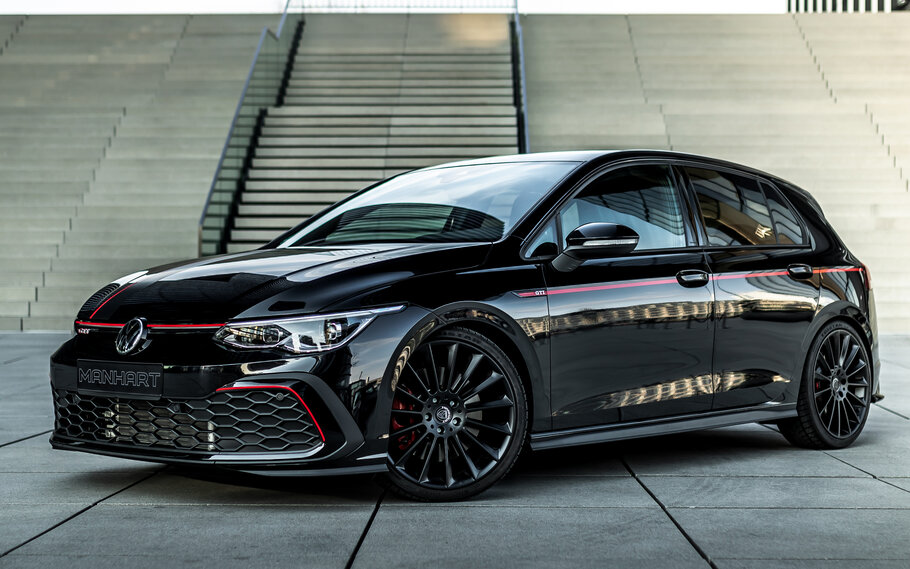 With the change to the current model generation of the best-selling Golf, VW dared to take a relatively big step in terms of design: the front view in particular turned out to be quite extravagant. After some time to get used to it, however, the "eight" appears very handsome and dynamic, especially with a view to the particularly sporty variants GTI, GTE and GTD as well as the R.
This is all the more true, of course, when these compact sports cars enjoy the benefit of targeted, subsequent refinement and individualization. The specialists from MANHART Performance, based in Wuppertal, underline this with their MANHART Golf GTI 290 presented here. Essential, visual adjustments that give the car an even more coherent and dynamic appearance, are undoubtedly the new wheels and the lowering: The latter is due to a set of H&R springs, which lower the body by 40 millimetres. The MANHART multi-spoke rims in Venturi style mounted under the wings have the dimensions 8×19 inches ET40, the mounted tyres measure 225/35ZR19.
As a complementary visual refinement, MANHART installed an in-house diffuser at the rear and provided the black body of the Golf GTI 290 with some quite discreet but nevertheless effective decorative stripes in the typical GTI red. To round off the interior, an exclusive starry sky with countless small LEDs was installed as a headliner.
The GTI in the eighth model generation already has a remarkable 245 hp and 370 Nm ex works. The MANHART team nevertheless detected further optimization potential here and gave the two-litre turbo, four-cylinder of the hot hatch a power boost with the help of its in-house MHtronik module: This boosts the power unit – the name of the car already suggested it – to a whopping 290 hp and 425 Nm.
All other facts as well as price and delivery information are available on the MANHART Performance website (www.manhart-performance.de), in the new MANHART Performance online shop (www.manhart-performance.de/shop/volkswagen/) or directly from the MANHART Performance sales team.