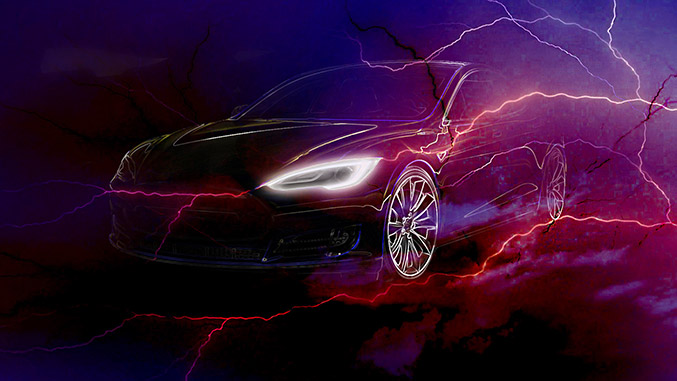 The international tuning company LARTE Design will reveal its brand-new Tesla S on the Top Marques Monaco, the prestigious supercar forum, which takes place from April 16 to 19, 2015. As this car is not only the first luxury sedan but also the first electric car tuned by LARTE, their CEO Alexey Yanovskiy, exclusively explains the details of the design process beforehand.
Was it difficult to transfer the SUV-inspired LARTE Design to a different type of car?
Yanovskiy: That was not difficult, it was interesting and also a real challenge. No European manufacturer presented such a Tesla before, we will be among the first, worldwide! However, this is not only a new but also an unusual car. Thus, we were very enthusiastic and tried to do something –unusual.
Has your design been stimulated by the fact that the Tesla is an electric car?
Yanovskiy: Sure, the Tesla S is a unique and interesting car. This is the first full-electric premium segment car, featuring amazing power, agility, acceleration, range and security. And in spite of comfort and driving fun it even protects the environment. This is the car of the future – in the present!
Do you start a new design with an empty piece of paper?
Yanovskiy: Of course we always have to take the tech specs into account, especially when it comes to the Tesla S. The electric battery, the weight reduction – you have to consider many different aspects and we don't want to impair this wonderful vehicle. Therefore, we have chosen appropriate materials that even reduced the car's weight!
What kind of design should the visitors of the show expect?
Yanovskiy: Our Tesla Model S will feature a boldly redesigned exterior, including new light design and striking tuning components made of carbon fiber-reinforced plastic (CRP). Moreover, the car will have an overhauled interior, new, large forged wheels and a unique sound effect!
Can you describe the design process at the LARTE studio?
At first several sketches of the new vehicle are developed by our designers. We choose one drawing and rework it, taking into account all the technical features of the car. In contrast to the bold experiments in car design that strike the imagination on paper only, our drafts precisely reflect what the car will look like. The next step is molding the tuning parts with modeling clay directly on the real car. Then, a fiberglass master model is produced, which is a mirror-image of the clay components. It will be used for shaping the real tuning parts.
Source: Larte