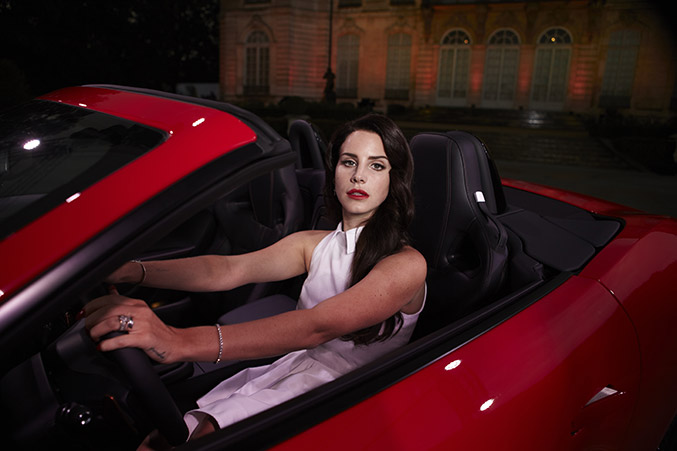 Brit and Ivor Novello award winner Lana Del Rey today released the video for 'Burning Desire'. It was written and composed by the singer songwriter and will feature as the title track to a special film called 'Desire' starring Golden Globe winner Damian Lewis, which has been created by Jaguar and the award winning producers Ridley Scott Associates.
The 'Burning Desire' music video was filmed on location in South East London at the infamous Rivoli Ballroom, a Grade II listed former cinema that was transformed in the 1950's and is the only remaining intact ballroom from its period in London.
The distinctive venue's eclectic mix of neo-classical, deco style perfectly complements Lana's original style. In the video she is seen wearing a vintage Ghost floor length silk dress as she performs the track.
Lana Del Rey said:"Film has always been so precious to me and I'm so proud to be a part of what Jaguar have envisioned for their new car with Damian Lewis. Making art means making tough decisions. I do believe you create your own life path and that you will be rewarded for following your passions – and sticking to it. It's just good to know now, with people like Jaguar and working with them, that I'm not the only one out there with such strident, creative beliefs."
Lana Del Rey's collaboration with the luxury car brand was first announced last September, with the singer performing the song for the first and only time to an exclusive and intimate audience at Paris's Musee Rodin at the global reveal of the F-TYPE. The F-TYPE is the first two-seater sports car from Jaguar since the iconic E-type was launched 50 years ago.
Ian Armstrong, Global Marketing Communications Director, Jaguar said: "Lana Del Rey is a world-class singer songwriter. In this video, she has used her unique ability to conjure, reflect and then reinterpret an aesthetic from a different era both for herself and for the F-TYPE."
The film that features the track tells the story of Clark (Damian Lewis), who delivers cars for a living, running into trouble after a chance encounter with a mysterious, young woman (Shannyn Sossamon) in the middle of a lawless desert. Directed by Adam Smith, this is a story of betrayal, retribution, passion and greed. The film will be released in Spring 2013.
Source: Jaguar