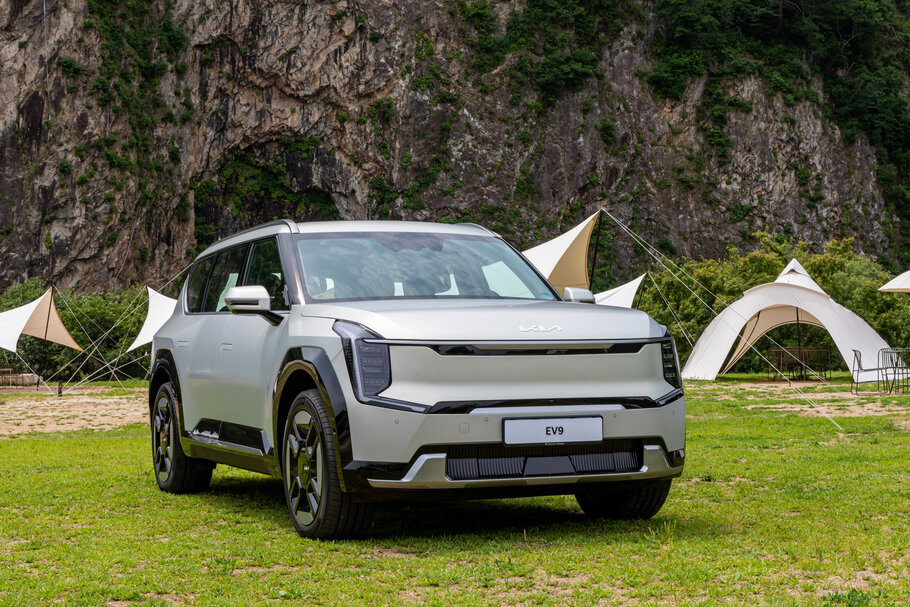 A unique blend of modern lifestyle and luxurious comfort, this three-row SUV makes every ride a fun-packed journey with versatile seating options, V2L capability, advanced technologies, and more.
From the very first sketch to the moment the first model rolls off the production line, the new Kia EV9 electric SUV has been created to deliver new standards of space, practicality, flexibility, comfort, and technology to meet the needs of millennial families.
Kia's engineers and designers are passionate in their belief that the interior of a vehicle must be so much more than simply fit for purpose to transport occupants safely and efficiently from A-to-B. The cabin of a vehicle is, after all, where the driver and passengers spend their time and engage most closely with a vehicle.
That's why Kia's design philosophy 'Opposites United' is dedicated to the creation of exceptional interiors to transcend conventional thinking and inspire customers. That means providing premium comfort, wellbeing, and technology for all occupants, not just the driver, to elevate the in-vehicle user experience to new levels. And nowhere is this approach more elegantly and effectively expressed than inside the brand's new flagship EV9 electric SUV.
The EV9's unique mix of advanced assets and exceptional dimensions has created a vehicle with a truly family-friendly character that empowers the large SUV to transform every journey, whether it's a short drive to the shops or a week-long vacation road trip, into an enjoyable and engaging experience.
Space innovation takes travelling to a new dimension
When the Kia EV9 is the only vehicle cruising along a deserted coastal road, or one of many negotiating a busy city centre, the cabin's generous dimensions, remarkable spaciousness, sophisticated design, and high-quality trim enhance the sense of wellbeing of all occupants. Thanks to a length of 5,010mm, a height of up to 1,755mm, a width of 1,980mm and a wheelbase of 3,100mm (285mm longer than the Kia Sorento), the feeling the driver and passengers experience on entering the vehicle is more akin to stepping into a smart, relaxing lounge than climbing aboard a traditional SUV.
Legroom is generous throughout, regardless of which of the three rows of seats occupants are relaxing in. Even tall drivers feel instantly at home thanks to the effortless way they can enter and exit the EV9 due to its impressive headroom. Once aboard, completely flat floor electric vehicle architecture made possible by the EV9's Electric Global Modular Platform (E-GMP) makes it effortless to move around the cabin.
The sense of 'space innovation' exudes throughout the entire cabin, and the design and construction of every element within the EV9 have been carefully considered, crafted, and optimised to enhance spaciousness and wellbeing. The SUV's centre console is a clear case in point, with buttons and functions intelligently and intuitively repositioned within the infotainment display and steering wheel. The additional space this frees up has then been cleverly configured into cupholders and phone slots – small details perhaps, but ones that make a big difference to daily driving. In addition, the EV9 is offered with a floating centre console, which expands to the second-row seats and provides drawer-type stowage.
With all three rows of seats occupied, the EV9 provide 571 litres of cargo space, but when customers fold down the second and third-row seats, the stowage space available expands to a massive 2,320 litres.
'Luxe living room on wheels' concept delivers quantum leap in seating configurations
Equipped with premium quality lounge-style seats, the EV9 not only opens up new levels of comfort but also versatility and flexibility. Kia saw no need for occupants to be constrained by the bounds of conventional cabin design, nor any reason that they might not enjoy natural conversations with the same ease as if they were sitting at home relaxing in their own living room.
That's why the EV9 is offered with second-row seats that can be turned a full 180 degrees to face the back row. Doing so creates a living room or meeting room-like environment that allows friends, colleagues, and family members to converse in a completely natural manner. The feature is particularly appealing to families, enabling them to better engage with younger children and babies.
Of course, slightly older family members might be perfectly happy left to their own devices, both literally and metaphorically, in the third-row seats. There, they can take full advantage of charging points for electronic devices, cup holders and reading lights and enjoy an excellent view of their surroundings through the rear quarter glass. And, of course, if no one is occupying the third-row seats, they can be folded to free up more cargo space.
With the EV9, Kia has truly thought 'outside of the box', or perhaps, it may be more accurate to say that they have thought 'outside of the vehicle.' This has been done to deliver on the brand's stridently pursued goal of 'blurring the boundaries between outdoor and indoor spaces, by giving occupants sitting in the two middle-row the freedom to swivel their seats 90 degrees to face the windows.
Better still, if the EV9 is parked up in a particularly scenic location – beside the sea, in the midst of a, forest or surrounded by, mountains for example ­­– the doors can be opened leaving the occupants free to soak up the restorative powers of nature from the comfort of their seat. And for an even more connected feel that all occupants can enjoy, the panoramic sunroof extends from the second row to the back row, enabling the enjoyment of sunlight during the day and greater appreciation of the softer tones of moonlight as darkness falls.
Work and play wherever the road takes you
With its exceptional spaciousness and stowage capacity, the EV9 is designed to enable families to take lots of gear and equipment with them wherever they travel. But cleverer than that, it also enables them to power whatever equipment they bring.
That ability is made possible due to the EV9's Integrated Charging Control Unit (ICCU), which includes Vehicle-to-Load (V2L) functionality, enabling energy to be discharged from the vehicle battery. Customers can use up to 3.68 kWof power from the EV9 to charge laptops or power camping equipment, eliminating the need to worry about outlets in outdoor areas. With an average laptop charger consuming around 65 watts, a tablet charger utilising 30 watts, and a smart phone charger typically drawing 10 watts, the EV9 has the ability to power electronics for extended periods of up to several days.
Nor is it just smaller, handheld, electronic devices that the energy in the EV9's battery can be used to power. Much larger devices can be powered too, such as an electric grill, which typically uses around 1500 watts and an outdoor projector, which uses around 200 watts. Through the Kia Connect Store customers will be able to enhance their vehicles with Vehicle-to-Grid (V2G) technology, potentially enabling them to sell electricity back to the grid in the future.
Whatever the requirement, the EV9's V2L functionality gives families the freedom to enjoy their time together on the road even more, while offering full flexibility for those who need to keep on top of work on the go.
Alive with technology to enhance every journey and every rest period
Right from the start, during the conceptualisation stage of the EV9, Kia was determined to create a vehicle that elevated the travelling experience and one that placed as much emphasis on the comfort, wellbeing and user experience of children sitting in the third row as adults up front. But, of course, that doesn't mean that the driver's seat is not a very special place to be.
The EV9's Panoramic Wide Display combines a 12.3-inch cluster display, 5-inch segment display, and 12.3-inch infotainment system display for easy vehicle function control and efficient information delivery. In addition, it projects an ambience that lets the driver feel part of an ultra-modern, zero-emission, yet thoroughly enjoyable driving experience.
The feeling of seamless access to whatever adventure that the open road can offer is enhanced by the Connected Car Navigation Cockpit (ccNC). Fully supported by Over-the-Air (OTA) services, which provide 24/7 access to the Kia Connect Store, and allow for continuous upgrades to digital features and services without visiting a dealership. The digital cockpit also features quick control, integrated search, and a new EV mode for improved driver usability and convenience. This mode also enables drivers to personalise widgets and view useful information such as charging station/destination details and the battery State of Charge (SOC).
While numerous intuitive ways are presented for the driver and passengers to seamlessly engage with the EV9's advanced technology and features, they can also relax, secure in the knowledge that Kia's flagship SUV is continuously monitoring its environment, ready to react automatically, if required, to ensure the utmost safety of occupants, other drivers, and pedestrians.
The EV9's Highway Driving Pilot (HDP) technology lies at the heart of its ability to deliver optimum levels of monitoring and safety. With the most advanced iteration of the system yet seen from Kia, the EV9's HDP supports conditional SAE Level 3 autonomous driving, with 15 sensors, including two lidars, providing a full 360-degree field of view for detecting and reacting to potential collisions with other road users. In addition, the very latest Advanced Driver Assistance Systems (ADAS) are designed to offer optimum convenience. Kia's Smart Parking Assist 2 enables the EV9 to park itself without the need for driver intervention, whether in or out of the vehicle, with the driver initiating the procedure via the Kia smart key known as Digital Key 2.
Offered with an all-electric WLTP target range of more than 541 km on a single charge, the EV9 is engineered to enable families to undertake lengthy road trips, even though remote areas with little charging infrastructure, with full confidence. And when the time does come to stop and recharge the vehicle's batteries, it certainly need not be a long time, thanks to the SUV's ultra-fast charging capability. This technology allows for a charging time of 15 minutes, providing a driving range of up to 239 km, and a 10-80% battery state of charge in under 25 minutes.
During charging, families can take a short stroll for some fresh air or enjoy some refreshments in a café. However, if they choose not to leave the vehicle, they can simply recline the relaxation seats, close their eyes and rest in the cabin's low light conditions, before rejoining the road in the EV9 fully rejuvenated for the remainder of the journey.
Full UK pricing and specification for the EV9 will be announced in the near future.