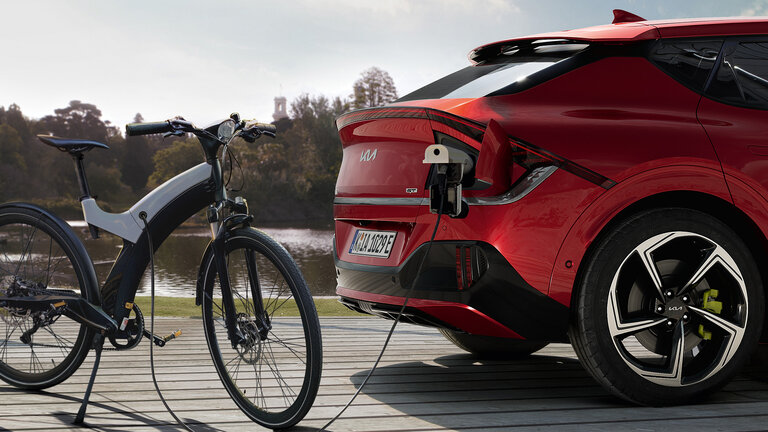 Kia is introducing a suite of smart technologies that aim to make electric vehicle (EV) mobility more convenient, accessible, and efficient than ever before – with Kia Connect, Kia Charge and Kia Smart Charging: V1G (Automated Unidirectional Smart Charging), V2H/B (Vehicle-to-Home/Vehicle-to-Building), and V2G (vehicle-to-grid).
"Delivering the next generation of sustainable mobility solutions involves the seamless and holistic interaction of electrification, connectivity and new services," said Sjoerd Knipping, Vice President of Marketing and Product at Kia Europe. "Starting with the new EV9 Kia is working towards making EVs fully connected and future-ready to enable vehicles to be updated as new innovations and features become available."
Using connectivity to enhance the customer experience
Kia's overall technology strategy aims to create seamless and simple connectivity through integrated networks. Kia Connect promotes an "always on" connection between the vehicle, Kia servers and data providers, enabling the live streaming of data to deliver real-time updates and information to drivers, via the Connected Car Cloud. Kia also utilises live data to improve the customer experience by making it easier to find available charging stations and predicting vehicle maintenance. Additionally, live data can help make roads safer for everyone, enable efficient management of fleets, and improve emergency response times.
The company's connectivity strategy extends to the dedicated Kia Connect app that allows customers to take advantage of features available in the new Kia Connect Store. This store is the go-to place for customers to purchase upgrades for their cars, enabling a vehicle to be continuously updated with the specific technologies the customer wants. The EV9 will be the first car that will benefit from the Kia Connect Store, which is also the first Kia vehicle to have the Connected Car Navigation Cockpit (CCNC), with dual-band GPS for improved location accuracy. Over-the-air updates enable the system to undergo constant improvement, with the latest maps, interfaces and software enhancements. On top, the Kia EV9 will also have the EV Route Planner feature, which suggests you the best charging points based on your vehicle battery level while travelling to your destination.
Putting customers "in charge"
Kia's global strategy is to make charging both frictionless and convenient for our customers, whether at public charging stations, at dealerships, or with the wallbox at home.
The Kia Charge app enables customers to utilise a comprehensive charging network from a single point of access. The network in Europe includes more than half a million charging points in 28 countries, and it continues to grow thanks to pan-European partnerships with Ionity and Digital Charging Solutions (DCS) as well as local charging providers.
For public fast-chargers, Kia is expanding regional joint ventures to establish 30,000 new chargers by 2030. The company is also setting up co-branded fast chargers at dealerships for a more personalised and comfortable charging experience.
Unleashing the power of electric vehicles
Kia Smart Charging gives customers greater flexibility for charging electric vehicles. Advances in vehicle connectivity are taking EV charging and power usage into the sustainable era, through bidirectional charging. This enables energy to flow both ways, into and out of the vehicle. Therefore, the EV9 is capable of V1G (Automated Unidirectional Smart Charging, Vehicle-to-Load (V2L), Vehicle-to-Building/Vehicle-to-Home (V2B/V2H) and Vehicle-to-Grid (V2G).
V2L, first introduced with the Kia EV6 and available standard with the EV9, allows customers to power 110V/220V appliances using their EV9 battery by plugging the cable into the EV charging port. V2B and V2H refer to the vehicle's ability to power a building or the customer's home (a fully charged EV9 with a 99.8kWh battery could power a household for five to 10 days). V2G means the vehicle can transfer energy directly to the grid for wider use.
A V2G-enabled vehicle, such as the EV9, can be utilised to store energy gained from renewable sources and feed it back into the power grid at times when the sun isn't shining, or the wind isn't blowing. This can help to stabilise the grid, support the use of sustainable energy, and potentially reduce the customer's electricity costs. On a broader level, thousands of electric vehicles connected to the grid could act as a virtual power plant, potentially providing enough energy to power towns and cities for temporary periods.
As Kia continues its bold transformation to become a sustainable mobility solutions provider, the company is making connectivity, electrification, and sustainability an absolute priority – by launching 15 EVs by 2027, as well as innovations that will improve mobility across Europe, and power grid support that will help Europe's energy industry.