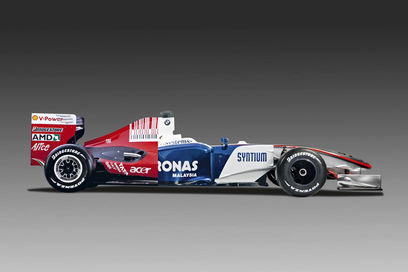 Race fans get ready – the start of the Formula One season is just over a month away. All but three of the squads have now revealed their 2009 machines, ahead of the first outing of the year in Australia on 29 March.
This is set to be a classic grand prix year, thanks to a host of new technical regulations aimed at increasing on-track action. So, to give you the inside line on what to watch out for, we've taken an in-depth look at three of the main contenders
– Ferrari, BMW and McLaren.
A cursory glance at our trio confirms that the latest cars are very different beasts to last year's. A radical cutting back on aerodynamic aids is likely to see a downforce reduction of around 25 per cent. At the front, the wing is now much broader, measuring the full width of the car, while the main bodywork is smoother, as the various turning vanes, vents and winglets have been banned.
At the rear, a narrower wing and simpler diffuser complete the visual makeover.
Look beneath the revised exteriors and you'll discover changes to the mechanical set-up, too. The most extreme development is the adoption of eco-friendly Kinetic Energy Recovery Systems (KERS). This hi-tech kit captures wasted energy during braking, before storing it temporarily in a special battery pack, which is connected to an electric motor. Drivers can then use this device to release another 80bhp from their 2.4-litre V8 engines for a short time each lap.
For the first time since 1997, slick tyres will be fitted to F1 cars. Developed by Japanese firm Bridgestone, the new rubber will give up to 20 per cent greater grip in low-speed corners. Drivers will be able to brake later, creating more overtaking opportunities. Teams will still have a choice of either hard or soft compound rubber.
This shake-up of the rules is the most radical for 10 years. In just over four weeks, we'll find out whether all the effort has been worthwhile.
FERRARI
Italians' F60 has taller and narrower wing than last year, creating less downforce. The engine cover's vents and winglets have gone, reducing the turbulent air a pursuing car has to travel through, and allowing it to get closer for overtaking.
BMW
WHILE the German squad was the first to test KERS late last year, it hasn't yet committed to using the kit on the F1.09. It should give an extra 80bhp for up to 6.6 seconds each lap, giving drivers a tactical overtaking boost. But several outfits have concerns, after pitcrew suffered severe electric shocks when touching the cars.
McLAREN
chunky, squared-off front wing on the MP4-24 demonstrates how much simpler the aerodynamics are this year. However, the new nose section features two flaps that drivers can adjust by an angle of up to six degrees, giving them more downforce and grip in the corners, but less drag and a higher top speed along the straights.