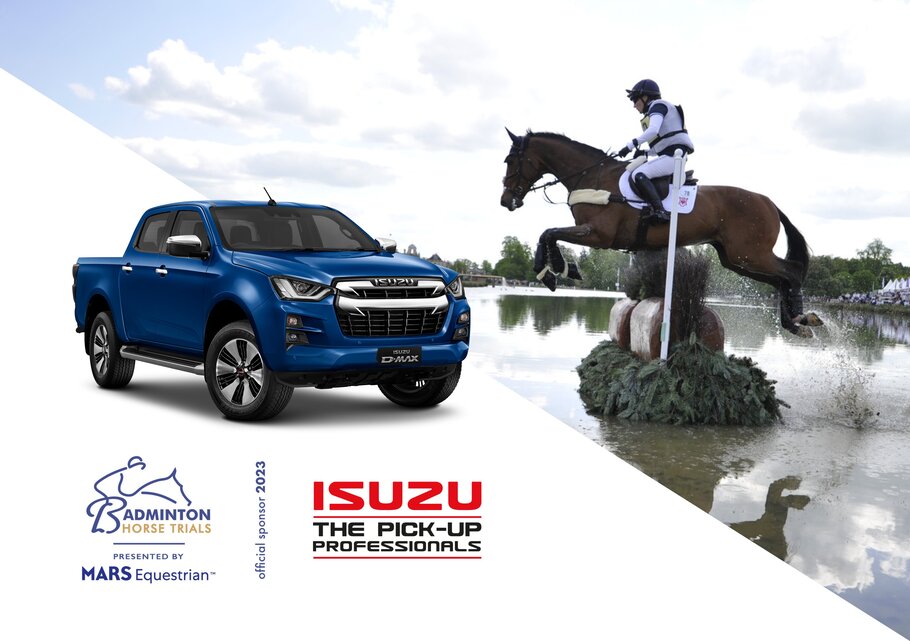 Isuzu UK is thrilled to announce its newest relationship with the prestigious Badminton Horse Trials, with the event taking place from Thursday 4th to Monday 8th of May in South Gloucestershire.
Procuring this sponsorship means that a maximum of 30 vehicles will be allocated for the event by Isuzu UK, providing Badminton Horse Trials with pick-ups for on-site event Officials to use for the duration of the trials, with an Isuzu events stand located at the event as well. As the primary automotive sponsor, Isuzu UK will be demonstrating the versatility of the D-Max range as a luxury pick-up with a workhorse pedigree, while also exhibiting the brand's commitment to quality and professionalism which form part of Badminton Horse Trials' defining ethos. This new sponsorship will form a critical element of Isuzu UK's events lineup, with the Horse Trials attracting circa 180,000 attendees per year.
Badminton Horse Trials is a world-renowned equine sporting event which takes place on the beautiful grounds of the namesake Badminton Estate in South Gloucestershire, covering five days of entertainment and competition. The eagerly awaited contest commemorates the utmost excellence in equestrian sports. The annual spectacle offers a great day out for the family rife with hospitality and shopping options across the stunning location. Combining horse inspections, expert dressage displays, the Shetland Pony Grand National, and culminating with a Show Jumping test, the Badminton Horse Trials epitomise a lifestyle of outdoor luxury while bringing attention to the grace and sporting prowess of equestrianism.
Badminton Horse Trials Director Jane Tuckwell commented: "Isuzu will be a great addition to Badminton and we look forward very much to welcoming them. It promises to be a particularly special weekend this year, coinciding with the Coronation, and we hope the Isuzu team will enjoy being part of it."
George Wallis, Head of Marketing for Isuzu UK, said: "This new sponsorship is a brilliant opportunity for both Isuzu UK and Badminton Horse Trials. More and more consumers in the outdoor lifestyle sector are discovering the multi-award winning Isuzu D-Max range. We are excited for our pick-ups to be working across this iconic event, as well as being on display there. The Isuzu D-Max range not only demonstrates our commitment to pick-up excellence, but will also resonate with discerning event visitors."
Thanks to a wealth of experience and pick-up industry knowledge, Isuzu UK has refined the Award-Winning Isuzu D-Max range, now accommodating those who want to take adventures in the pick-up to the next level. Extensive research into off-road dynamics and interior luxury has resulted in the range-topping Isuzu D-Max models which are taking the adventure market by storm, still maintaining the 1-tonne payload and 3.5-tonne towing capacity perfect for trailers and horse-boxes.