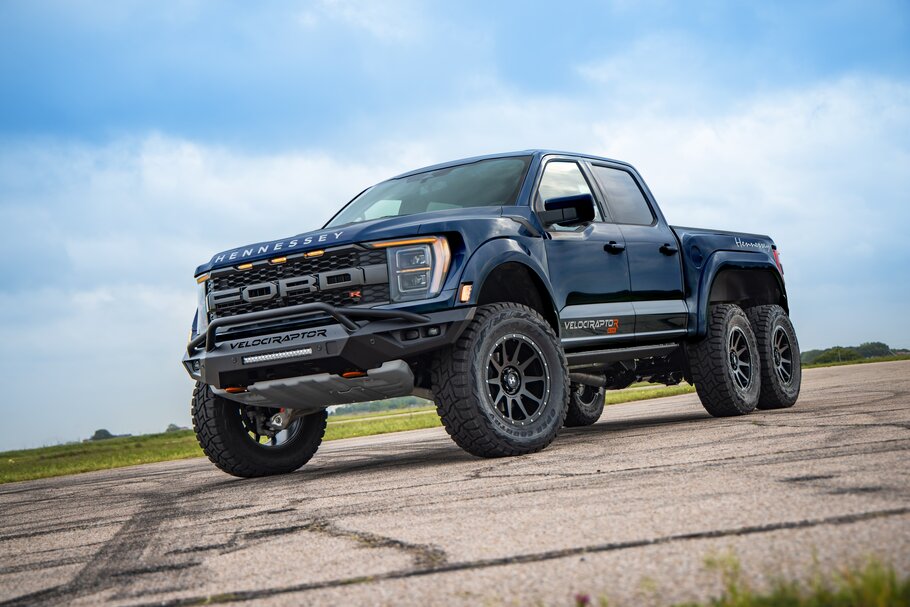 Hennessey, the Texas-based hypercar manufacturer and high-performance vehicle creator, has transformed the range-topping Ford F-150 Raptor R into a six-wheel-drive supertruck with the announcement of its new 'VelociRaptoR 6×6'.
The 'VelociRaptoR 6×6', which utilizes a third-generation Ford F-150 Raptor R as its foundation, boasts an extended boxed frame and a second, fully functional, locking rear axle – tractive grip is improved by more than 50 percent. The suspension features live valve Fox dampers, and Brembo performance brakes ensure strong stopping power. A three-inch lift raises the body in preparation for Hennessey's custom 20-inch alloy wheels wrapped in 37-inch off-road tires. Lastly, an expansive 8-foot (2.4 meters) long load bed replaces the stock 5.5-foot (1.67-meter) bed – cargo capacity is improved by more than 45 percent.
Complementing the mechanical upgrades are new front and rear bumpers, LED lights, and Hennessey VelociRaptoR badging. The resulting 'VelociRaptoR 6×6' is a beastly machine nearly 27 feet long, roughly 7 feet tall, and 7 feet wide – with a curb weight of approximately 6,500 pounds.
The burly Ford Raptor R engine, a supercharged 5.2-liter V8, is untouched. It boasts a formidable 700 bhp @ 6,650 rpm and 640 lb-ft torque @ 4,250 rpm. That's enough power to ensure that the commanding 'VelociRaptoR 6×6' dominates both on- and off-road.
Taking these power-packed trucks to the extreme '6×6' stage is second nature to Hennessey's engineers. The company is the world's largest producer of modified Ford F-150 Raptors. It has built thousands of high-performance VelociRaptor trucks for customers around the globe, and it's colossal 6×6 remains one of its most astounding builds.
John Hennessey, company founder and CEO: "The supercharged V8 in the Raptor R perfectly complements our limited edition 'VelociRaptoR 6×6' package. The upgrade boosts traction and improves utility, which makes the 6×6 practical and functional. It's a real blast to drive – I consider it a go-anywhere supertruck with head-turning stage presence!"
Hennessey has made a range of exclusive and competent 6×6 trucks, including the RAM-based MAMMOTH 6×6 TRX and Chevrolet-based Goliath 6×6 Silverado. Last year, Hennessey began offering its third-generation Ford F-150 Raptor upgrade, the twin-turbocharged V6 'VelociRaptor 600 6×6'.
The new 'VelociRaptoR 6×6' is priced from $499,999, including the base Ford F-150 Raptor R. Hennessey prides itself on the quality of its vehicles and workmanship. As such, the 'VelociRaptoR 6×6' benefits from a comprehensive 3-year / 36,000-mile warranty. Available for international shipping, the new Hennessey 'VelociRaptoR 6×6' can be ordered now through authorized Ford retailers or directly with Hennessey by calling +1 979.885.1300 or visiting HennesseyPerformance.com.
Specifications: Hennessey VelociRaptoR 6×6
VELOCIRAPTOR 6×6 UPGRADES TO FORD F-150 RAPTOR R
6×6 Locking Rear Axles
8-Foot Load Bed
Velociraptor Front Bumper
Front LED Light Bar in Front Bumper
Velociraptor Rear Bumper
20-Inch Hennessey Wheels
37-Inch Off-Road Tires
Brembo Performance Brakes
Fox 'Live Valve' Shocks
Front Suspension Leveling Kit
3-Inches Overall Lift
Professional Installation
Road Testing (Up To 400 Miles)
Hennessey & VelociRaptoR Exterior Badging
Serial Numbered Interior Plaque & Engine Bay Plaque
3-year / 36,000 Mile Limited Warranty