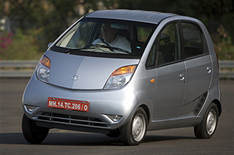 Fiat and Tata have announced plans to jointly sell the Tata Nano across South America.
The first deliveries of the world's cheapest car have been taking place in India and South America is the next market Tata is aiming to sell the Nano in.
Brazil is Fiat's second largest market after Italy so it has expertise in selling cars in South America. The Nano is not the only model Tata and Fiat are planning to sell together, with Tata's chairman Ratan Tata confirming the two firms were considering plans to sell Ferrari and Maserati models together in India.
"We have various projects, [with Fiat] to take the Nano to Latin America together, to share platforms for new cars, we have projects for Iveco and also for us to sell Ferrari and Maserati here in India," he said. "We are talking about a lot of things."
Tata, who is a Fiat supervisory board member, said the two were studying further projects including a joint venture for vehicle and engine production in India.
The Tata Nano, in its Indian production form, recently passed a European crash test. A European version is set to go on sale in 2011.