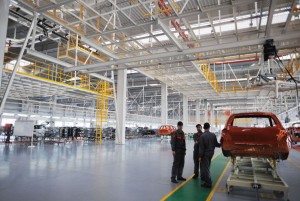 When it comes to labor-wage parity, nowhere has this topic been more debated than in the context of China and the US. Specifically, with US wages declining consistently for the past 3 years despite commodity price inflation spiking with a 2-3 month lag following every coordinated central bank printing episode (such as the one we are experiencing now), many have proffered their predictions as to when Chinese secular inflation would make wage pay equivalent on both sides of the Pacific, and stop the exporting of jobs from the US to China (a good discussion on the topic can be found in "With China Forecast To Reach Wage Parity With The US In Five Years, Is A New Manufacturing Golden Age Coming To The US?"). And while labor equivalency between China and the US likely still has a ways to go, we have now crossed a critical Rubicon, as Chinese and European wages, at least in one part of European Union, have caught up. Net result, as Spiegel reports, carmaker "Great Wall this week became the first Chinese automobile manufacturer to open an automobile assembly plant inside the European Union in the latest move suggesting the country's carmakers are seeking to establish a beachhead into the European market." Yes, that's right: it is now cheaper for China to make cars in the European Union: "It used to be that European carmakers opened plants to assemble their cars in China. Now the Chinese have turned the tables with the opening of their first factory in Bulgaria, an EU country with low labor costs and taxes. Increasingly, Chinese carmakers are setting their sights on the European and American automobile markets." The ramifications of this landmark development are massive for virtually every aspect of the economy: for domestic labor migration, for inflation, for the trade balance, and certainly for US workers.
So the real question is if Chinese wages can no longer compete with those in a poor EU member, just how high are they? And how long before China, for so many years a happy mercantilist importer of Bernanke's monetary inflation courtesy of its currency peg, is no longer competitive with ever growing parts of the EU, and then America? Does this mean that China's cheap labor force has pleateaued and the labor migration of peasants moving from the periphery to the cities no longer provides cheap labor? This was the topic of an extended analysis by SocGen from early January, of which the salient chart is presented below. Today's news will certainly force everyone to have a second long, hard look at the chart in the top left as it means that the Chinese labor force may indeed have topped out.
Aside from demographics, the macroeconomic implications on foreign trade and capital flows are monumental: most immediately for the US, it puts today's Wal Mart miss in a very different perspective, as it means that China is no longer the source of cheap commoditized produce, which in turn means that the entire discount retail vertical may have entered the secular sunsetting phase. It also means that Chinese producer margins are about to turn negative, and China is about to replay all the same EPS boosting gimmicks that America has gone through in the past 3 years, only in China, where there is no safety net, no jobless insurance claims, no EUCs, and no extended benefits (not to mention anything else), a wave of terminations will lead to far more unpleasant consequences than a bunch of unemployed people sitting on their coaches playing Xbox and watching GOP presidential debates. Most importantly, it means that going forward China will have zero tolerance for Fed monetary expansion as any hot money will immediately set off an inflationary forest fire as China suddenly finds itself with absolutely no output gap slack (unlike America which allegedly has more than enough, even though it is really just a secular regression to the mean shift).
In short, the implications, both good and bad, are huge.
And while this may be merely the proverbial canary in the Bulgarian coalmine for now, it will soon be followed by a murder of crows and then a kettle of vultures. Because the Pandora's box has just been opened.