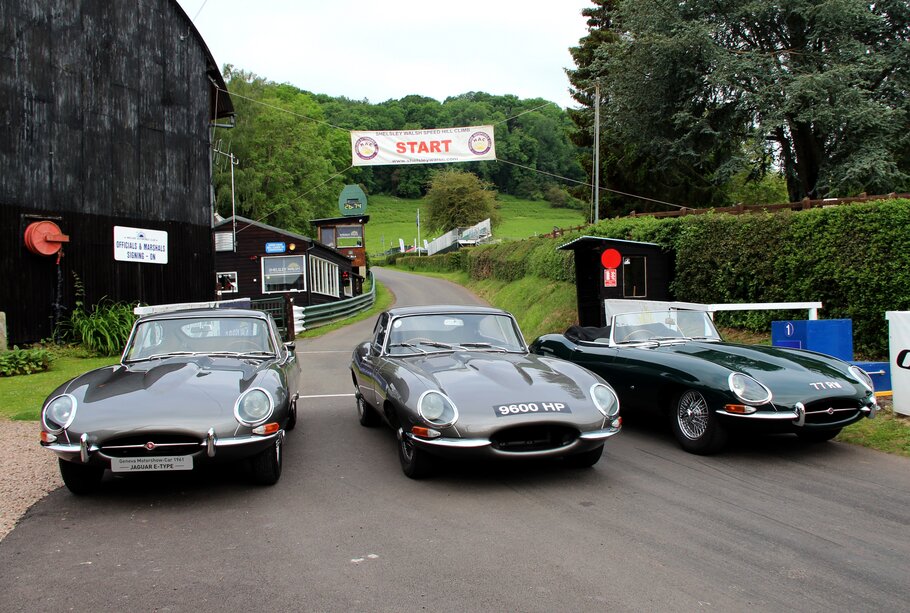 The 60th anniversary of the Jaguar E-type was celebrated in fine style this past weekend as around 400 E-types, their owners, sixty specialist exhibitors and enthusiastic visitors gathered for E-type 60. The event, sponsored by SNG Barratt Group and Twyford Moors, was held under the sunniest skies of the year at the historic and spectacular Shelsley Walsh motorsport setting.
On the Friday preceding the event, E-type Club co-founder Philip Porter, Chairman of Worcester Civic Society Phil Douce and Motor Sport magazine editor Joe Dunn, unveiled a blue plaque in commemoration of the great Stirling Moss first competing at Shelsley Walsh in 1948.
Apart from a glut of competition Es including celebrated Lightweights, Low-Drags, the E2A Le Mans prototype, and the first two E-types ever raced, the event also played host to an incredible reunion of the 1961 Geneva Motor Show trio – the first time these three cars have been seen together for sixty years!
A non-stop entertainment schedule included regular hillclimb action; an outstanding motoring art exhibition, engaging chats with E-type experts; hilarious reminiscing with racing legends: Hopkirk, Attwood, Fitzpatrick and Sutcliffe; a fabulously '60's-themed party; and a raucous tribute to The Italian Job.
Roll on E-type 70.