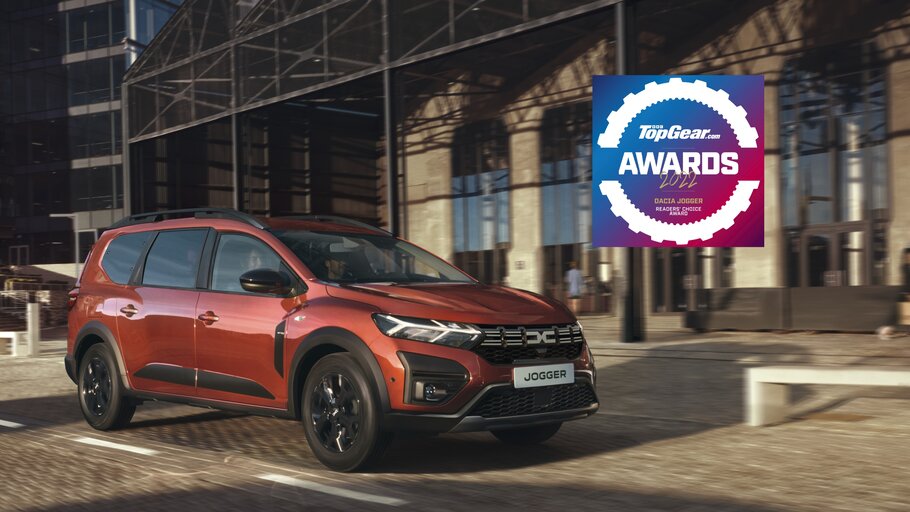 The Dacia Jogger has been voted Readers' Choice at the TopGear.com Awards 2022. Chosen by readers of the well-known magazine and website, the win proves that the Jogger really is a super car.
Readers voted the Dacia Jogger their favourite after Top Gear asked them to choose from a shortlist of 43 cars that it has reviewed throughout 2022. Drawn from vehicles that had received higher than average scores out of 10, the exclusive list included hypercars, electric vehicles, sports cars and SUVs.
Thousands of readers cast their votes and, when the poll was complete, it was the Dacia Jogger with its seven-seat versatility that was revealed to be the readers' champion.
Commenting on the Jogger's success, Jack Rix, Editor, Top Gear magazine, said: "Given that the poll also included a range of multi-million pound hypercars, this is quite the coup for Dacia. We're assured that a new public holiday is being planned in Romania to mark the occasion. Dacia's cut price people carrier is the worthiest of winners."
Luke Broad, Dacia Brand Director for the UK said: "It's fantastic that the Jogger resonates with thousands of car enthusiasts, adding to the many families and drivers who are already enjoying its clever features and impressive practicality. While unrivalled value is at the heart of every Dacia, this award proves that drivers recognise quality and innovation, regardless of how much a car costs. We believe we have created something special in the Dacia Jogger and I am thrilled to see that Top Gear readers agree, voting it above cars that many people can only dream of."
The Dacia Jogger is a seven-seat car unique in its own segment, combining the versatility of a sport tourer with the comfort and rugged style of an SUV. Available in three trim levels – Essential, Expression, and Extreme SE – all versions are generously equipped with air conditioning, cruise control, and rear parking sensors as standard. Jogger's versatility is further enhanced with removable third row seats and the availability of modular roof bars. The Jogger is priced from £16,645 on-the-road.