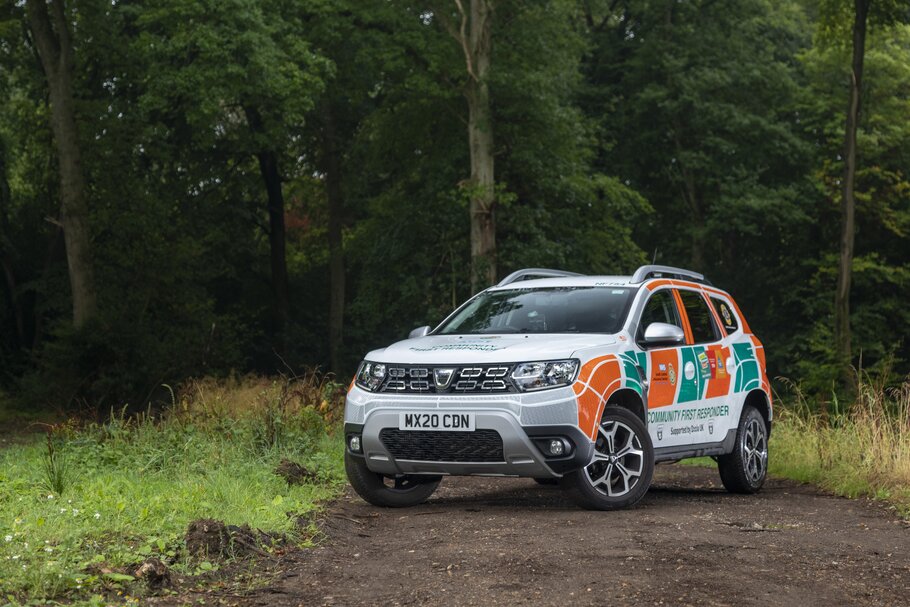 Since South Central Ambulance Charity and South Central Ambulance Service (SCAS) took delivery of 40 Dacia Dusters in 2020, the global Covid-19 pandemic has created unprecedented operating conditions. Throughout this challenging period, the suitability of the Dacia Duster as a robust and versatile Dynamic Response Vehicle (DRV) has helped the Charity's volunteer Community First Responders (CFRs) to safely provide emergency medical assistance.
CFRs are members of the public trained to support SCAS primarily by responding to medical emergencies and sometimes providing lifesaving first aid to patients before paramedics arrive. They also assist with ongoing patient care at the scene.
They are funded solely by South Central Ambulance Charity, which provides equipment, training and is responsible for the vehicle fleet.
Operating across Berkshire, Buckinghamshire, Oxfordshire and Hampshire, the fleet of 4×2 and 4×4 Dacia Dusters have clocked up over 120,000 hours as dedicated DRVs, providing a rapid response to many 999 calls where an ambulance has been requested. Due to the volunteers' locality, they often arrive before an ambulance with the Community First Responder able to administer potentially life-saving pre-hospital treatment. In the past year alone, Dusters have been 'first on scene' to 6,875 incidents.
The Dusters have attended 1,130 'Category 1' calls to treat people with life-threatening illnesses or injuries, such as cardiac arrest, while 5,218 'Category 2' emergency calls were attended where people had breathing difficulties or stroke and heart attack symptoms.
The fully liveried Dusters replaced several ageing cars of different makes and models that required constant attention to deliver the level of reliability that the role of a DRV demands. The proven robustness, versatility and durability of the Duster influenced the Charity's decision to order the award-winning SUV. However, with no NHS funding available and the purchase of the Dusters only possible through donations to South Central Ambulance Charity, affordability and value were also major considerations.
The Charity specified 13 of its Dusters with 4×4, designed to help its volunteer Community First Responders reach patients in harder to access rural environments and comfortably negotiate more hilly urban areas in wintry conditions. The availability of such a drivetrain coupled with its affordable price ensured that organisation was able to extend its service in such conditions.
The Duster's sizeable interior offers enough space for a whole host of medical supplies to be carried with ease, including a defibrillator, oxygen, masks, bandages and Entonox. However, during the pandemic the available room ensured that there was enough space to not only accommodate additional PPE equipment, but to importantly lay it out and disinfect it after every call.
With many miles having now passed under the wheels of its Dacia Duster DRV fleet and a total of 376 volunteers having driven them, the Charity's hopes have been realised, as Vanessa Casey, Chief Executive of the South Central Ambulance Charity, explains: "The Duster has been an excellent choice for community responding. It has met our expectations in terms of suitability for the role, having all the space we need and being 100 per cent reliable. The latter is especially important as it's fundamental that our vehicles are available and on the road as many hours as possible. Of course, a big thing for us as a charity is value for money and we don't think we could beat what the Duster offers. It was still a big investment for us to refresh our fleet with 40 new cars, but it has proven to be a very good decision."
Vanessa continues: "The 4×4 versions have provided reassurance to our volunteers in reaching patients in more remote areas, such as bridal footpaths and rough tracks, where a normal car may have struggled. Feedback from our Community First Responders has been very complementary. Some were a little sceptical at first, but they have all been won over by the Duster's capability and specification, agreeing that they've been a real game changer in terms of patient care and raising the profile and visibility of the service that we deliver. Having the Dacia Duster fleet has really helped demonstrate the professionalism of our service and tells the public straightaway that they're seeing a first responder. What's more, we've also been able to attend events with the vehicles and their presence has helped us to attract even more volunteers."
Luke Broad, Dacia Brand Director for the UK, said: "I'm really proud to see how the Dusters have helped South Central Ambulance Charity carry out invaluable work in and around the local community. The Duster's rugged and robust qualities are providing volunteers with the peace-of-mind they need to deliver potentially life-saving care, regardless of the conditions. South Central Ambulance Charity's experience perfectly illustrates all what the Duster has to offer."