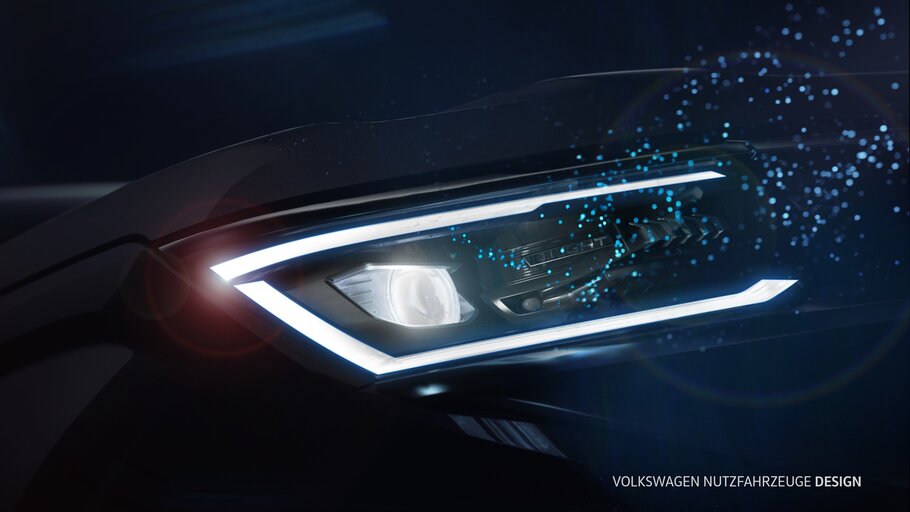 Lights on and curtain up for the new Amarok. When Volkswagen Commercial Vehicles' premium pick-up celebrates its premiere, the LED lights fitted as standard will be one of the 'highlights'.
A short video clip shows them off.
A premium vehicle, including in terms of light output, the new Amarok will as standard have LED headlights up front. As an option and on the higher specification versions of the pick-up there is also the so-called 'IQ.Light'. Its LED matrix headlights also show a high-impact light graphic. While they don't turn night into day, driving at night is made more relaxed. Features also include an active (i.e., automatically) dipping full beam whenever there is oncoming traffic, street lighting or traffic lights, and the static cornering lights, which light corners up better in the direction of travel. This ensures greater comfort and safety.
Albert Kirzinger, Head of the Design Team at Volkswagen Commercial Vehicles: "With its high-tech lights, the new Amarok will already be recognisable as a genuine VW a long way off and at the same time will display a unique light signature."
'IQ.Light, is only one of many 'highlights' in the new Amarok-up from Volkswagen Commercial Vehicles. More highlights will be presented in the coming weeks.
Volkswagen Commercial Vehicles' design charismatically sets the scene for the technology in the premium pickup. The 'IQ.Light' LED matrix headlights underline the high- tech look of the new Amarok.
After registering on our press page vwn-presse.de, you can download the photo, text and video clip directly.
Following in the wheel tracks of success
Over 830,000 units of the Amarok have been sold to date in Europe, South America, South Africa and Oceania. The strengths of the successful premium pick-up from Volkswagen Commercial Vehicles: supreme drive systems, high load capacities, systematic functionality and a design that cuts a good figure both on and off the road. The brand from Hannover is further developing these strengths with the new generation. The new Amarok will launch as of the end of 2022 in the first few countries with double cab and four doors (DoubleCab), and in some individual markets with a two- door single cab (SingleCab).