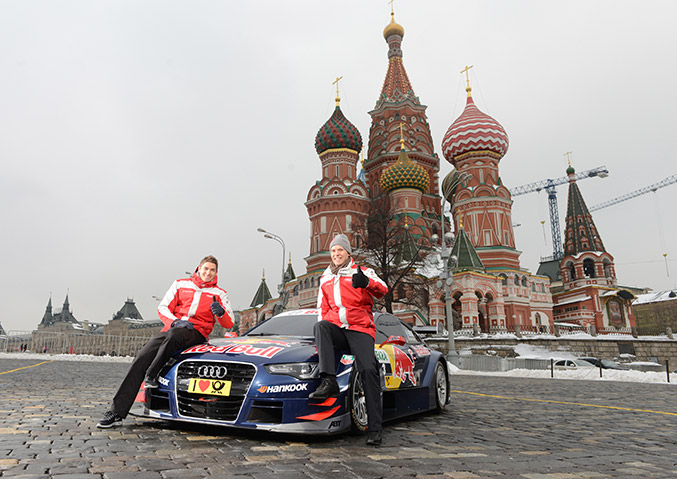 On August 4, the DTM will be entering new territory to contest a race in Russia for the first time in its near 30-year history. Audi is the only brand to have visited Moscow half a year before the DTM round: Mattias Ekström and Edoardo Mortara today presented themselves together with an Audi A5 DTM to a large number of fans and journalists.
The agreements have been signed, the date has been confirmed, the level of excitement before the event is rising. While the motorsport scene is feverishly looking forward to the DTM debut in Russia, Audi sent three of its stars to Red Square months before the first race: Mattias Ekström, Edoardo Mortara plus an Audi A5 DTM. Press conference at the Garage Center for Contemporary Culture, ceremonial unveiling of the 460-hp race car, photo shoot on Red Square, great enthusiasm and countless requests for autographs by the Russian fans – the first visit of the DTM stars in the heart of Moscow caused a major sensation.
"Complementing the calendar by a race in Moscow marks a decisive step for the DTM. It's a great opportunity to present ourselves in an important market with an affinity for motorsport," said Head of Audi Motorsport Dr. Wolfgang Ullrich. The numbers underscore the significance of the country for Audi: More than 33,500 automobiles delivered to Russian customers in 2012 correspond to an increase by 44.1 percent compared to the year before. Of Audi's top ten sales markets, Russia was the one to record the fastest growth last year.
"The huge enthusiasm we were met with in Moscow is fantastic," said Mattias Ekström, who had never been to Russia before. "I always enjoy getting to know new countries and people. Right after the first day here in Moscow I'm convinced that it has been a very good decision to hold a race here. I can hardly wait to return in August."
Two-time race winner in the 2012 season, Edoardo Mortara, has high expectations as well: "I don't know the Moscow Raceway yet but the layout looks interesting and promises a lot of action. I think the spectators can expect quite a bit on track and of course off track as well. I'm very excited about the DTM's first visit to Russia."
Elena Smirnova, Head of Audi Russia, shares the excitement of the two Audi stars. "Motorsport is the best forge of the brand's technologies," she said. "Now, when this kind of sport is on the rise in Russia, when professional race tracks are being built in different regions of the country, Audi is ready to show the new edges of its character. The fans of Audi here are looking forward to the beginning of the DTM series' new season. They will be able to cheer for our drivers, personally attending the stage at Moscow Raceway for the first time. Russia is one of the top ten markets for Audi, so today, a few months before the championship gets to our country, we are pleased to introduce the Audi A5 DTM to our fans."
Source: Audi