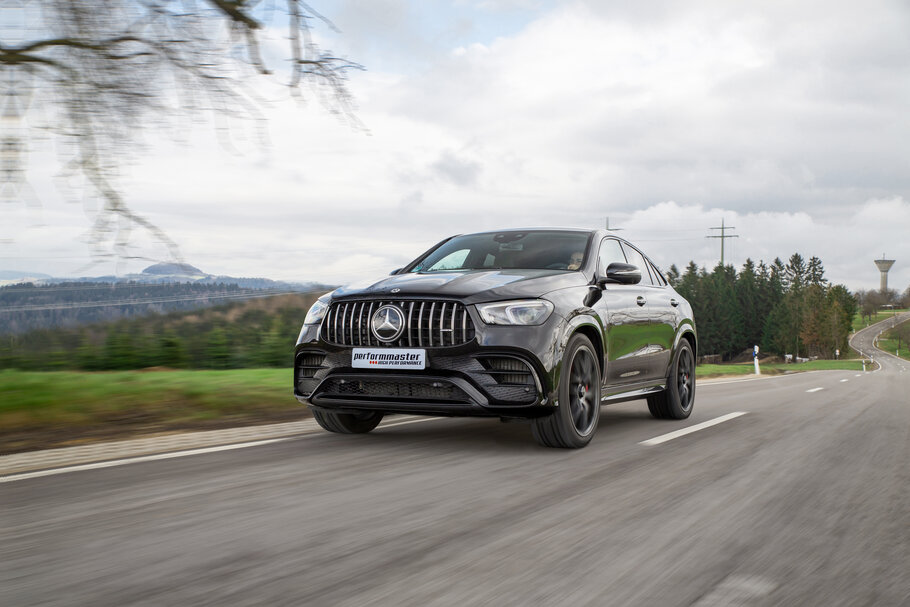 Even the AMG base versions of the GLE 63 and GLE 63 S are a feast for the ears: 571 hp or 612 hp / 420 kW or 450 kW and 750 Nm or 850 Nm torque, top speed 250 km/h or 280 km/h and acceleration from 0 to the 100 km/h mark in 4.0 or 3.8 seconds.
But in the world of performmaster, this still isn't good enough. Therefore, the Swabian high-performance technicians have tended to the GLE 63 AMG models and the result is a true performance revelation.
However, after the tuning specialist performmaster took matters into its hands and applied the finest technical expertise, this performance-optimized motor can be heard magnificently, but the associated GLE 63 S is barely visible due to its performance. These are the formidable values that were implanted in this vehicle thanks to the performmaster PEC tuning module:
performmaster GLE 63 S 712 hp/524 kW and 965 Nm, top speed 300km/h due to Vmax elimination, acceleration from 0 to 100 km/h 3.6 sec.
This elicits rapturous receptions not just from performmaster aficionados, but also from those who are incredulously in awe when the vehicle, which looks the same on the outside, easily passes them, because there are truly worlds between them and the AMG series models, since 300 km/h is an absolute unique selling point for this vehicle. This is made possible by the trusted performmaster PEC tuning module.
Parts Certificate and Road Approval
performmaster, of course, also normally includes a corresponding TÜV parts certificate for the PEC tuning module. This means, of course, that the vehicle continues to be street legal even after optimization. The performmaster PEC module, by the way, works in addition to the AMG control and vehicle diagnostics can therefore be performed at any time, and all factory updates can continue to be implemented.
More information on performmaster and the entire range of modele
performmaster is known for devoting itself solely to the Mercedes AMG range of vehicles.
The company, which specializes in Mercedes AMG, from Swabian Plüderhausen relies on perfection: And thus the Mercedes AMG driver receives an absolute premium product with the highest commitment to quality and safety.
"Our PEC tuning module combines 31 years of experience with state-of-the-art tuning technologies, developed on a high performance test stand, especially for super sports cars such as Mercedes AMG," explains managing director Udo Heinzelmann.