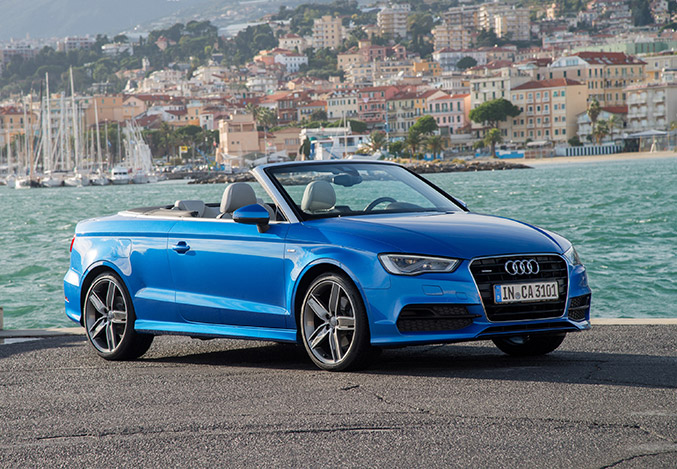 Thoughts of spring 2014 may be fleetingly sprung this week by the news that the all-new A3 Cabriolet has just become available to order in readiness for first deliveries next April. Priced from £25,790 OTR, the latest soft-top A3 takes the recently introduced A3 Saloon as its foundation, meaning that its proportions are now not only more beautifully balanced, but also make provision for complete concealment of the fast-retracting powered fabric hood within the sleek new body. A comprehensive choice of engines and an array of technological innovations adopted from the larger Audi models also transfers from the four-door A3.
A soft but extremely hard-wearing fabric roof stretched over a lightweight kinematic mechanism made of magnesium-steel opens the new Cabriolet to the elements fully automatically in a little under18 seconds at speeds of up to 31mph, and complements the design of the A3 perfectly. When retracted at the touch of a button, the top – complete with heated glass rear window – rests in a tray that barely affects luggage capacity, which amounts to 275 litres.
A second, even more sound-absorbent acoustic soft top with three-layer inner padding is fitted as standard to UK Sport and S line versions of the new A3 Cabriolet and offered as an option for SE models. It is available in black, grey and brown, and its roof liner can be specified in black or lunar silver. In all versions, an active rollover protection system consisting of two spring-loaded plates that are recessed into the body protects occupants in case of a rollover accident.
In entry level form, the A3 Cabriolet weighs just 1,365 kilograms – around 50 kilograms less than its equivalent predecessor despite its increased dimensions and improved comfort. Even taking into account special reinforcements to maximise torsional rigidity, the body-in-white weighs 30 kilograms less than previously, helped by its aluminium bonnet. Weight has also been significantly reduced in the interior and in the engines.
In common with A3 hatchback models, the new Cabriolet will be available with a choice of SE, Sport or S line specification. Standard equipment at entry level includes the fully automatic hood finished in black, plus 16-inch alloy wheels, air conditioning, the MMI radio incorporating an 11 millimetre-thick powered folding screen, Audi Music Interface iPod connection, DAB digital radio, a Bluetooth interface, preparation for SD card-based navigation and a light and rain sensor package.
Three no-cost suspension options
Sport and S line versions upgrade to the acoustic hood and sit 15mm lower on their respective 17-inch and 18-inch alloy wheels thanks to sports suspension. Both can also be equipped at no extra cost with the SE version's more comfort-oriented standard suspension, while S line models can be taken to the other extreme with S line sports suspension lowered by 25mm and also available at no cost.
Shared Sport and S line features also include sports seats, the Audi drive select adaptive dynamics system with five operating modes to fine-tune driving characteristics, dual-zone climate control and a high-resolution colour driver's information system.
Interior highlights of the S line specification include part-leather-upholstery embossed with the S line logo and an S line sports steering wheel with perforated leather grips and shift paddles where S tronic is fitted.  Outside, 18-inch alloy wheels, S line body styling and xenon plus headlights with LED daytime running lamps set the top model apart.
Cylinder-on-Demand technology
In the first phase, the petrol engine range powering the new A3 Cabriolet kicks off with the highly efficient 140PS 1.4 TFSI linked to six-speed manual transmission. It powers the new premium compact soft-top to 62mph in 9.1 seconds, yet achieves up to 56.5 mpg with CO2 emissions of just 114 g/km. A key contributor to this impressive efficiency is Audi Cylinder-on-Demand (CoD) technology, which imperceptibly deactivates two of the engine's cylinders under part-load.
The next step up is the 1.8-litre TFSI, which features impressive headline figures including a 0-62mph sprint time of 7.8 seconds, a top speed of 150mph and a 180PS peak output. Despite the robust performance, state-of-the art technologies including dual injection into the combustion chambers and induction manifold help to maintain a high level of efficiency.
This engine is initially linked exclusively to a seven-speed S tronic twin-clutch transmission, which can make further fuel savings by switching into a free-wheeling mode during coasting where the Audi drive select system is fitted and its efficiency mode is selected. According to the combined cycle test this engine and transmission combination is capable of delivering up to 48.7 mpg with CO2 emissions of 133g/km.
The economy champion in the launch range will be the manual transmission-equipped 2.0 TDI with 150PS, offering combined fuel consumption of 67.3mpg and CO2 emissions of 110g/km. It complements this frugality with an impressive 8.9-second 0-62 mph time and a 139 mph top speed.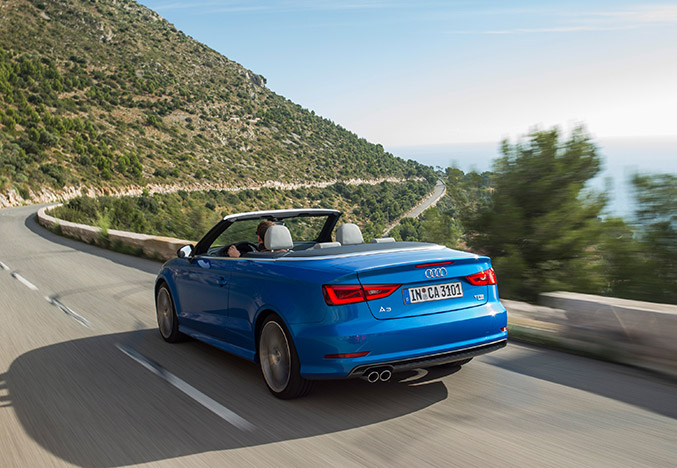 From February next year, A3 Cabriolet customers will be able to choose from an extended list of engines, transmissions and drivetrains. Highlights will include the 1.6 TDI, which in other versions of the A3 already delivers up to 74.3mpg with CO2 emissions of just 99g/km, and a more powerful version of the 2.0 TDI with 184PS, which will be available with either front wheel-drive or quattro all-wheel-drive. It will also be possible to specify this world-renowned all-weather driving aid in conjunction with the 1.8 TFSI engine, and it will of course feature as standard in the forthcoming 300PS S3 Cabriolet.
The all-new Audi A3 Cabriolet – UK OTR Pricing
| | | | |
| --- | --- | --- | --- |
| Engine | Trim | PS | OTR |
| 1.4 TFSI (CoD) | SE | 140 | £25,790 |
| 1.4 TFSI (CoD) | Sport | 140 | £27,015 |
| 1.4 TFSI (CoD) | S line | 140 | £29,165 |
| 1.8 TFSI | Sport | 180 | £30,270 |
| 1.8 TFSI | S line | 180 | £32,420 |
| 2.0 TDI | SE | 150 | £27,240 |
| 2.0 TDI | Sport | 150 | £28,465 |
| 2.0 TDI | S line | 150 | £30,615 |
Source: Audi