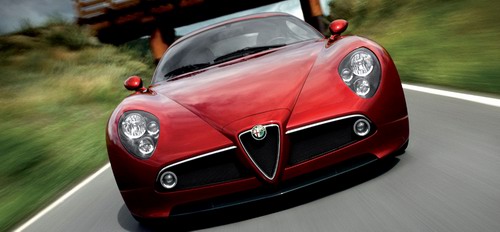 Unfortunately, a few dozens of fortunate American owners of one of the world's hottest sports cars, the Alfa Romeo 8c Competizione, will have to return their Italian beauty for a quick fix after it was discovered that certain models were manufactured with incorrectly torqued front and rear suspension upper and lower ball joint nuts. The recall also affects MY 2008 Maserati Gran Turismo and Quattroporte which share the same platform with the Alfa.
Overall, 7,912 Maseratis and Alfa 8c Competiziones will be recalled in the States. While the Italian automaker did not reveal specific numbers, we do know for a fact that only 84 Alfas were allocated in the U.S.
Maserati said that the incorrectly torqued ball joint nuts may loosen with consequent steering wheel vibration, a growing metallic noise and progressive loss of driving precision in the transients. According to the Italian automaker, continued use of the vehicle in these conditions may lead to damage of the suspension lever, which in the long term and depending on vehicle usage, may cause the ball joint/suspension arm to break.
The firm's dealers will inspect the torque of the front/rear upper and lower ball joint nuts and, if necessary, replace the suspension arms and hub carrier. The recall is expected to begin during February 2009. Concerned U.S. owners may contact Maserati for more information at 1-201-816-2600.